This is one of the most recent and updated lists of Best Google Analytics Plugins for WordPress of 2022.
Almost all businesses have their website online, and they keep track of their traffic to form a good business strategy for increasing their online presence.
Knowing how your website works and whether your community likes a post is essential for studying their behavior and getting better results.
That way, you can create more content that best suits your audience and can get more social followers in less time.
However, WordPress has multiple platforms for analyzing your website, making it difficult to choose one which is the best way to track the number of visitor numbers on a site.
Luckily, we've put together a list of the 7 Best Google Analytics Plugins for WordPress 2022, that you can review to find the perfect solution for your website.
Disclosure: This article may contain affiliate links. If you buy through links, I will get little commission without costing anything extra to you. Read affiliate disclosure for more details.
---
7 Best Google Analytics Plugins for WordPress 2022
Here are the 7 best analytics plugins for WordPress or Woocommerce in 2022.
1. MonsterInsights
The number #1 analytics plugin for WordPress in this list is the MonsterInsights. More than 2 million websites are using this plugin.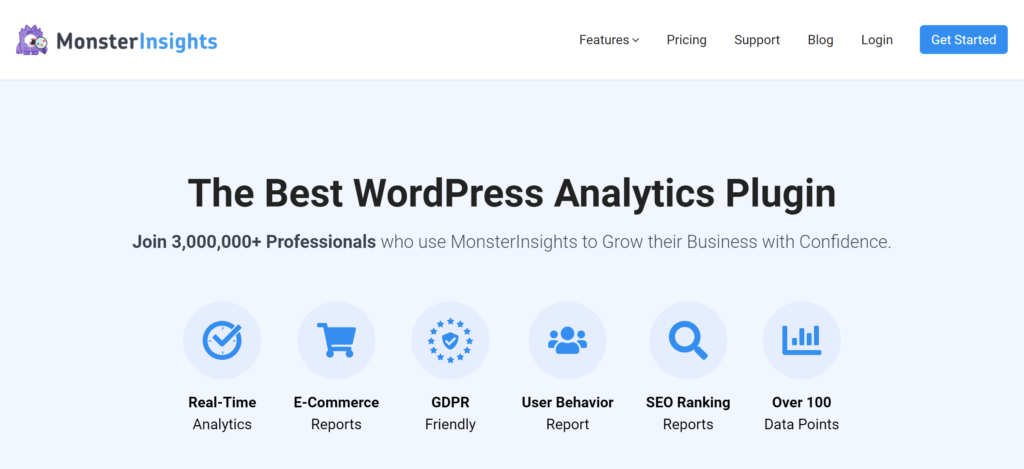 MonsterInsights is the most popular option available on WordPress for analyzing new website data with an easy-to-use dashboard that anyone can set up on their own.
This plugin shows you detailed information directly in your admin area, which you can use to easily track the matrix of plugins like WooCommerce, MemberPress, and other e-commerce plugins available on WordPress.
This plugin connects to your Google Analytics account, which will track your posts and product pages to get detailed information about how your content works on the web.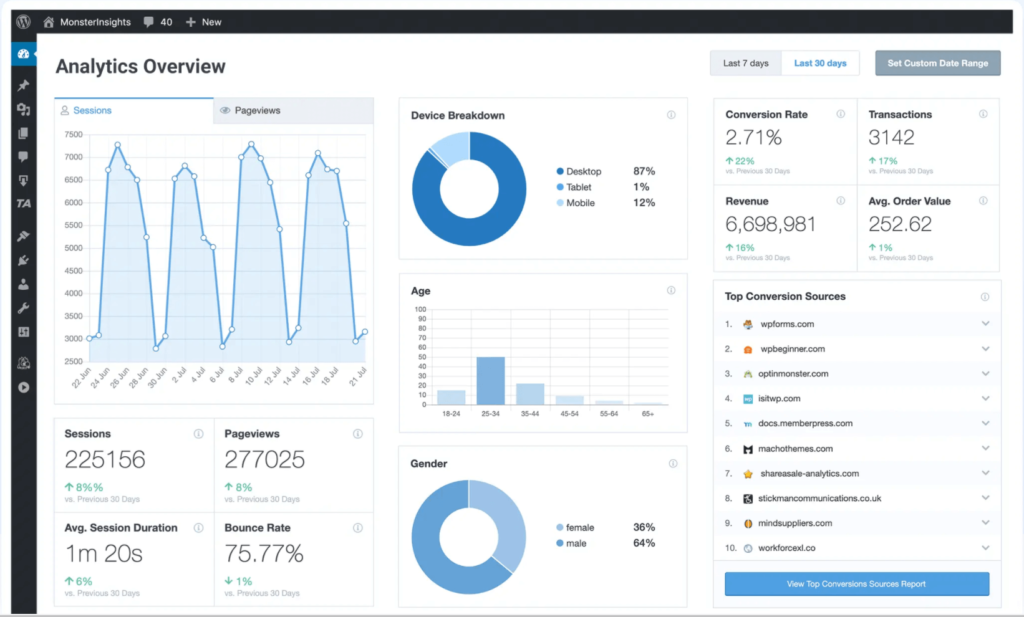 Key Features:
Scroll Tracking
SEO Score Tracking
Telephone & Email Link Tracking
Google AMP Tracking
File Download Tracking
It also has advanced features like event tracking, link enhancement, and partner tracking to provide you with more data than other plugins on this list, making it ideal for casual users.
MosterInsigts pricing starts from $99.50 per year for a single website and $399.50 per year for Agency owners can be used for up to 25 sites.
This is our personal recommendation and among the Best Google Analytics Plugins for WordPress in 2022. You will be amazed at its work and features.
You can follow this guide to install the google analytics plugin on WordPress using Mosnterinsghts.
---
2. Analytify Plugin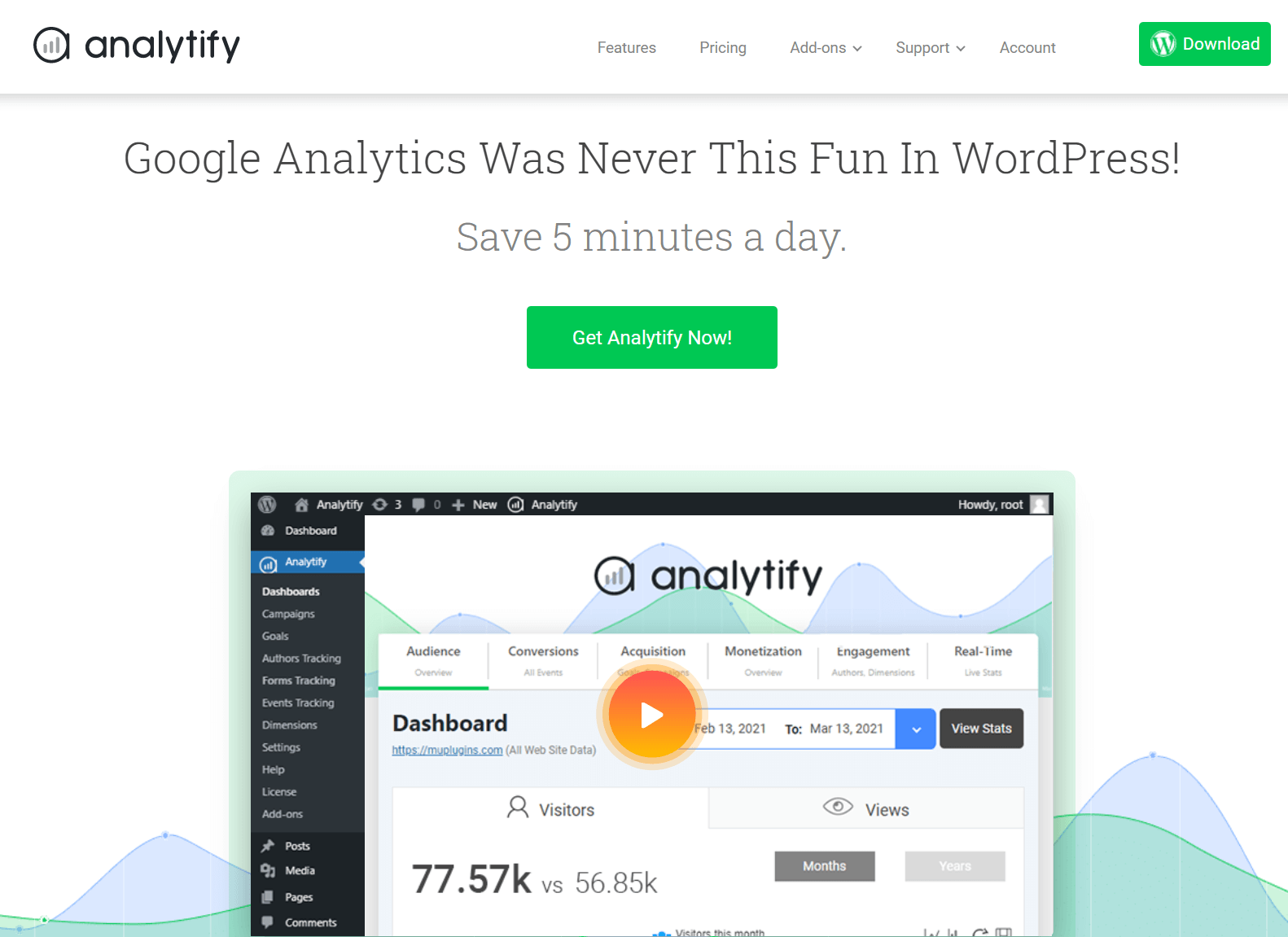 Our second pic is Analytify, which has been downloaded and entrusted by more than 5 million people worldwide that consists of small bloggers, shop owners, writers, editors, and website managers to easily view the site matrix.
It comes with a one-click setup that can be installed on your WordPress site to effectively manage your social media and websites, with complete statistics to keep you updated.
The plugin also offers integrated e-commerce tracking that you can use to analyze the performance of your product on the Internet with a press of a button.
Key Features:
Real-Time Stats

Universal Tracking

Enhanced E-commerce tracking

Front End Reporting
Each post featured on Analytify has its report, which allows you to review individual blogs and compare them without leaving the dashboard.
Analytify pricing starts from $39 for personal use that you can use on a single site. You can get it for small business, agency and developer as well.
---
3. ExactMetrics
ExactMetrics is ​​another excellent plugin with over 1 million downloads by general people, making it reliable for everyone to use.
You can track your visitors by checking analytics reports in a simpler form in the WordPress admin area which will help you optimize the content for your target group.
It can easily find out matrices like page views, bounce rate, organic search, web traffic, and other vital ingredients to tailor your SEO in the best way.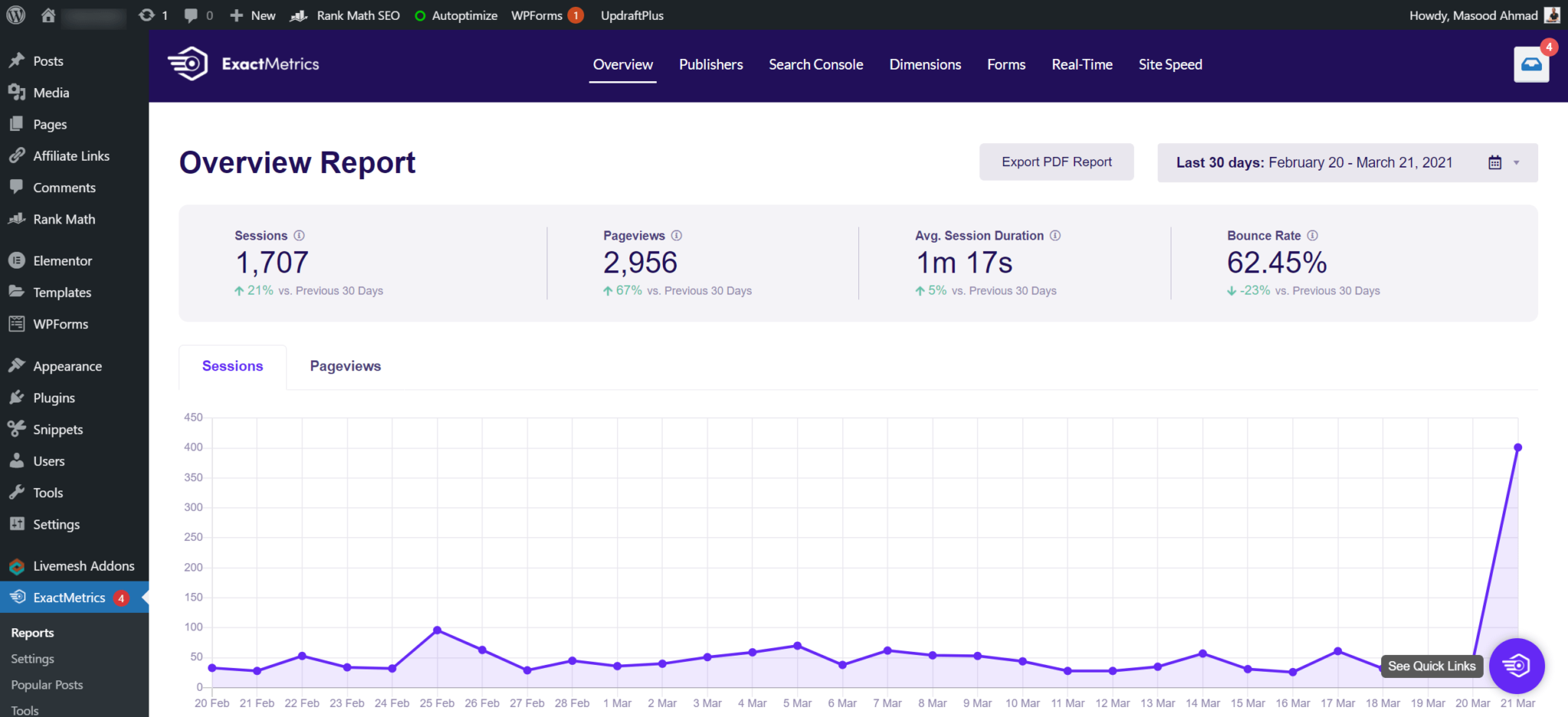 ExactMetrics Features:
Analytics tracking
Affiliate Link Tracking
Telephone & Email Link Tracking
SEO Score Tracking
Popular Posts etc
The ExactMetrics plugin also includes detailed reports that can be accessed on mobile phones to monitor them remotely.
Exactmetrics pricing starts from $99.50 per year for a single site and Exactmetrics pro is the popular one costing $199.50 for 5 sites, best for e-commerce sites and businesses.
You can follow this guide to install Google analytics on your wordpress using Exactmetrics plugin.
---
4. GA Google Analytics
GA Google Analytics ​​by Jeff Star is a WordPress plugin that analyzes Analytics data from your dashboard by adding a simple tracking ID in the admin area.
This plugin you can get it for free with liited faetures like:
Blazing fast performance
Option to enable page tracking in the Admin Area
Includes tracking code on all WordPress web pages
There are various features you can get but you can get more features in the Pro Version.
It only costs about $15 to use, with a one-year license to take your overall tracking results to another level that can contain more information without overloading your website.
This plugin supports Google ads, enhanced links, and enforces SSL certificates on your website to maximize the use of essential tools.
Moreover, no one other than the Admin of the site can see the stats because GA Google Analytics displays data on a different platform to improve the security of your site.
---
More To Read:
5. Site Kit by Google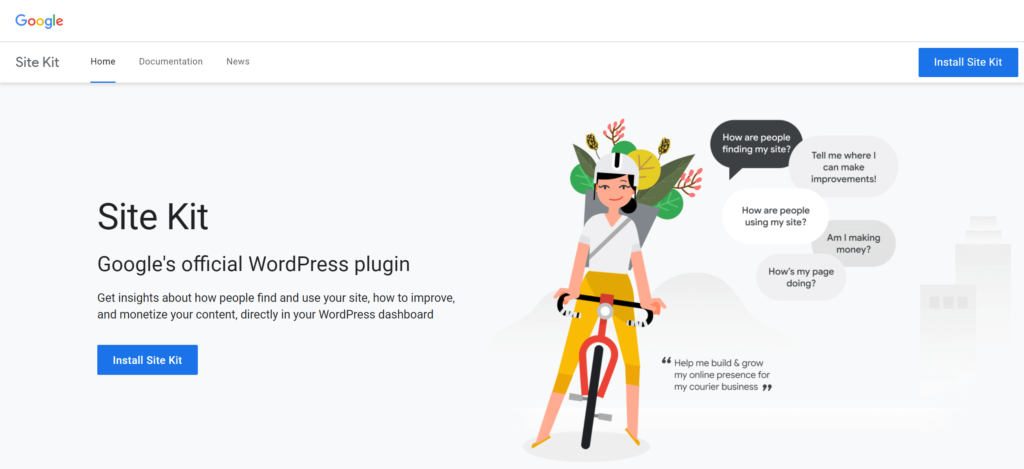 Google developers create Site Kit by Google, and it became an official plugin that replaces all other analytics programs available in the market.
By adding this application to your WordPress site, you'll never miss out on Analytics information, and it will not require you to connect to other third-party plugins.
This simple solution from Google was created to easily track all your website data without paying money to other applications on the market.
Plus, Site Kit by Google lets you use other Google services like AdSense, search console PageSpeed Insights, and many more from a single dashboard.
---
6. Lara's Google Analytics Plugin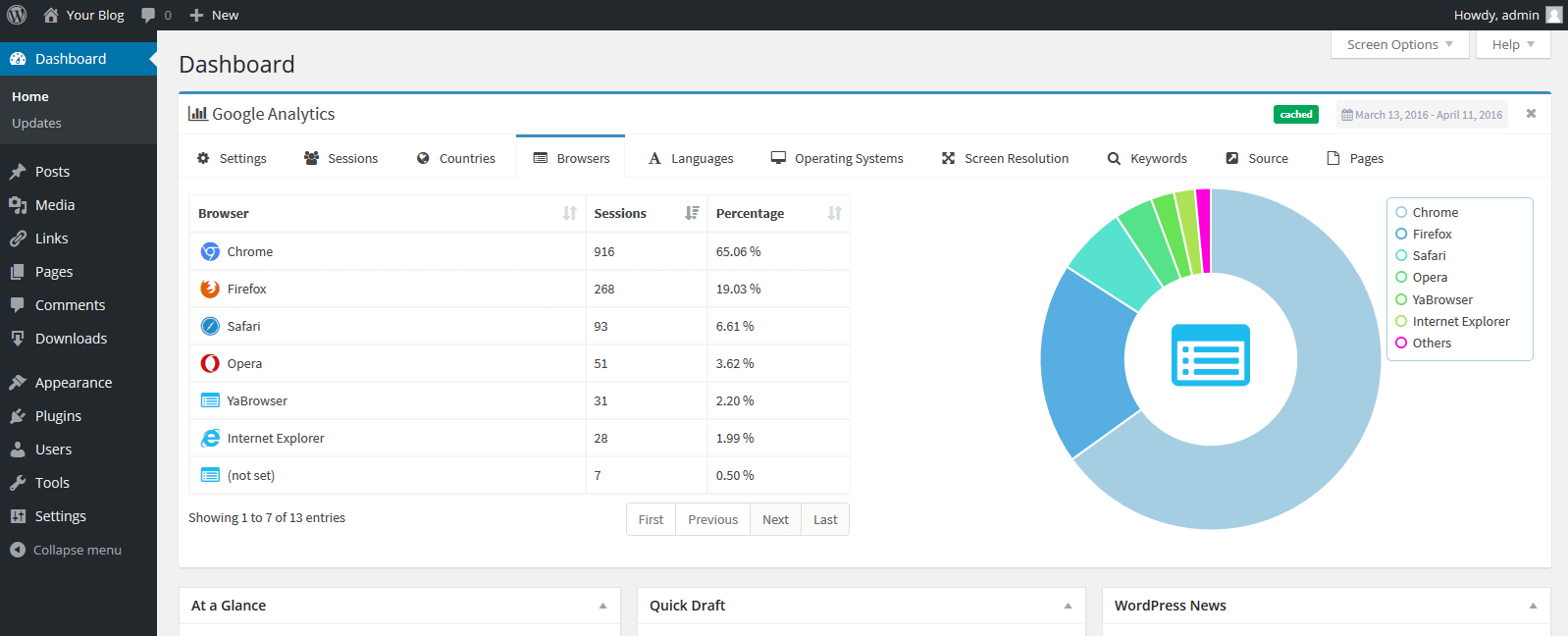 People who want to see all their analytical data right from their dashboard will need to install Laura's Google Analytics program to track user data.
The plugin has a simple graph and charts to help you understand the data better, and it only takes your tracking ID to show all the information on your admin panel.
You get a detailed view of things like sessions, views, operating system, and resolution of devices from the people who visited your website.
By paying the developers of this plugin $15, you can access more tracking features in the exact location with 12 months history that you can access anytime, anywhere.
---
7. 10Web Google Analytics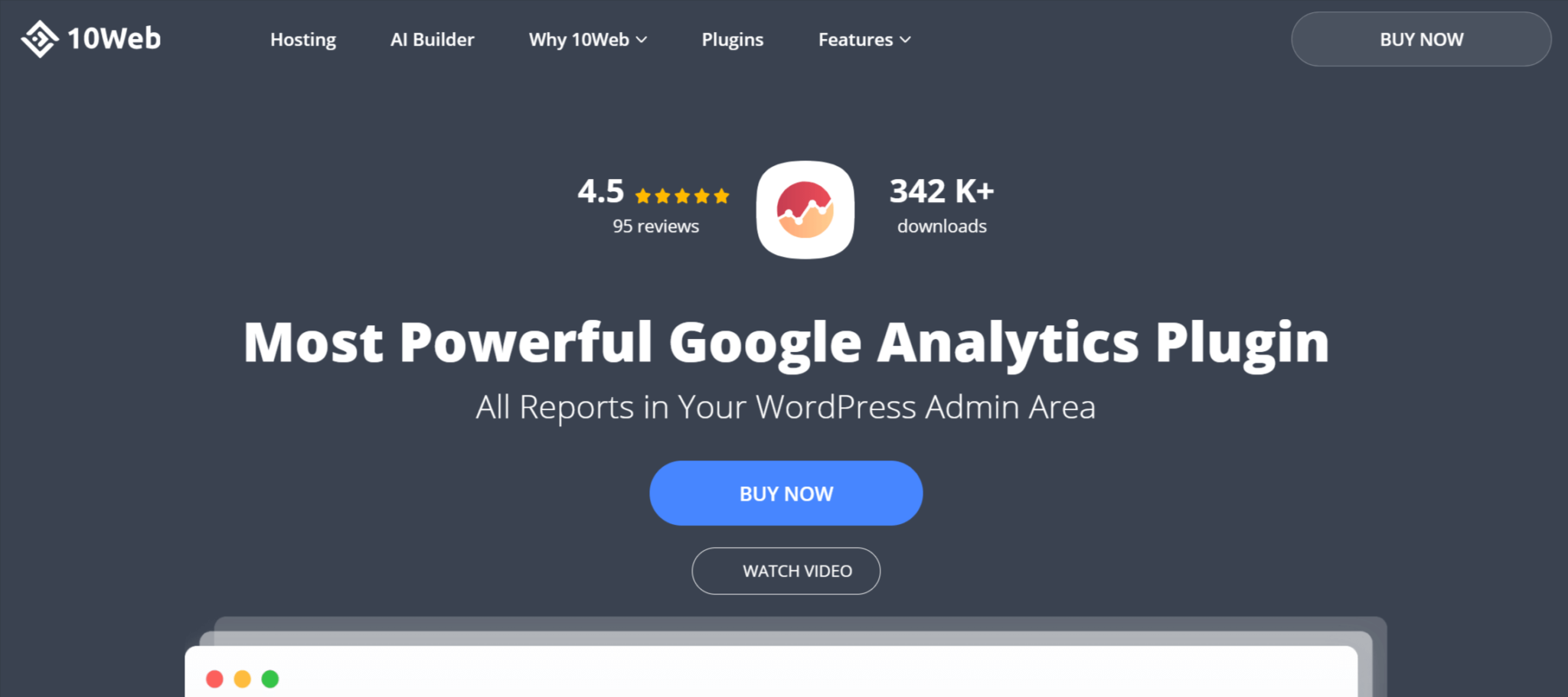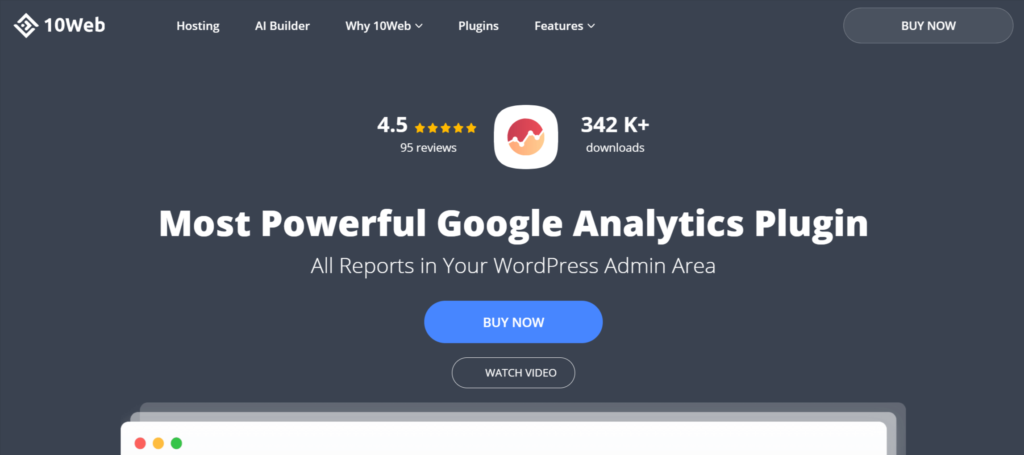 10WebAnalytics is an expensive program that costs $ 85 to preview your Google Analytics data in an easy-to-understand format on your WordPress admin panel.
It supports both Google AdWords and Google AdSense and even lets you track the products on your website with great accuracy.
The add-on works a lot like MonsterInsights but offers a better format so you can understand real-time data reports generated from your Google Analytics tracking ID.
The only problem with this plugin is that its free version is quite tight and doesn't have many features, so you'll have to buy the pro version to view all traffic reports.
---
FAQs On Google Analytics Plugins
1. Which Google Analytics Plugin for WordPress is the best?
MonsterInsights is one of the best google analytics plugins for WordPress in 2022. More than 2 million websites are using it, so you can understand the power of this plugin.
2. How do I add Google Analytics to a WordPress plugin?
You can install plugins like MonsterInsights in your dashboard and connect your Google Analytics account in a minute to kickstart your journey.
3. Which is the best Free Google Analytics plugin for WordPress?
If you want to get the free plugin, then you can install the MonsterInsights Lite version which is the free version available and the best in the market.
---
Final Verdict
In most cases, you will need a professional tracking program like MonsterInsights to review all your traffic reports to manage your website professionally.
Instead of the free option, it's better to choose a paid tracking program that allows you to quickly analyze Google Analytics data and carefully make changes to your WordPress site.
Checking your traffic and acting accordingly can also help improve your website's SEO ranking in search engines, making it essential to choose the right plugin.
For a complete traffic analysis, we recommend that you continue with our first choice that is MonsterInsights premium plan.
This will help you processing views, impressions, and watch time to analyze your website with an easy-to-use dashboard precisely.