This is the updated article on How to Install Google Analytics in WordPress using MonsterInsights in 2021.
People who don't know to program or don't want to add Google Analytics code to their WordPress website can use a plugin like MonsterInsights to get the job done.
MonsterInsights is a plugin that directly displays your google analytics data on your WordPress dashboard with a separate section for each information.
With this, beginners can quickly get more information about their website's traffic and configure multiple settings to optimize their content for their audience.
Stay tuned to find out how to install the Google Analytics plugin in WordPress by MonsterInsights right from your website's dashboard.
Disclosure: This article may contain affiliate links. If you buy through links, I will get little commission without costing anything extra to you. Read affiliate disclosure for more details.
---
How to Install Google Analytics in WordPress by MonsterInsights?
Here are 5 simple steps that you can follow to install the MonsterInsights analytics plugin in your WordPress:
Step 1: Make a Google Analytics account
To get going, you need to visit the official Google Analytics website by searching for it on your web browser, then click on the "Start For Free" at the middle of the screen.
Sign Up process is easy. Try to signup using the Gmail account that you used for the Google search console.
If you already have a Google Analytics account, you can skip this step of creating a new account and move on to the next step.
---
Step 2: Submit all your website details.
Once you have successfully logged into the dashboard, you will need to provide various details about your website, which are called ownership data by Google.
Later, choose the country's time zone, name & currency, and provide the name of your website with the official URL whose analysis data you want to access.
After that, you will be presented with the tracking code of the property you created. Just copy it as you will need it in future.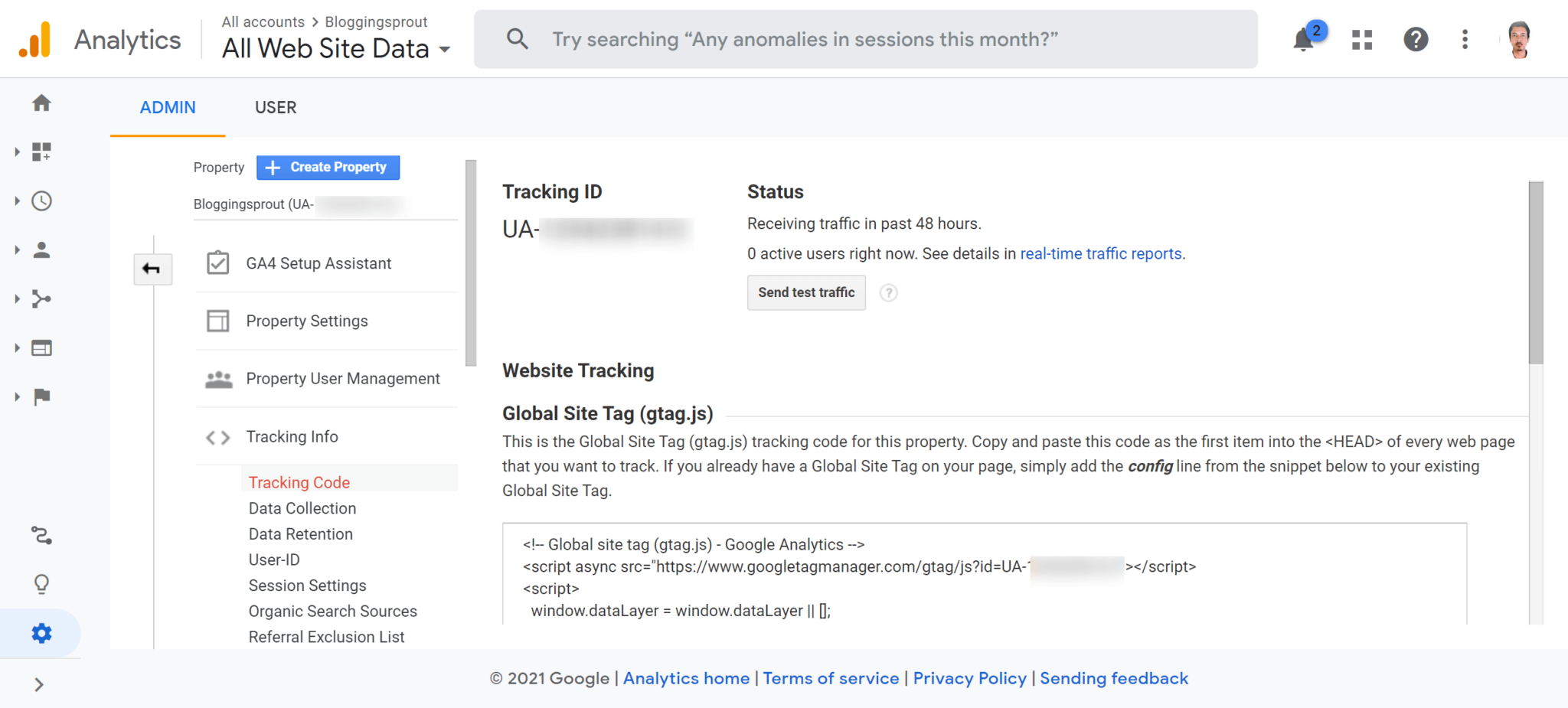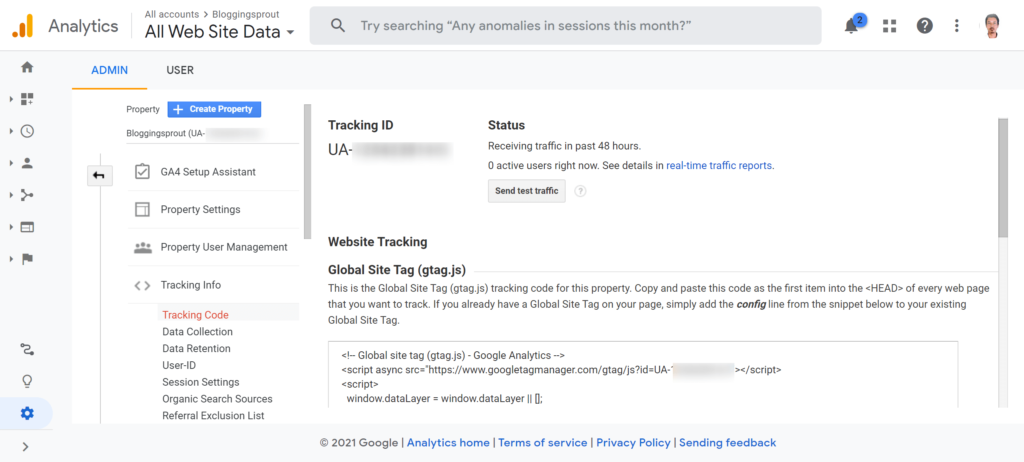 ---
Step 3: Get MonsterInsights Plugin on WordPress
Well done, now you have to go back to your WordPress dashboard, and once logged in, open the plugins menu and click Add a new plugin button from the top of the page.
In the input field of your WordPress plugin page, search for MonsterInsights and install it on your WordPress plugin page.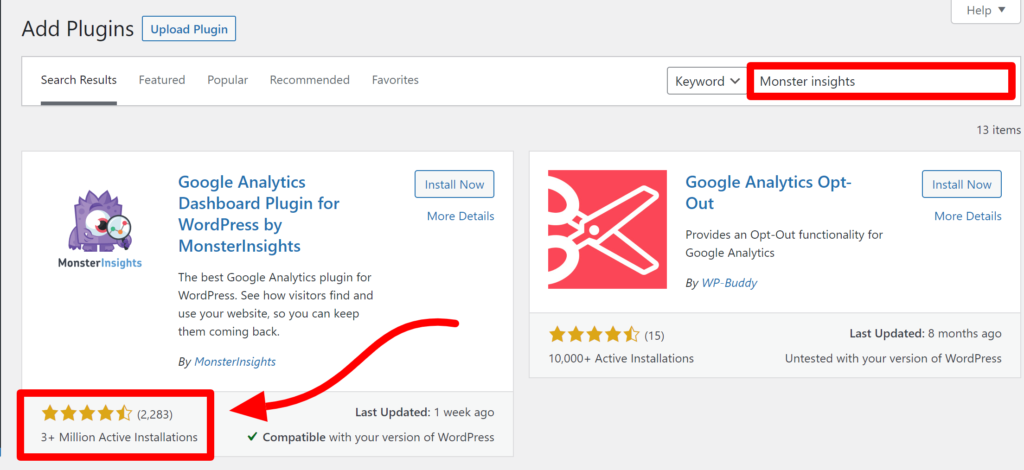 Now activate the plugin from the same page, or you can do it later from the plugins page to continue the process.
---
Step 4: Connect MonsterInsights to your Google Analytics Account.
In most cases, the MonsterInsights plugin will automatically show a Setup button in the WordPress Notification Center, but if it does not appear, you can access it from the side menu.
After activation, the launch wizard of the Monsterinsights plugin will appear. Launch the wizard.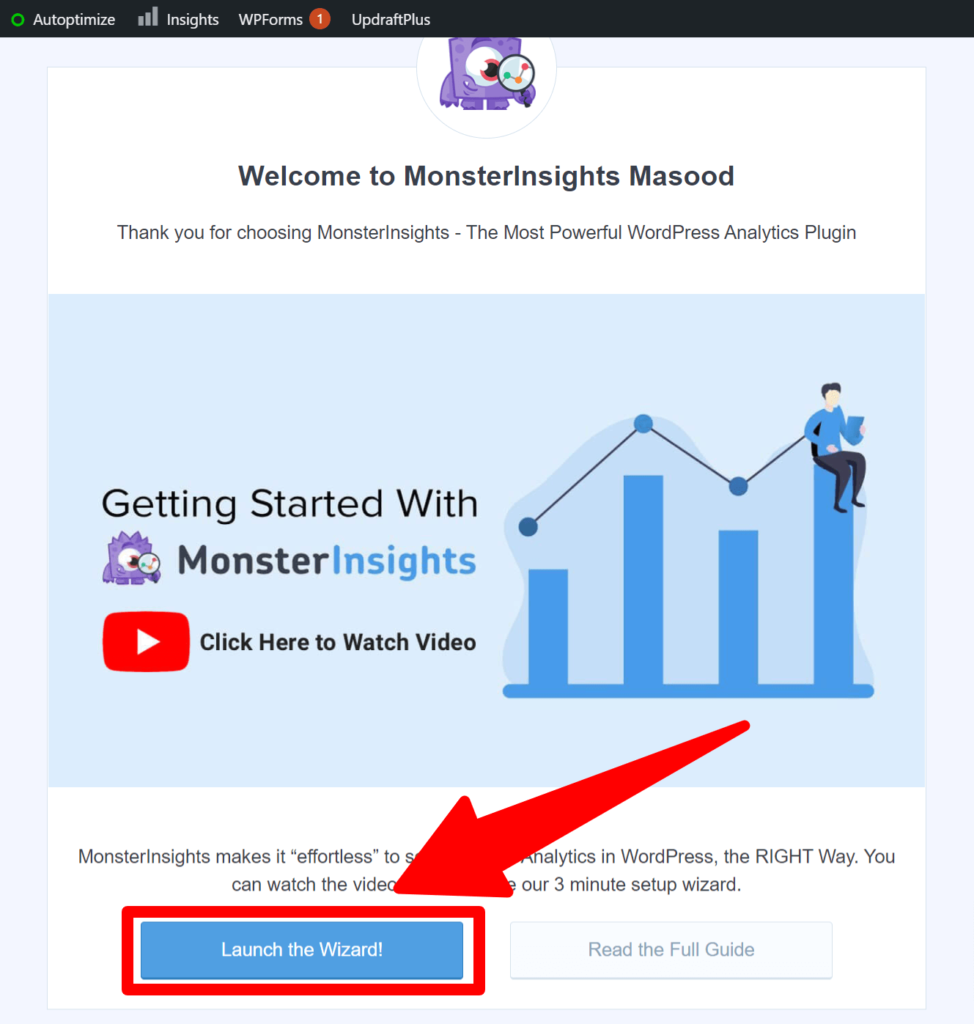 Once you've entered the setup wizard, you'll need to choose between three options: Business, Blog, or Ecommerce.
Now you have to select the category of your website. In my case, it is just a personal blog, so I have selected it.
After selecting, hit the save and continue button to move to next step.
The next window will appear, you just have to click on Connect Monsterinsights.
After clicking it, the next popup will appear. From here you have to select the Gmail account through which you signed up for your analytics account.
Now the next window will open from where you have to give your analytics account access to Monsterinsights. It's a safe process, don't worry.
More than 3 million websites are using Monsterinsights on thier blog.
Ensure that all options on the page are turned on to get the most accurate analytics data of your site on WordPress.
Now click on, Complete the connection and it's done.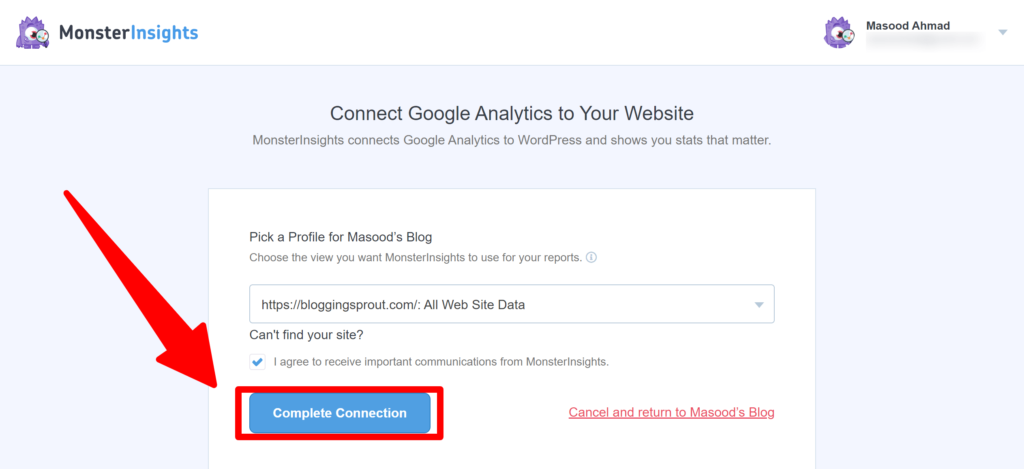 You have successfully set up the MonsterInsights plugin to fetch all your Google Analytics data. Now you can see the detailed reports.
Note: This was all the process with the free version of MonsterInsights.
If you want to use the MonsterInsights Pro plugin, you need to download it from the official MonsterInsights website by purchasing the license key.
That can be later uploaded to your "Plugins » Add New" page to get access to a lot more features by making a little investment for your site.
And repeat the same process as mentione above.
---
Step 5: View Google Analytics metrics by MonsterInsights.
It will take a few hours to collect all of your Google Analytics data which can later be viewed in analytics reports on your WordPress dashboard.
Once the plugin has finished analyzing, you will receive daily reports with lots of data to meet your content needs to get more conversions.
Moreover, you can view the full report by accessing the MonsterInsights plugins page to analyze advanced data such as views and impressions on WordPress posts.
---
Why should you use MonsterInsights over other analytics plugins?
Anyone can easily connect a Google account with their MonsterInsights plugin to view analytics data in a much simpler way with the help of a reliable and accurate plugin.
Since MonsterInsights was only created to display analytics data, the program works way better without asking you to download additional plugins on your site.
As soon as you publish your post on your WordPress website, it generates a tracking link to that article which you can view separately on the plugins page.
With the help of this, you can analyze each post on your website and make better decisions based on your traffic to make future posts that give you more conversions.
The pro version of the MonsterInsights plugin is comparatively better than the free version because it lets you access a lot more things directly from the dashboard.
By using the paid program, you'll be able to view detailed stats on each published page, post, or product of your website.
Moreover, you'll be able to import and export stats directly on your computer or cloud servers to view them at a later date.
Unlike other plugins available on the market that takes many resources to run correctly on your WordPress website, MonsterInsights doesn't require any additional assets to run.
The plugin is light in weight and can work on basic WordPress websites that do not have substantial hosting plans or resources to power their website.
Another ability of MonsterInsights is that it automatically tracks users' behaviors that are visiting your website to show you improved stats.
These features help you better communicate with your audience and set good examples through your blog posts to attract more attention by views.
MonsterInsights is compatible with WooCommerce, which means that you can track products on your website without any additional software.
It is a great feature that helps eCommerce websites to get more success through improving their products to suit their audience needs to get more sales.
More to read: 7 Best Google Analytics Plugins for WordPress 2021
---
Final Words on How to Install Google Analytics in WordPress
Hope you have liked our guide on How to Install Google Analytics in WordPress by MonsterInsights in 2021.
MonsterInsights does a great job of providing you with accurate traffic data for your website in the WordPress dashboard by simply linking it to your Google Analytics account.
It has many features that allow you to increase web conversion rates by analyzing the user data that goes to your website with great accuracy.
Wait no longer and get the MonsterInsights plugin installed in your WordPress site today and improve the way you view and collect data from your users.