Note: Project Huddle comes with 30 days no question asked money-back guarantee. So what are you waiting for? Just get it now.
Sellzone Review 2022
We know very well how Amazon has impacted worldwide in terms of the online marketplace. Millions of sellers sell their products here to reach globally.
And every merchant after listing their valuable products wished to have more sales, scale it up and grow its business.
So if you are one of them who are looking to scale up your eCommerce business worldwide using amazon, then the Sellzone tool is for you. It is developed to fulfil the same purpose.
Before moving ahead in this Sellzone Review 2022, let's have a quick overview of the Sellzone tool, its features and pricing.
Overview Of Sellzone – Amazon Toolkit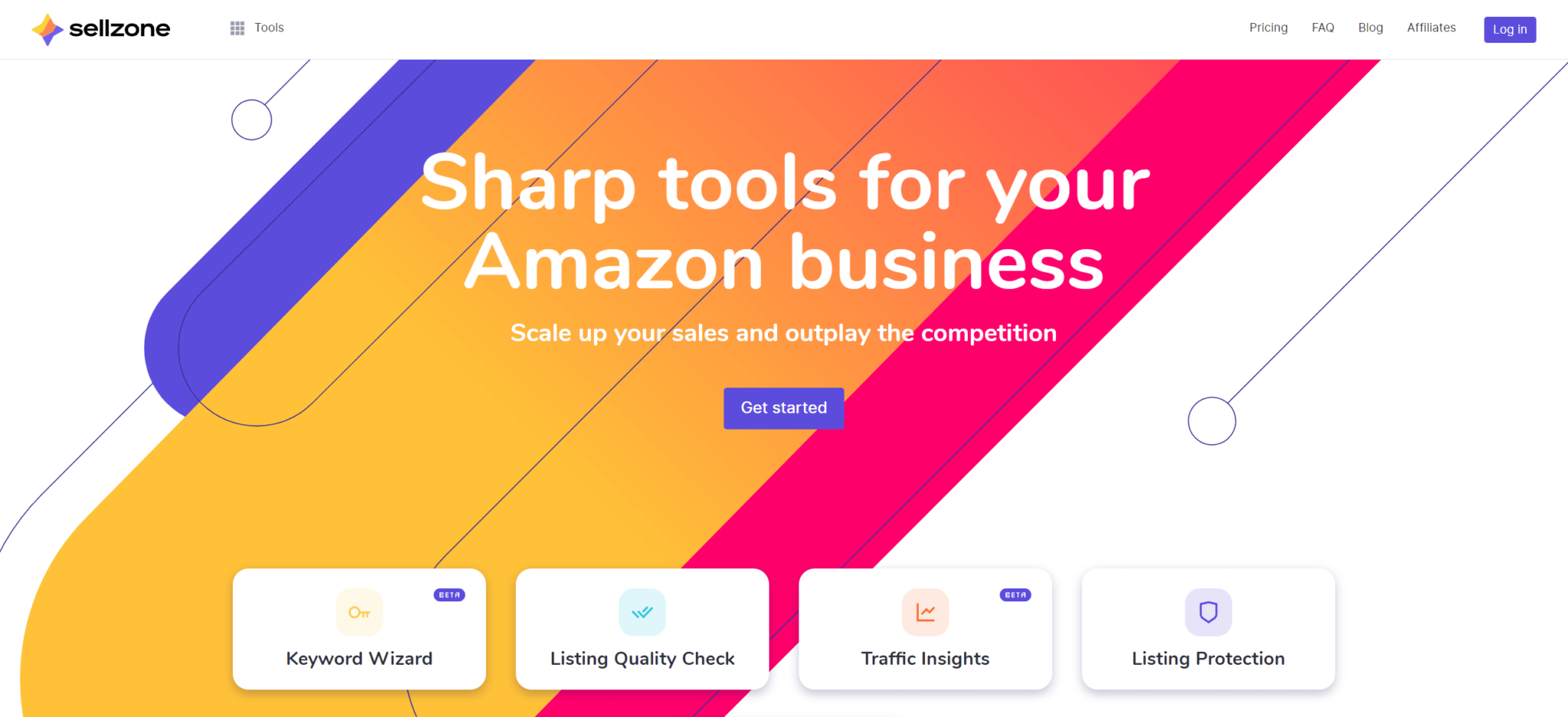 Sellzone is the one-stop solution for your amazon business. Using this tool, you can easily outrank the competition and scale up your sales.
Using Sellzone, Amazon merchants can analyze everything that is required for scaling the e-commerce business.
Sellzone tool is developed by Semrush, one of the biggest digital marketing toolkit provider companies.
Basically what this tool does is that it optimizes the Amazon product pages to increase visibility so that more visitors can land on that product, thus more sales and profit.
Why Sellzone For Amazon Business?
You might be thinking, what is the need for Sellzone and what is the need for it?
Am I right?
So let me give a brief idea of why you need it and what it can do for you.
We are very much aware that Amazon is the largest online marketplace and here more than 2 million sellers are selling their products worldwide.
As this business is on the boom right now, so hundreds of thousands of new sellers are joining every year.
So can you imagine how tough it is there to get top results on the Amazon marketplace in whichever category you are selling your products?
If you are new or recently started, it will be very difficult for you to compete with millions of competitors out there.
So for that, you need a powerful and phenomenal eCommerce tool like Sellzone that can help you optimize your product page, A/B split testing of your pages, provide traffic insights etc
I am going to discuss all its great features briefly in the next section.
This tool is designed with the ultimate motive to outshine the competition and audit your own product pages to get more traffic to your product listing, get more sales and thus more profit.
Related Read: Start An E-Commerce Business Using Fiverr In 2022
Sellzone Features
Sellzone has 4 powerful features currently that are more than enough to scale up your Amazon business.
Being a merchant and struggling to have more sales, you must be aware of these awesome features and their usability for better results.
Here are the Sellzone features:
Product Research
PPC Optimizer
Keyword Wizard
Listing Protection
Traffic Insights
Split Testing
Listing Quality Check
I am gonna discuss all these features in detail and the working of the tool so that you can easily use it for your own products in a similar way.
Just stick with this blog and follow my steps.
So, let's understand the details of these tools now:
---
1. Amazon Product Research Tool (Free)
To help people grow their Amazon businesses, Sellzone has introduced a new tool that allows you to do better product research and get more sales for your brand. With this new update to the FBA calculator, finding the most profitable products and niches has never been easier.
Here are some of the top features users can do with the free Amazon Product Research Tool:
Analyzing the demand for a product is one of the most important steps for an online retailer that wants to run an eCommerce store on the internet. To help you understand your customers better, Sellzone has provided detailed information on each product so that even beginners can do their research with ease.
Amazon sellers who are confused between FBA (Fulfillment By Amazon) and FBM (Fulfillment By Merchant) can use a calculator to find the costs in both options to choose the better alternative.
The calculator shows all the estimates like Amazon costs, total profit, and future sales forecasts per month to find out if the product is profitable or not in advance.
Many smart filters have been added to make it easier for users to navigate the Sellzone dashboard while finding profitable products online. You can adjust volume, match phrases and many other items in the keyword menu to sort through an endless list of keywords.
How does Sellzone's new research tool work?
Step 1: Open Sellzone and select "Product Research".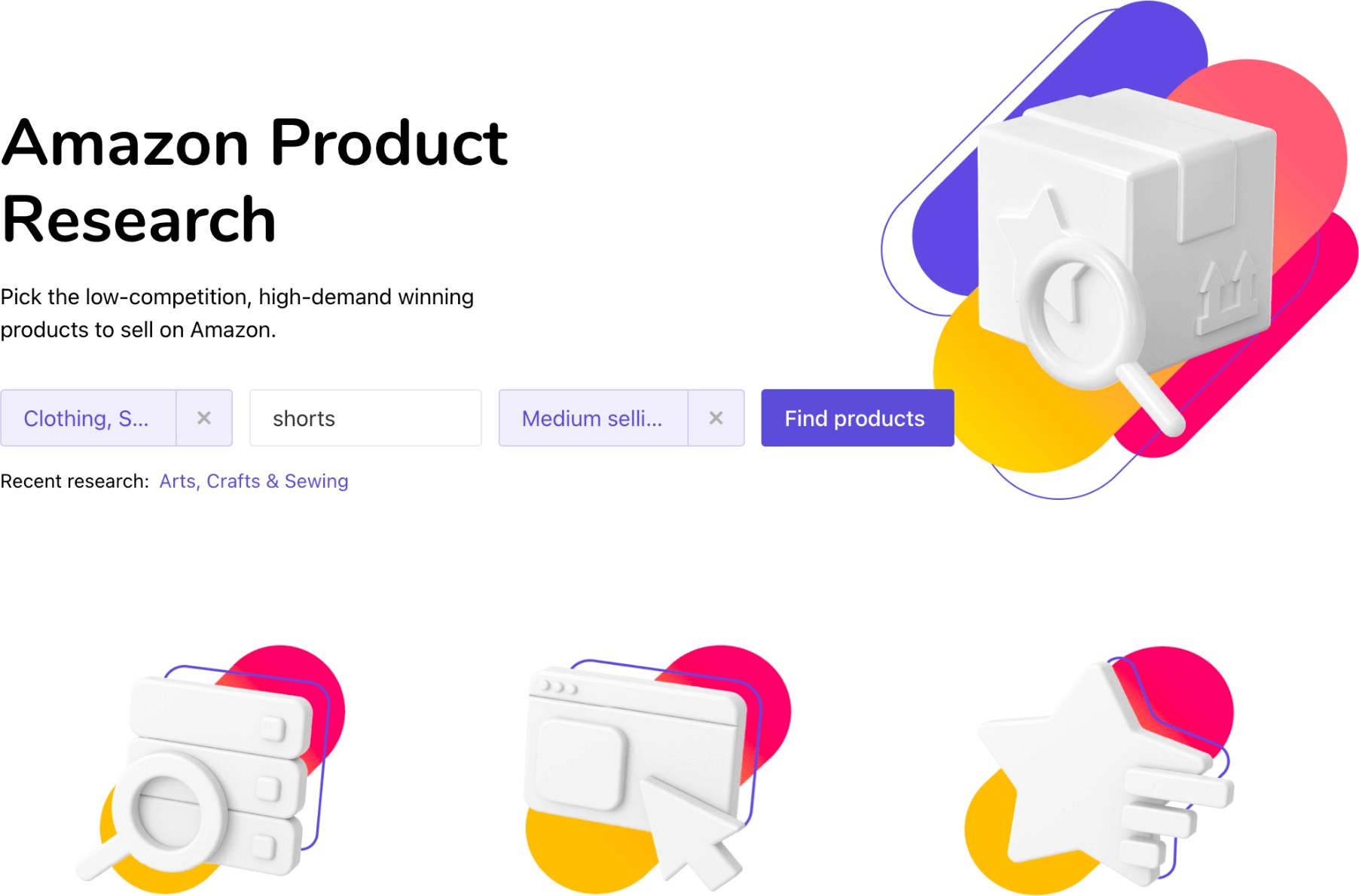 Step 2: Enter the category, name and price range before searching.
Step 3: Choose from the list of Amazon products.
Step 4: Adjust the filter by price and see which products are the most profitable.
Step 5: Use the Advanced Search option to sort reviews and product ratings.
Step 6: Create a favourites list by adding all the products you like for later calculations.
Step 7: Sort the Entire List to find the market graph.
Step 8: Now click Calculate to find the profit using the new FBA calculator.
Step 9: Research the results and start selling.
Note: People who don't have an ideal product to search for, can use the tool without adding any names. This will show you all the products in a category or in a sub-category. Now move along the results until you find one product that matches your budget, appeal and style.
2. Amazon PPC Optimizer
People who want to advertise for product sales can use Amazon PPC Optimizer and speed up the advertising process. As soon as you link your Amazon Advertising account to Sellzone, the tool runs PPC campaigns in the background without the user having to do anything.
Campaigns can be started without adding specific keywords as this tool collects all relevant search queries to run campaigns effectively. Plus, the tool is easy for everyone to use and after each new sale, your ad will be adjusted to get the most out of your budget.
How to use the Amazon PPC optimizer tool?
Here are the steps to take after you've linked your Amazon Advertising account to Sellzone.
Step 1: Open PPC Optimizer in Sellzone
Step 2: Start adding products.
Step 3: Set a daily budget and start date.
Step 4: Add keywords if necessary.
Step 5: Begin the campaign.
Step 6: Review the results and change settings if necessary.
3. Amazon Keyword Wizard Tool
As we know that Semrush is one of the trusted data providers with the biggest keyword database of 160 million keywords.
We use Semrush primarily in doing keyword research for website blogs and articles.
But how about if you have a great tool for doing keyword research especially for Amazon products. So here is the too for you, ie Amazon Keyword wizard which is recently introduced and was one of the most awaited tools for amazon sellers.
If you want to know about the searches people are doing inside the amazon website so that you get profitable and low competing keywords for your products, then this tool is perfect for you.
Not only you can see the total volume but the Related keyword feature allows people to search for new keywords in the market that do not have the same level of competition. Here're some advantages:
In Broad Match you get a more general set of keywords and phrases in random order with volume and competitor data.
Phrase match shows only terms that contain the exact keyword with a few additional words for the term in any order.
The exact match offers another alternative to the main keyword, while the primary keywords are in the correct order in the body.
Related Match (Newly added)
Related Matches are keywords that are similar to the main keyword's capabilities and have less competition. The main keyword may be missing in the entire phrase, but you get another word instead with similar meaning.
Let see what is it shows when I searched a keyword into it.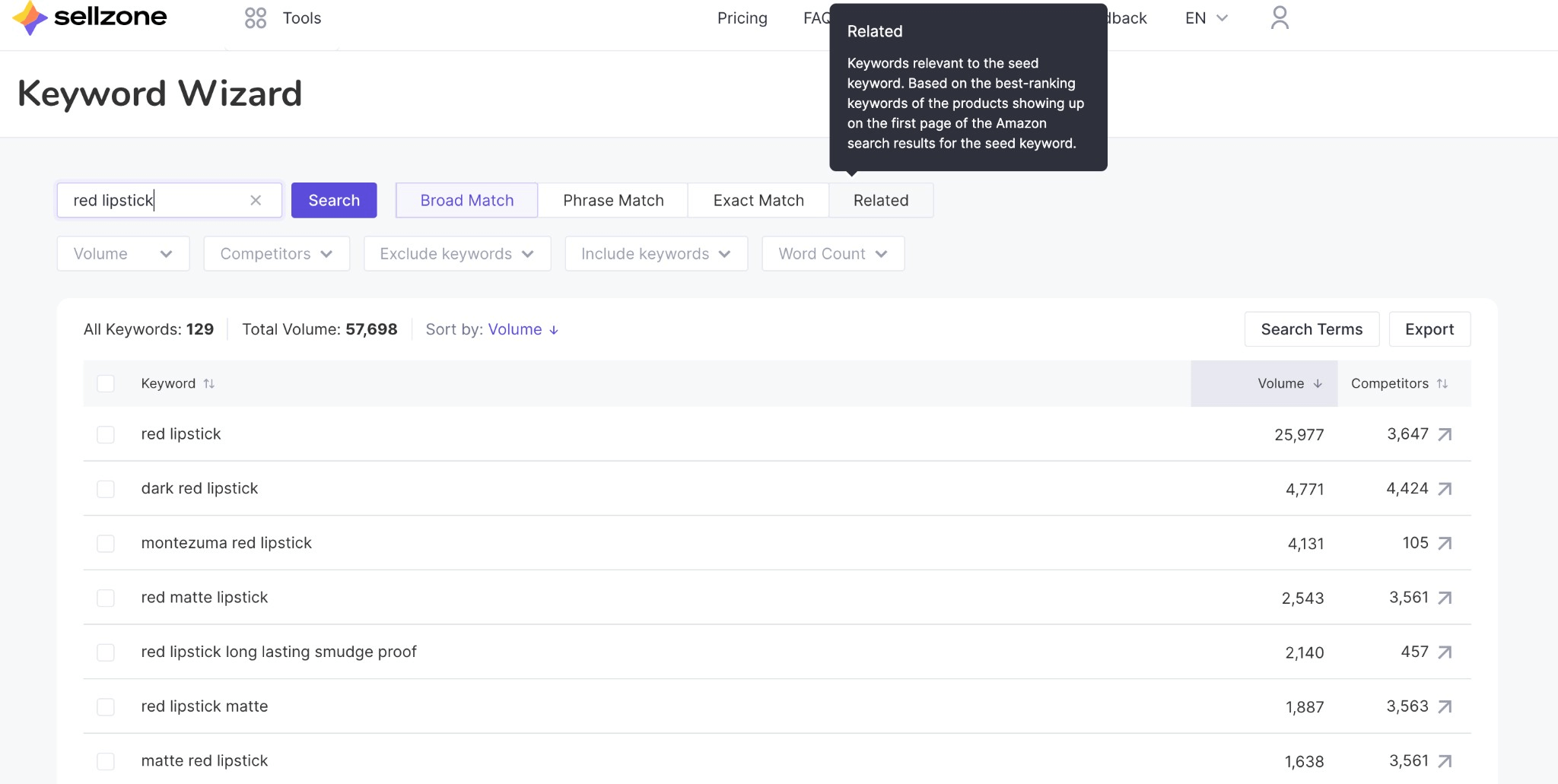 There are multiple filtering options available like a broad match, phrase match, and exact match. Eben you can fix applying a filter in the searches let's suppose <1000 volume per month and competitors <5.
How Keyword Wizard Tool can help you?
Outperform the competitors easily by targeting the low competing keywords for your products.
Get a higher search ranking by doing SEO of your products on the most relevant high traffic keywords.
Lots of filter options are available to sort out the best and targeted keywords.
Enough talking about the keyword wizard tool, let's talk about how you can start working with it?
Step 1: Enter the main or seed keyword in the Keyword Wizard Tool. For example "Gaming chair" as I have shown above.
Step 2: The tool will show you a variety of keywords and other possible variations.
Step 3: You have now a bunch of keywords. Try to apply the filter as per your requirements.
Step 4: Now export the selected keywords to further work on the product listing of your Amazon product.
Now you have got amazing keywords for your product listing. Now start working ahead and list your product with the best SEO by optimizing with relevant keywords.
---
4. Listing Protection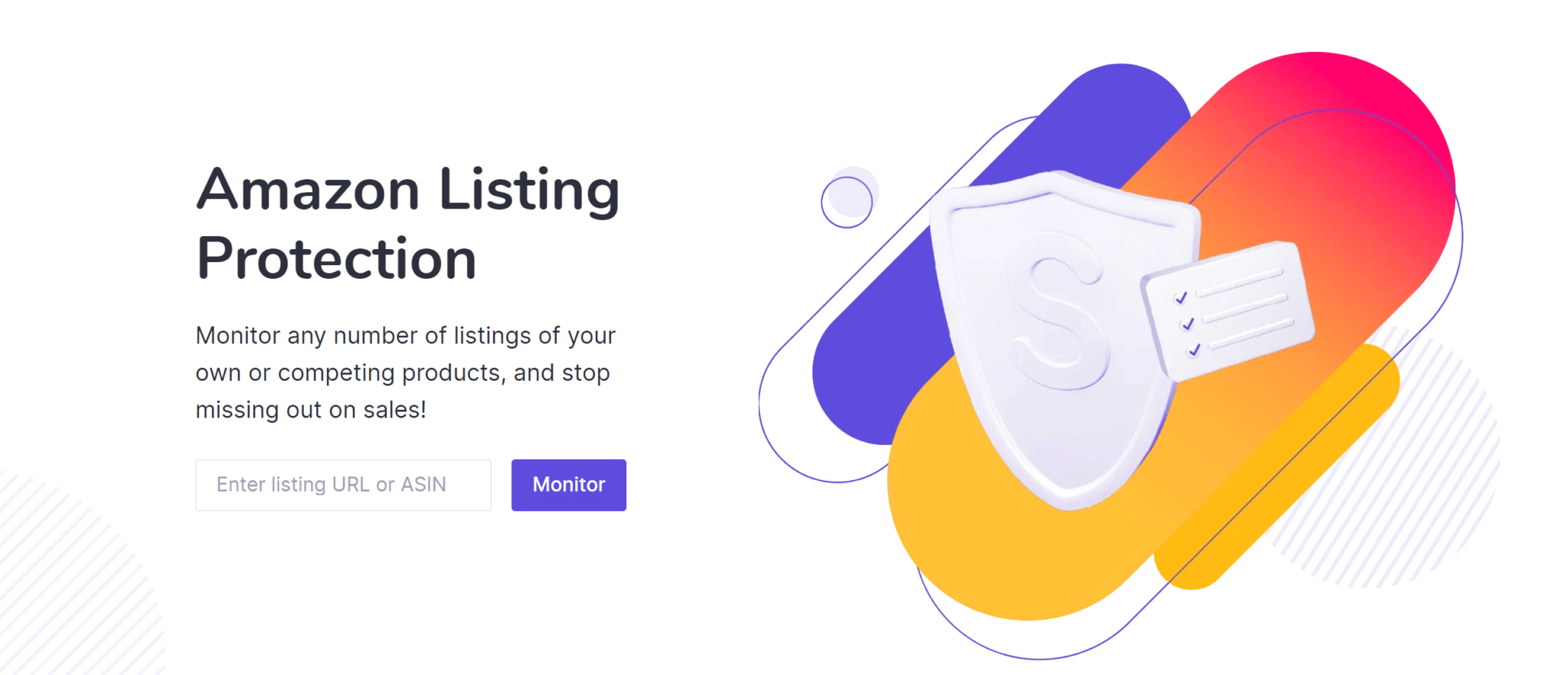 Listing Protection is a monitoring tool for Amazon sellers. This tool works on automation and monitors all the listings and ranking.
Basically, when your competitor modifies their own product listing such as pricing, description, or main image, there are high chances of shifting in the ranking.
So you might lose the ranking and your competitor listing goes up in the searches. So to remain at the fixed position, the Listing Protection tool comes into action.
With the help of this tool, you can expense very little chances of getting suppression in the searches.
Furthermore, you can do a competitive analysis of your already good performing competitors to get all relevant information.
How Listing Protection Tool can help you?
This tool is having 2 major functionalities. The first one is that it will track Amazon listing and ranking. And the second one is as mentioned above to perform the competitive intelligence of your performing competitors.
You need a competitive intelligence report of your good performing competitors so that you can analyze and evaluate properly to perform better than them in the searches with your own listings with more ease.
After that, you can request to get updates and this tool will send you the updates more often through SMS or email so that you would not need to check them often on your own
Step by step process to use this tool:
Step 1: Open Listing Protection from the dashboard and put the product listing page's URL or ASIN in the options box from Amazon.
Then click on the "Monitor" button available just in front of you. Along with your listing, you can list your competitor listing as well.
Also, you can list as many listings as you want as there is not any limitation, that's why this tool is really helpful for you.
I have listed one item that you can see for reference, you can list it as per yours. It takes 5 minutes to fetch it.
Step 2: In this step, there is an option "Track your Listing Issues" available for the merchants.
Click on it. The next interface will open in front of you. Here you will be asked to add keywords, add Buy Box, pricing, and images and track all of them.
This feature will help you to know the best result that you would like to see before listing your own product on Amazon.
This will ask you to add keywords up to 100 but in my case, I just added 10 keywords to analyse which keyword is more useful, which I can target and which have more searches on amazon.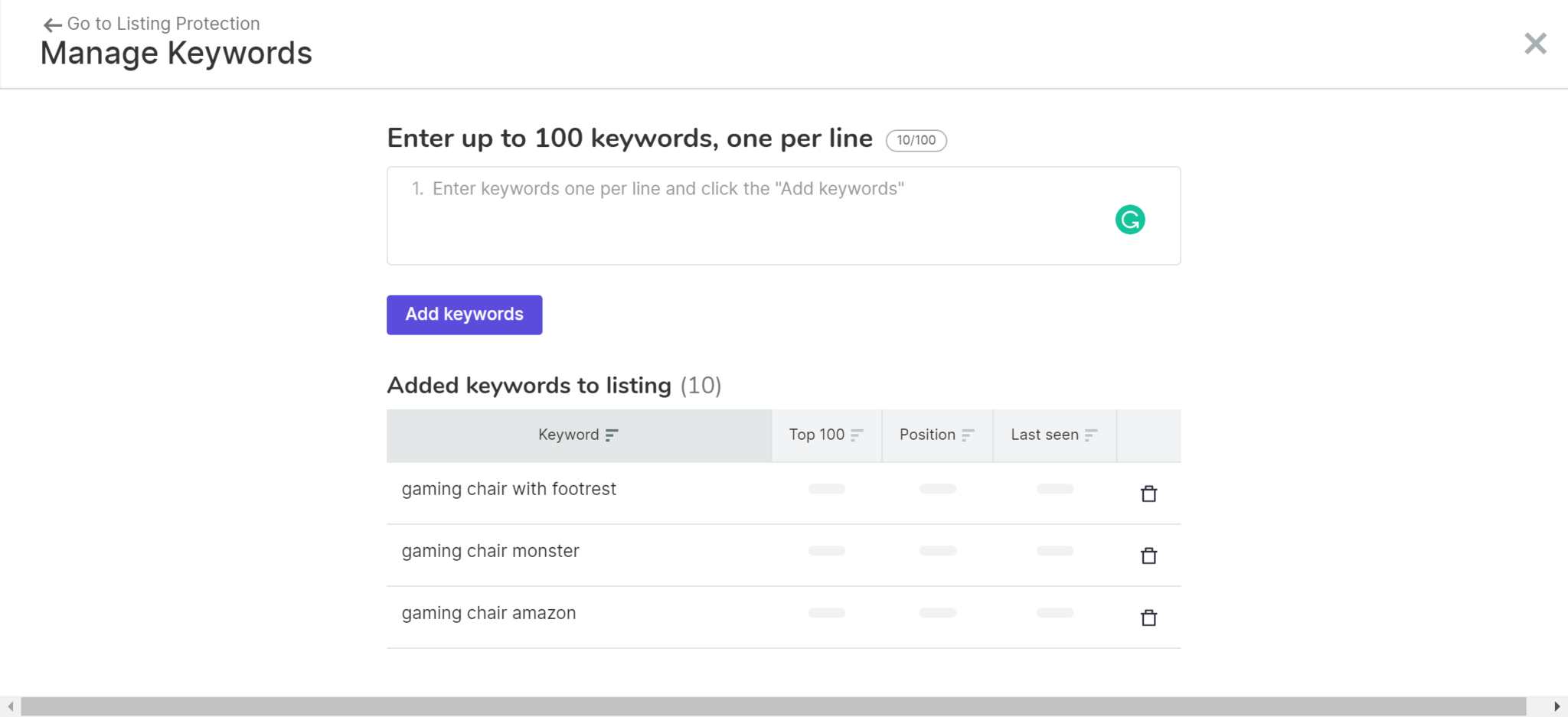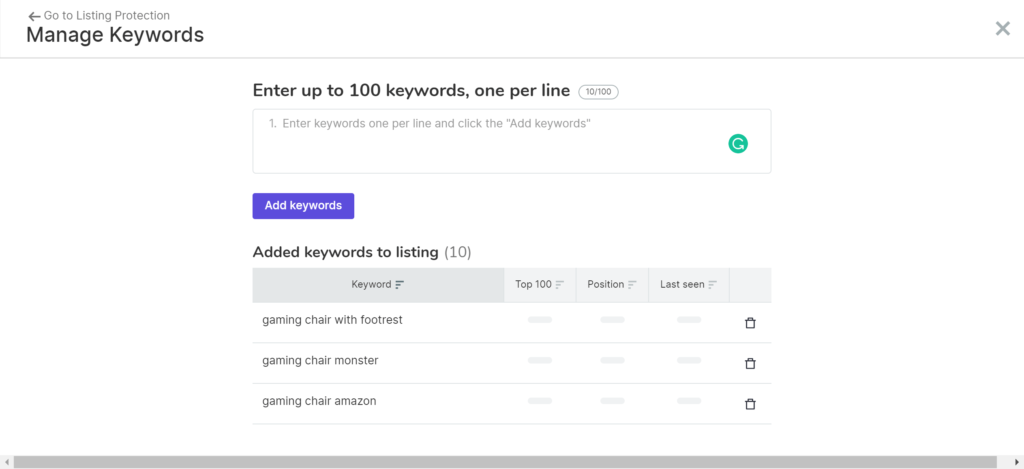 Sellzone just checks on which keyword it is ranking and on which position, so you can get the idea to improve it. That can be done with good and relevant keyword usage in the title, description, etc.
And the second option that is vital is the Buy Box. Sellzone tool will help you in this too by showing who owns the Buy Box for you to take immediate action if you drop out of it
As per Sellzone, about 90% of all sales on Amazon are made through the Buy Box.
If you want to be a successful Amazon seller, winning the Buy Box is very much important. Amazon considers multiple factors when deciding which product listings to feature in the Buy Box.
The two main factors are your product price and customer feedback. If somehow your account is not in the Buy Box, then make sure your price is still competitive and lower than that of the competitor.
Also, try to get more positive customer feedback to get more chances in the Buy Box.
After the setup of all tracks, it might take up to 15 minutes, and the result will show in front of you if any modification has been done related to that product or not.

Rest all tracked data you can get from the below after scrolling it.
Step 3: Receive regular updates
So if you would like to remain at the fixed position or upgrade your position, then you must receive updates directly to your mail. So that you can also make changes on time and not lose any ranking.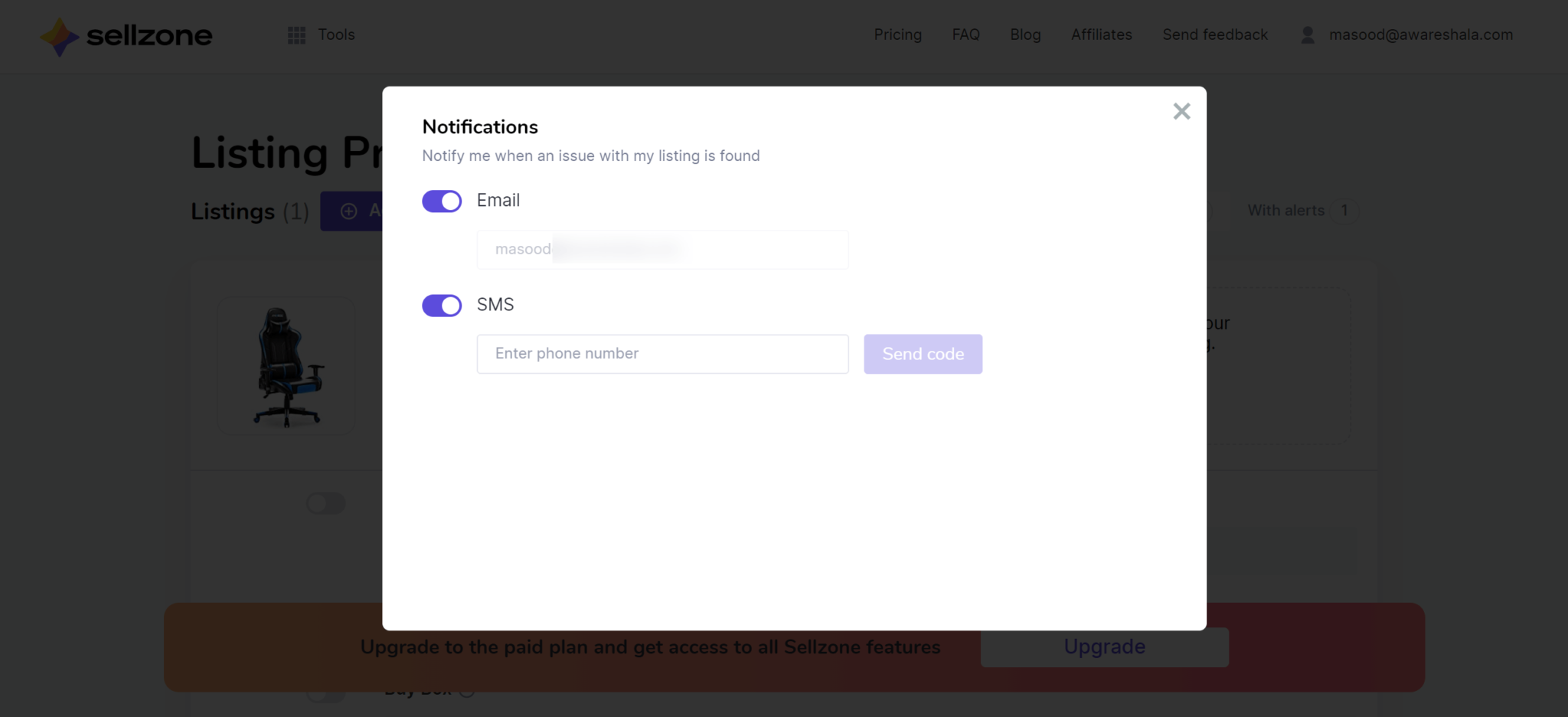 This is all done with the Listing Protection part of the Sellzone toolkit. It is quite interesting to work with this tool.
---
5. Traffic Insights
This tool helps the merchants in evaluating the market trends and knowing the audience traffics for the better launch of their own product in the market with proper strategies.
This tool tells which product is getting how much traffic and from which sources with what keywords or backlinks.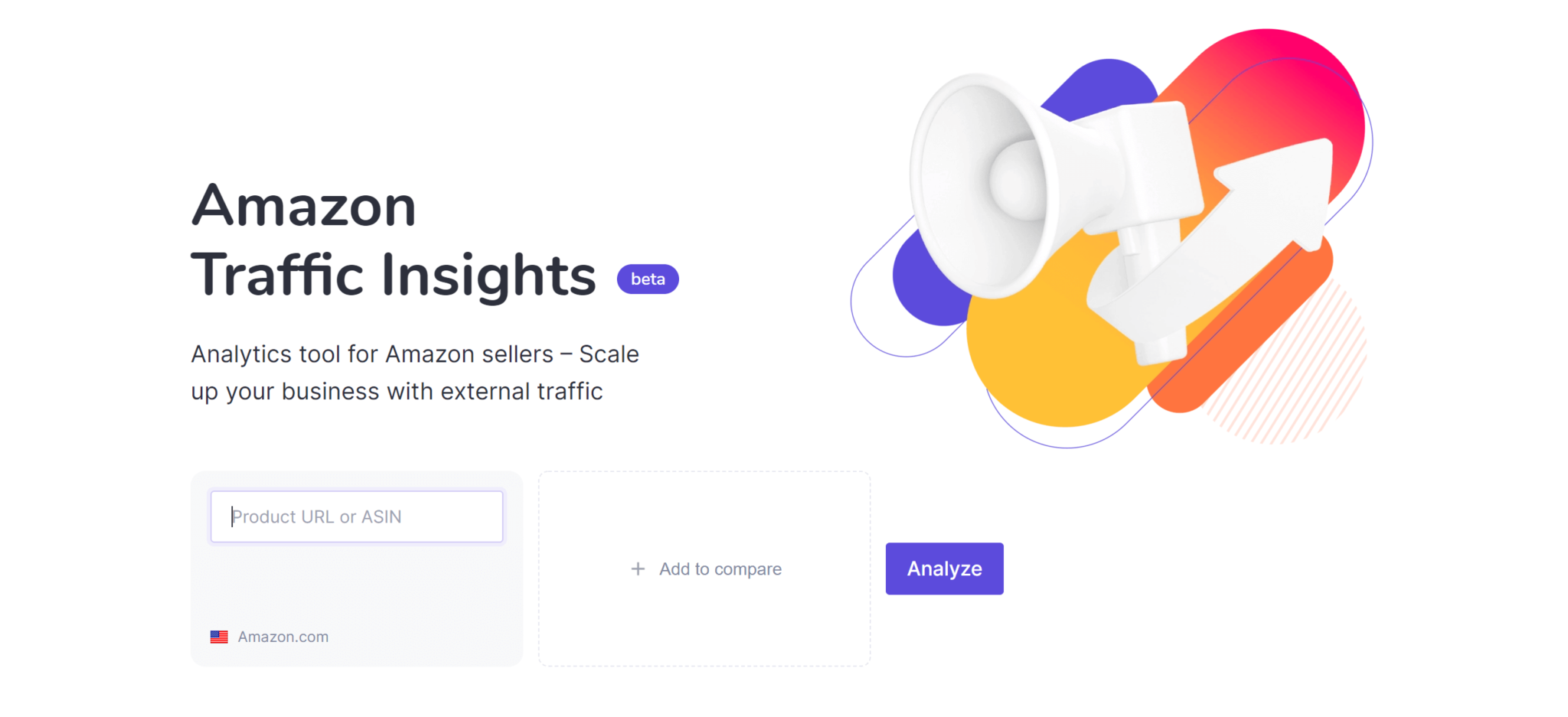 Here along with your own product, you can compare the traffic insights with your competitor. And you can add multiple competitors' products at the same time and compare them effectively.
For your better understanding, I have compared two products, and see how the Sellzone tool is showing the traffic insights of both products.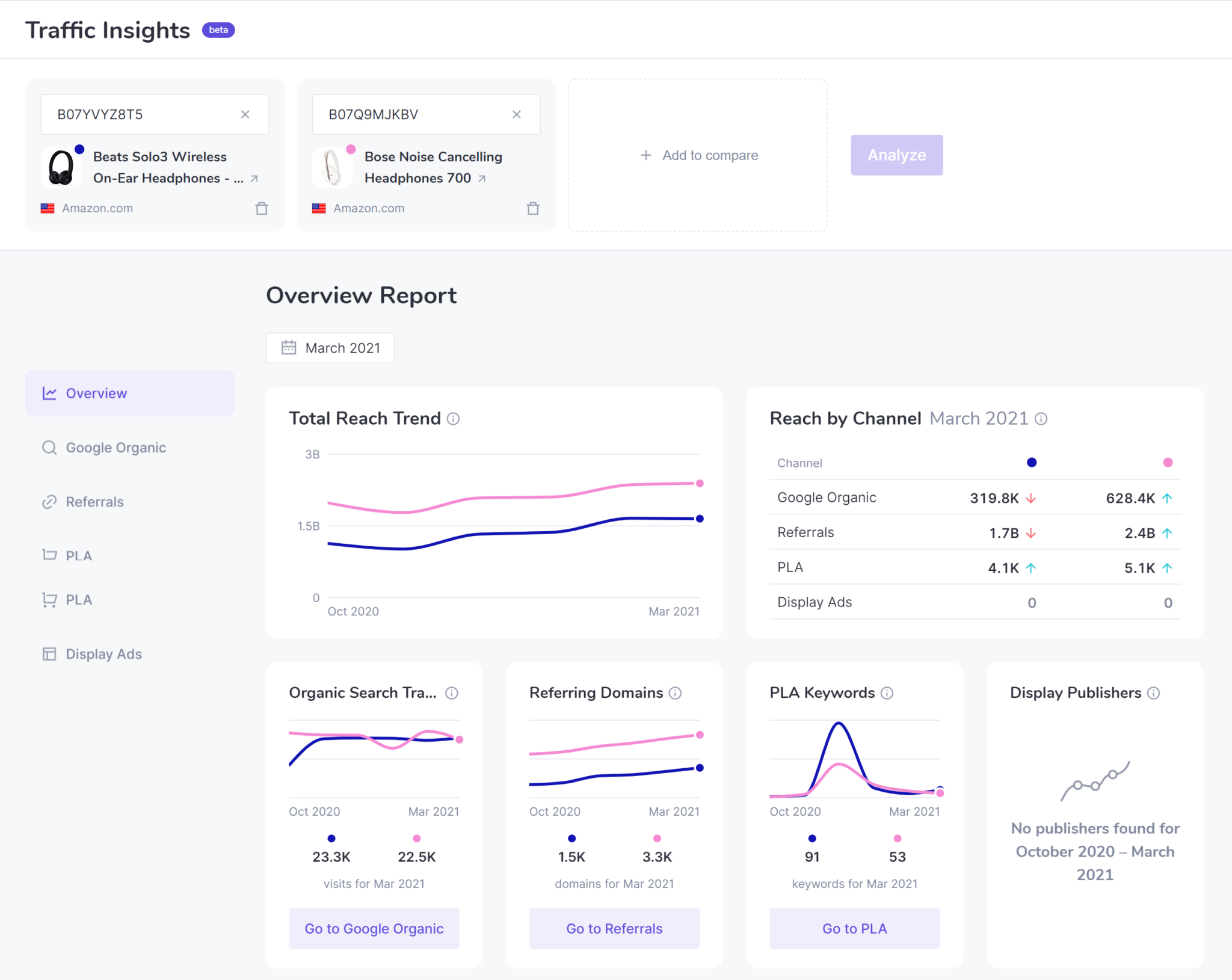 Here you will be served with traffic insights for your competitor product that you can see without any access to that product. That's what makes this tool amazing.
You can see the overview report, Referral reports, PLA reports, and Display Ads report.
Overview report: The overview report simply tells you about the overview of the data in compiled format. You can see total reach trends over the month and reach by channel of the latest month of which product is performing better.
Google Organic: In this report, you will be able to see which products have how much reach (impressions), how much traffic they are receiving and how many keywords they are raking. You can get a clear cut idea of which keywords, users are searching for, what are the competition, and a lot more ideas.
Referrals: This report tells us about the products that are getting traffic from other external sources. You can analyze this for getting the backlinks from the same external sources to get a lot more traffic to your product listing.
PLA Report: The Product Listing Advertisement (PLA) will tell the merchants about a range of specific keywords that are to show up in Google's Search Engine Result Pages.
Display Ads report: Here you can see whether your competitor is running any display ads to remain at the top searches like Adwords. You will also discover what domains publish their ads.
The new Sellzone update adds one of the most wanted Traffic Insights features you can look at to track Amazon listings in your niche and see changes made by other big players.
Amazon's organic reports allow you to check the estimated number of potential customers, analyze products, check ratings and monitor product ranking in real-time to carefully analyze online competitors.
This tool can also help you generate reports for your Amazon ad campaigns and see what people are buying in your store and what isn't selling at all. This will make your ads more powerful by running only those ads that people are interested in.
This is all done with Traffic Insights. Now let's move to the next feature. Hope you all guys are enjoying my Sellzone review of 2022.
---
6. Split Testing
A/B split testing feature of Sellzone helps merchants to know which product titles, descriptions, images, and prices are performing better than other variants of the listing. So that you can modify your products from time to time to get maximum organic traffic.
Merchant product listings should be made with relevant titles and descriptions to grab the attention of the visitor.
So this tool of Sellzone will help you in doing this. You just need to connect your Amazon account so that Sellzone can import your products.
Step 1: Connect Your seller Amazon account
You need to connect your Amazon Marketplace Web Service account with Sellzone. Just follow like this.
Step 2: Use the Split Testing tool
After connecting, it will import all your product listings. Run the various tests on titles, description, image, and price and follow what this tool is suggesting to you.
More precisely, it will compare the number of sales for each listing variant and suggest keeping the winner one.
---
7. Listing Quality Check
This is basically the audit tool of Sellzone. With the help of this tool, you can get actionable advice from Sellzone to increase your visibility and conversion rates.
Amazon is quite picky about what you can and cannot sell as there are many rules and regulations that sellers must follow before listing a product. The Listing Quality Score Checker will help you make decisions more easily by showing the results in five grades.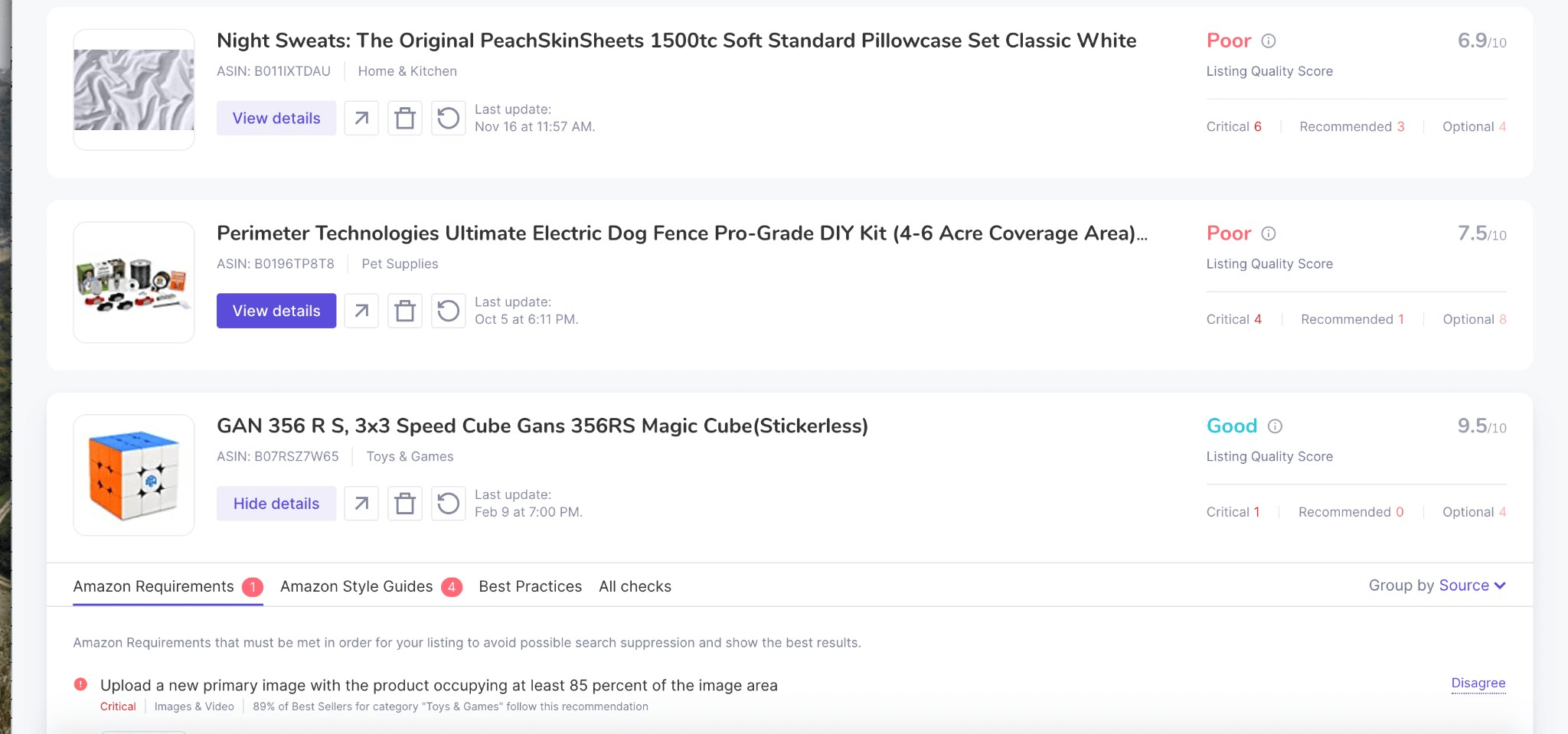 If a product passes all the tests, meets all the requirements and is optimized according to Amazon, you will get "Perfect" results. Others get "good", "decent", "poor" and "bad" depending on the issues. This feature helps users find problems and fix them in advance so that they don't suffer the consequences later on.
If the listing on Amazon is not done properly, your product's performance may decline and lead to suspension by Amazon. Three categories are classified in SellZone as Critical, Recommended and Optional so people can follow based on issues.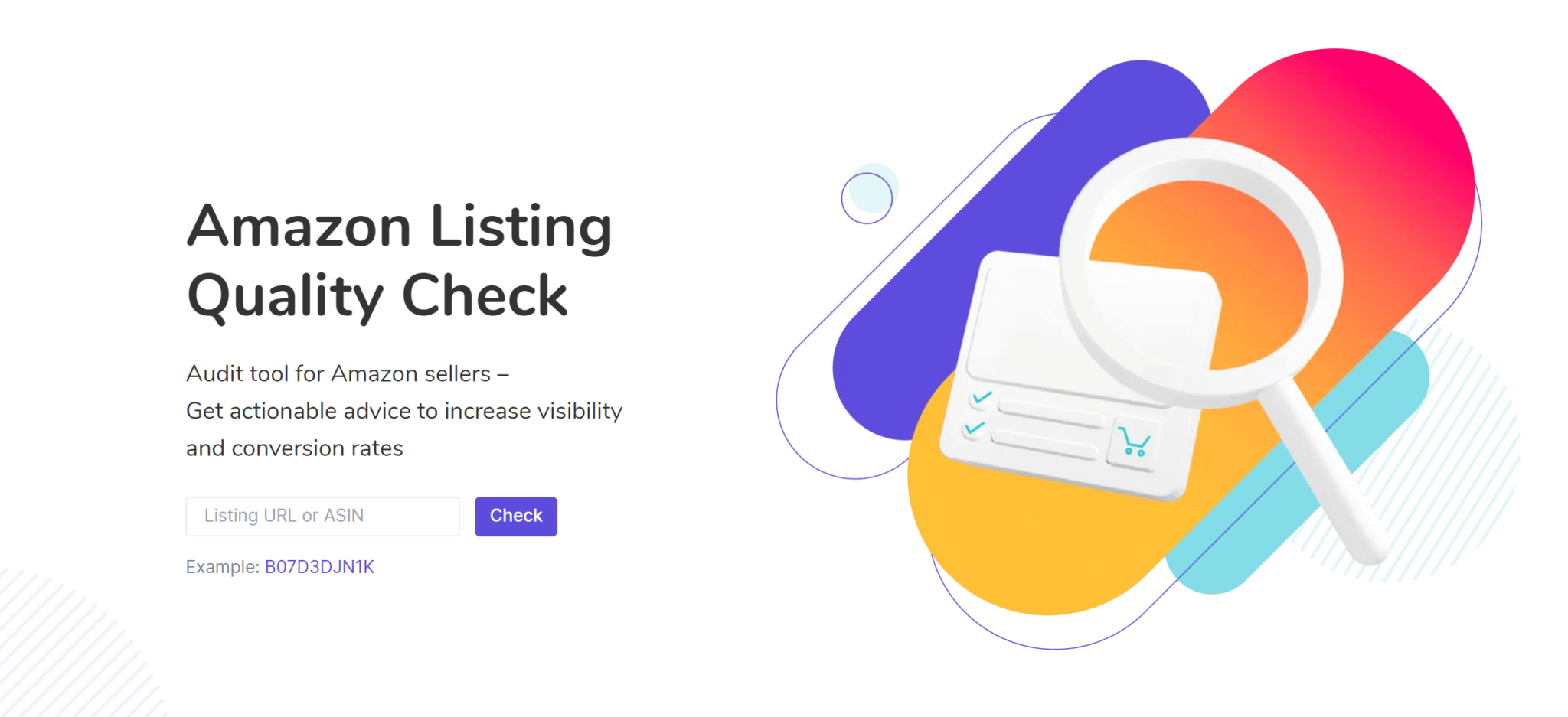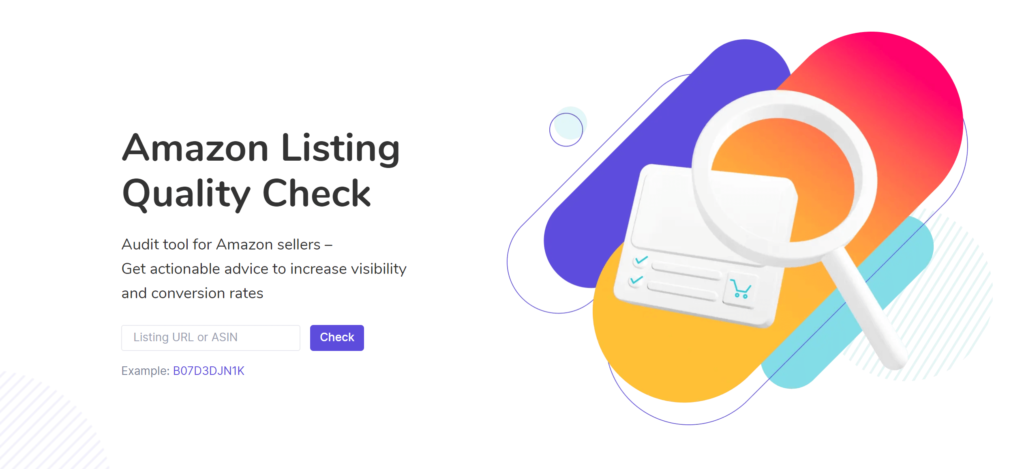 So going with this tool is as easy as we did in the first step. Just have to paste the listing URL or ASIN and click on Check Button.
This tool will let you know the errors associated with titles, descriptions content, visuals, and images. So, being a merchant, you have to fix these issues to launch a better version of your product.
You can see the list of errors this tool is suggesting in my case.
If you have an account with Sellzone, then you can start auditing the products right now and fix the errors and enjoy bigger conversions.
---
Sellzone Plans & Pricing
Right now Sellzone toolkit comes with 3 plans, i.e. Free, Growth, and Pro plan. If you are aiming to boost your business and scale it up for high revenue, then 50$ per month is pretty much affordable.
Even after this complete and easy guide, if you are confused about whether to take a paid subscription, then I would suggest you go with a free plan or better take a trial to know more about this tool.
In the FREE Forever plan, you will get the following features:
Unlimited listing split tests
ASIN external traffic overview
Listing checks for Amazon Requirements
If you get the idea of this tool, then to explore more of its features, you can start a free trial.
Note: Free Trial period will be of 7 days and you can start absolutely free. You will be charged after the trial period. Also, you can cancel anytime.
The GROWTH Plan of Sellzone offers these features:
Full set of listing quality checks and improvement ideas
In-depth reports on ASIN external traffic channels
Listing Protection with all security alerts
+ Free Features
PRO Plan Of sellzone offers:
Personal account manager
Private onboarding
Extended limits
+ All Growth features
What I like most about this plan is that, if you need any help then you have a personal account manager that can help you in inspecting and setting your account and you can grow your business under their guidance of them.
Sellzone toolkit comes with only one pricing. You can avail all the features shown above is just $50 per month. Just try it for your business and see the skyrocket in sales in your analytics.
---
How to start Sellzone Free Trial?
Starting with the Sellzone toolkit is super easy. You just need to follow the basic steps mentioned below.
Step 1: Click here to visit the official site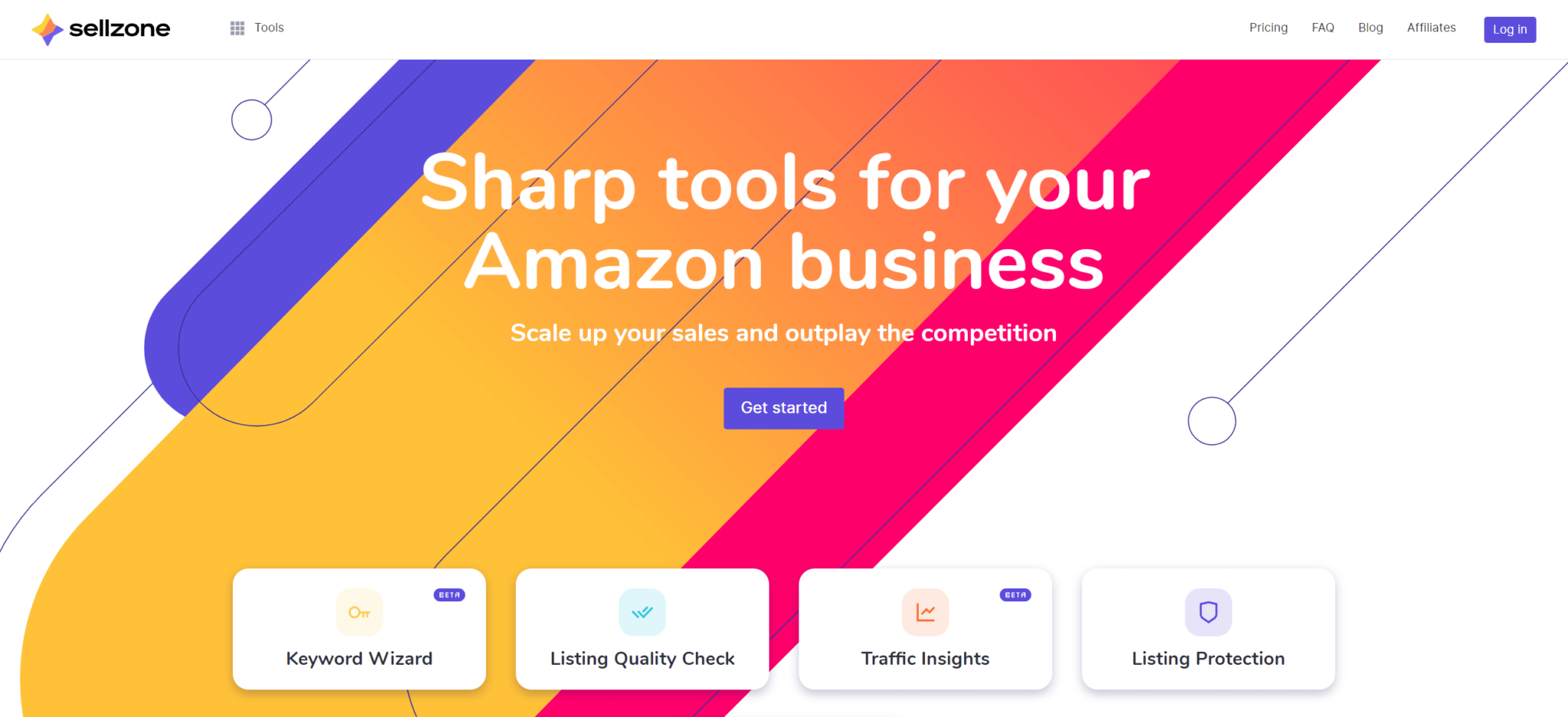 The window will appear in front of you. From here click on Get started.
Step 2: Create your account
In this step, you have to create your account. Just put your preferable email and password and click on Create my account.
Step 3: Start your free trial
After successfully creating your account, you can go through each feature of this toolkit. But to experience all features, you can start a free trial.
For that visit, the pricing tab is available there on top of your dashboard. You will see an option to start a free trial. Click on it and you are done.
Sellzone Review 2022: Pros and Cons
In this section, let's discuss some pros and cons of the Sellzone toolkit.
Pros
Full set of listing quality checks & improvement ideas
In-depth reports on ASINs external traffic channels
Listing Protection with all security alerts
Keyword ranking alerts
Unlimited listing A/B tests
Listing Protection
Customer support is there to help you with your queries very quickly.
Trusted eCommerce amazon tool for sellers
Support via Facebook and WhatsApp Chats
Now everyone using SellZone can ask for help via Facebook and WhatsApp. 7 million marketers already use the platform, so there may be a 10-15 minute delay in support for customers, but you are sure to get a solution to any platform problem.
Moreover, people can contact the Sellzone team to clear any other doubts before using the service and make a perfect setup.
Cons
Only available right now for the US Amazon marketplace.
Strategy not shared with merchants to do after auditing the product listing.
---
FAQs On Sellzone Toolkit
1.. What is Sellzone?
Sellzone is the best amazon google kit for sellers to grow their business. There are various tools they offer to increase the seller's revenue and beat the competition.
2. Is Sellzone free?
Sellzone is a freemium product that you can use for free but there will be limitations in using extra features. You can start a free trial to use it for 7 days.
3. How does the 7-day trial period work?
After the free trial, you'll be charged $50 monthly.
You can cancel your subscription if you don't want to continue using our paid tools.
4. How do I cancel my subscription?
To cancel your paid subscription and stop the recurring payments, you can contact them via email.
5. Which Amazon Marketplaces do they support?
Currently, sellzone is supporting the US marketplace and they will launch it for other countries as well very soon.
---
Final Words On Sellzone Review 2022
So now we have come to the end of this Sellzone Review 2022. Hope you have liked my complete review of this toolkit.
This toolkit as mentioned has 4 different features and all those features are more than enough for any merchant to boost their sales and revenue in this competitive world.
Many merchants are already using this tool and you can read their reviews, on how this tool has helped them to achieve their ladder of success with this tool in less time.
I would recommend you to go with the free trial of Sellzone for a basic understanding of this tool. If you like to go ahead with a paid subscription and find it worthy then you can go ahead.
For any suggestions or queries, just comment below. I would love to hear from you.