Working with your target audience is the best way to manage your e-commerce or online business and grow it based on Google analytics reports.
However, Google Analytics is quite challenging to understand, and it will take you a long time to get used to the platform to benefit from its features.
So you can use the MonsterInsights Pro Plugin Addons to quickly grow your website or blog with the best analytics data and tools in a brief training period.
Also, the plugin has over 2 Million active downloads to let you do all your tracking without causing any technical difficulties in the backend of your website.
Plus, the plugin can track other things like Ads Addon, AMP Addo, eCommerce Addon, EU Compliance Addon, etc., to give you a clarified report on each topic.
So read this compression guide to find out whether or not you should use the GiveWP and Restrict Content Pro add-on with your MonsterInsights plugin.
---
GiveWP Plugin (General Overview)
GiveWP is a popular yet robust plugin that allows you to set up a fundraising service for accepting donations on your online platform without using an external donation site.
You can customize your payment systems and easily adjust donation settings to match your users' preferences to make a safe and secure way to donate on your site.
This plugin also shows you the names of your donors and how much they have contributed to your website to track their activity effectively.
You can do all that work without lifting a finger right from the WordPress dashboard by accessing the plugins report section on the MonsterInsights page.
Moreover, the information is shown in an easy to read format that anyone can understand and gain insights into their total donations over a large duration in minutes.
GiveWP is one of the top donations and fundraising plugin for WordPress and 100,000+ websites are using this premium plugin and trust in it.
---
Restrict Content Pro Plugin (General Overview)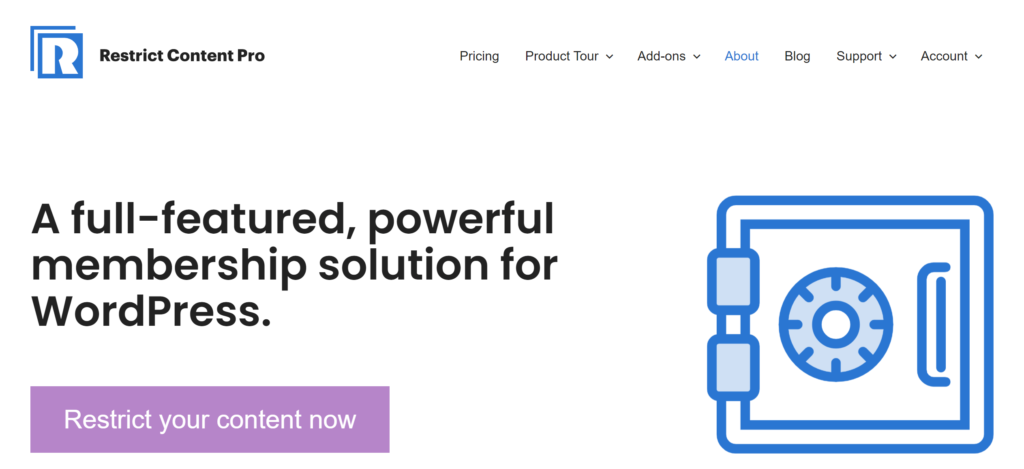 The Restrict Content Pro Plugin is essential for running a member or subscription-based website to show limited content to other users.
This plugin allows you to effectively manage all your members on your website with a single dashboard and gives you complete control over your website performance.
You can even create primary and secondary content for individual members to give them more access to your services with a touch of a button.
Plus, the plugin works best with ecommerce tracking at MonsterInsights to professionally manage all your products data in its dashboard.
---
About MonsterInsights eCommerce Tracking
Ecommerce tracking is a MonsterInsights Pro version feature that allows you to analyze each product in your eCommerce store to measure its value.
How To Install MonsterInsights On wordpress?
Here we have discussed in detail, step by step process to install the MonsterInsights plugin on your WordPress.
Follow this guide.
That way, you can quickly pull data from GiveWP and Restrict Content Pro add-on with the touch of a button to automatically do all the work for you.
Usually, you'd have to hire a developer to code all these settings on your WordPress site manually, but this plugin makes the process more accessible than ever before.
You can activate this option by going to your WordPress dashboard and MonsterInsights settings to grant permission to check your store's conversion rates, sales, and donations.
One of the best things is that you'll have instant access to your website's traffic sources to stay up to date on your performance in a few clicks.
Moreover, you'll get the input you need to take the right action and generate more sales by understanding customer behaviour on the eCommerce Store.
---
MonsterInsights eCommerce Tracking Report
When you will enter your WordPress dashboard, you will get e-commerce reporting in the monster insights plugin.
From there you can gather a comprehensive overview of all the data you required to see like conversion rate, transactions, revenue, and average order value, etc.
Here are some of the things you can benefit while using the MonsterInsights ecommerce tracking plugin's report section
All successful transitions, including the total purchases on your eCommerce store, are listed in this section for a limited time period that you can change to view older reports.
In the conversion window, you can find out how many people have bought your product and the average rate of conversion. It is calculated by the total number of people who have visited your website compared to the orders you have received in a certain period of time.
On the sales section, you will see data on how many products you sold in total in a month, day or hour, which you can change as needed from the MonsterInsights panel.
The average order value is the total number of people who properly purchased your product from your e-commerce store.
This is calculated from the number of orders on the shopping cart and the number of orders purchased later that date.
As the name suggests, it is a product list that has outperformed other items available from an ecommerce store in terms of popularity and sales.
Added to / Removed from shopping cart items
The total number of orders placed on your customer's purchase cart for a given period falls into this category.
Even if the purchase is not made, it shows that the number which can become more remarkable than the total number of sales.
---
MonsterInsights Tracking Solutions
Universal Tracking
EU Compliance
Engagement Tracking
eCommerce Tracking
Enhanced Ecommerce
Form Conversions
File Downloads
Enhanced Link Tracking
Affiliate Links
Banner Ads
Performance
Google AMP
FB Instant Articles
WooCommerce
Easy Digital Downloads
MemberPress
Custom Dimensions
Author Tracking
Logged-in User Tracking
Custom Post Types
Category / Tags Tracking
SEO Score Tracking
Google Optimize
---
MonsterInsights Tracking Improvements
In order to provide the best value, MonsterInsights is constantly updating its program and recently improved the Delight Project feature to take your tracking to the next level.
They have also changed the structure of the dashboard so that every beginner can speed up their work with an easy-to-use interface to make accurate decisions based on the statistics of their users.
Plus, with the core widget upgrade, you can now provide better interactive experiences to customers to generate more sales for online businesses and ecommerce platforms.
---
Final Words on MonsterInsights eCommerce Tracking Addon
The basic version of MonsterInsights is powerful enough on its own with the feature to show Google Analytics data in the simplest form.
But, after using the plugins' e-commerce tracking feature, you'll be able to increase your efficiency & understand customer behaviour to sell more products that match their quarries.
Beginners, in particular, can take advantage of this simple content & product analysis process to get their website rank on top pages of search engines.
If you are planning to build a high-performance e-commerce store or a course selling platform, then take advantage of this opportunity and use MonsterInsights eCommerce Tracking Addon Integration With GiveWP And Restrict Content Pro Plugin today.