There is no denying that YouTube has become an excellent resource for people who want to make real-time money from home by broadcasting live events from their daily lives.
With the second-largest platform seen by billions of people every day, YouTube is the ideal choice for individuals or businesses in 2021.
To be honest, there are many ways you can grow your YouTube channel using a freelance platform like Fiverr and minimize the workload.
I can understand that many of you don't even know what Fiverr is and how it can help you to start an eCommerce business without any skill?
Don't worry. I'm going to cover everything in this article. So, read this article till the end.
What is Fiverr?
Fiverr is an online mall that brings various digital services such as web design, logo design etc., by professional freelancers worldwide to get the job done as best as possible.
There are more than 300 categories are available that you can choose from Fiverr. This means you can grow a YouTube channel with Fiverr very easily in 2021.
And the interesting part is that all these services start from as low as $5 and the rest goes high up to your expenditure or budget.
You can pick the top-rated freelancers for a fraction of the price that other companies charge to do the same task. And due to competition, you can get good quality of work in less amount and as soon as possible.
Related Read: How To Start An E-Commerce Business Using Fiverr In 2021
Before moving ahead, let's discuss my personal suggestions to get the right freelancer for your work.
Why Fiverr?
There are other various freelancing websites are available on the internet and even individual freelancers, then why choose Fiverr only?
If you are thinking like this, then let me tell you.
As per the report of DMR business statistics, there are 3.4 million active buyers and 830k+ sellers listed worldwide. Millions of people trust this website due to the quality of work and at lesser cost make this platform stand apart from others.
Here at Fiverr, you can get gigs starting from just $5 which is quite lesser as compared to others providing the same value.
With Fiverr your money will be safer as the payment will not release to the seller until and unless you are satisfied with the work that was promised to you.
---
Tips to Find the Right Person on Fiverr for Your Youtube work
Finding the right freelancer for your work is very much easy here on Fiverr.
Why? Because Fiverr provides all the necessary details which can help you to understand the quality of work and choose best among all.
TIP #1: Check their work and ratings on Fiverr
As we know that on Fiverr lots freelancer publish their gigs and Fiverr sort some best authentic and relevant gigs and show to you in the searches.
Among all the gigs that you see, now you have to select from there only. So before selecting anyone, you must check their previous work and see the reviews.
Basically, this will give you an idea about that person about work, ethics, the quality so that you can get your work done hassle-free and on time.
Let me illustrate to you with an example. Let's suppose, I am interested in a logo design service. So I will search the same in the search bar.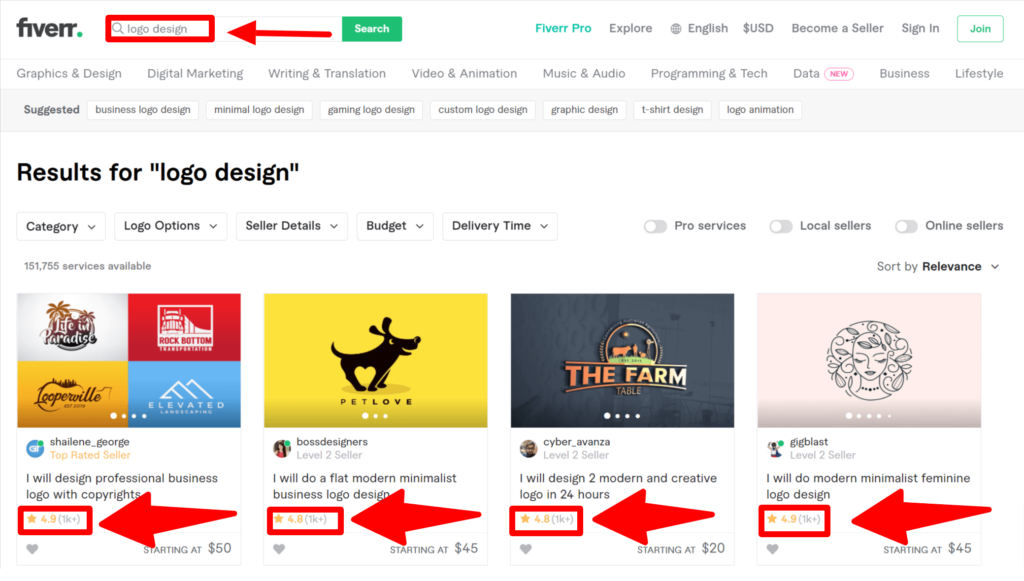 As you can see in the searches, all top-rated gigs are shown in front of you automatically by Fiverr. So I recommend you always check the rating of service given by real buyers. If it's above 4.7 then you can go with him/her.
Also, note that the price of gigs is different. So make sure you select from them as per your budget and how much likely you will going to spend on the service.
TIP #2: Look for reviews and see project completion
Always look for reviews from the real buyers and most importantly check the project completion time, whether he or she has delivered the project on time or not.
Many freelancers may get lots of work on a regular basis, so your project may get delayed. So always look for the project completion time of that seller.
Let me give you an idea, of how to look for reviews and project completion time. I will select one seller from the above picture.
You can see that this seller is a top-rated seller and has completed so far 6935 orders with an average of 4.9 ratings. This is just amazing. You can also look that he has 96 orders in queue.
His average response time is 2 hours and will deliver to you in 2 days as per his gig with unlimited revisions you can ask from him.
This designer has 14+ years of experience working in this logo designing field. You can read all details after visiting the seller gig.
Here is some reviews, i would like to show you about the seller.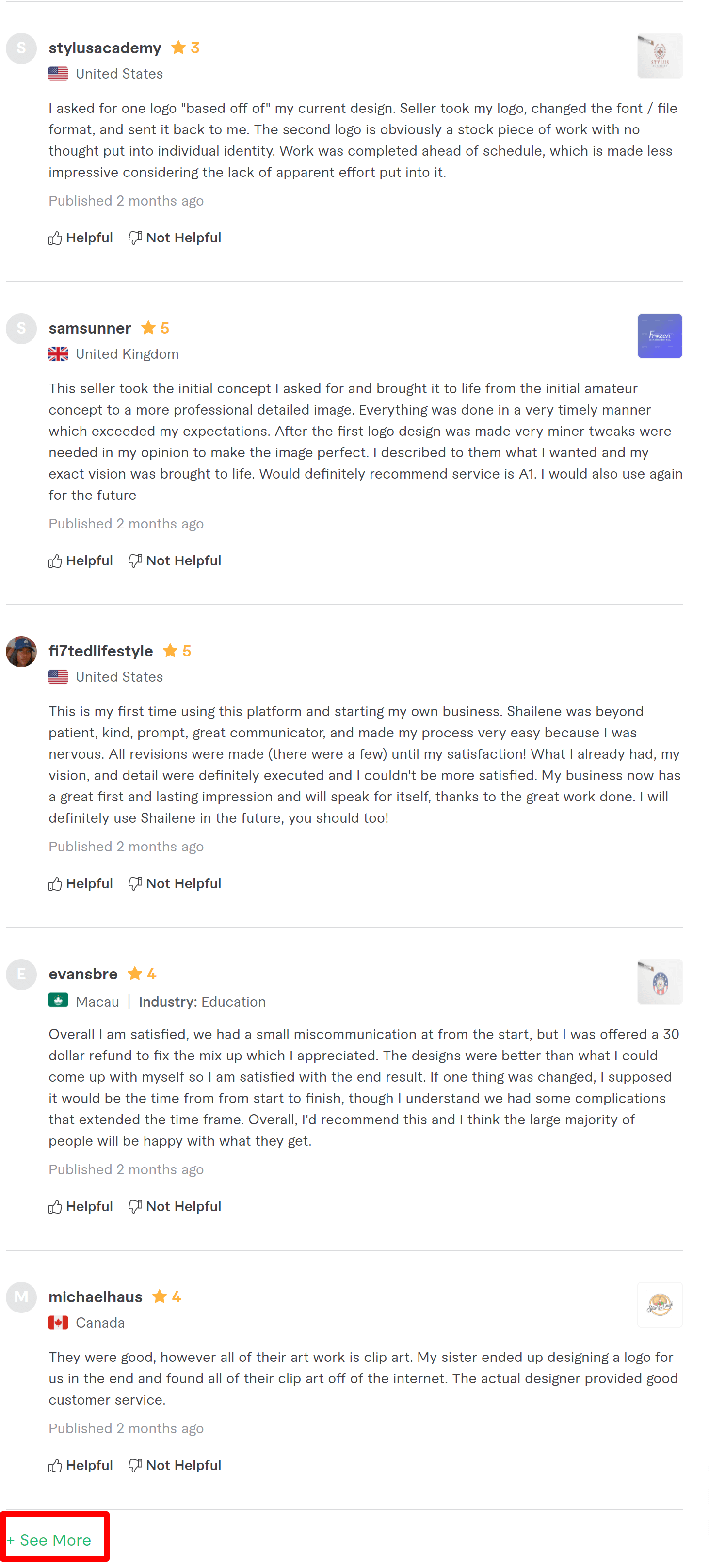 TIP#3: Use filters to choose a package that fits your budget
If your budget is not up to what best sellers are asking, you can use the Fiverr filter option to select the best among the sellers under your budget easily.
For doing this just search your service. Suppose you are interested in log design. So visit Fiverr and search logo design as we did earlier. Let your budget is $10, so put the maximum budget to $10 and click on apply button.
Now you can select from the best sellers available in front of you under your budget. Hope this tip will help you in finding the best seller for your work.
TIP #4: Seller Level
For every gig you enter, Fiverr will show you the seller level of each seller.
Let me explain it to you. Fiverr divides sellers at 4 different levels:
Top-Rated Seller: Seller who have completed at least 100 orders on time with a minimum 4.7 rating.
Level Two: Seller who have completed at least 50 orders on time with a minimum 4.7 rating.
Level One: Seller who have completed at least 10 orders on time with a minimum 4.7 rating.
New Seller: Those who are new in that service.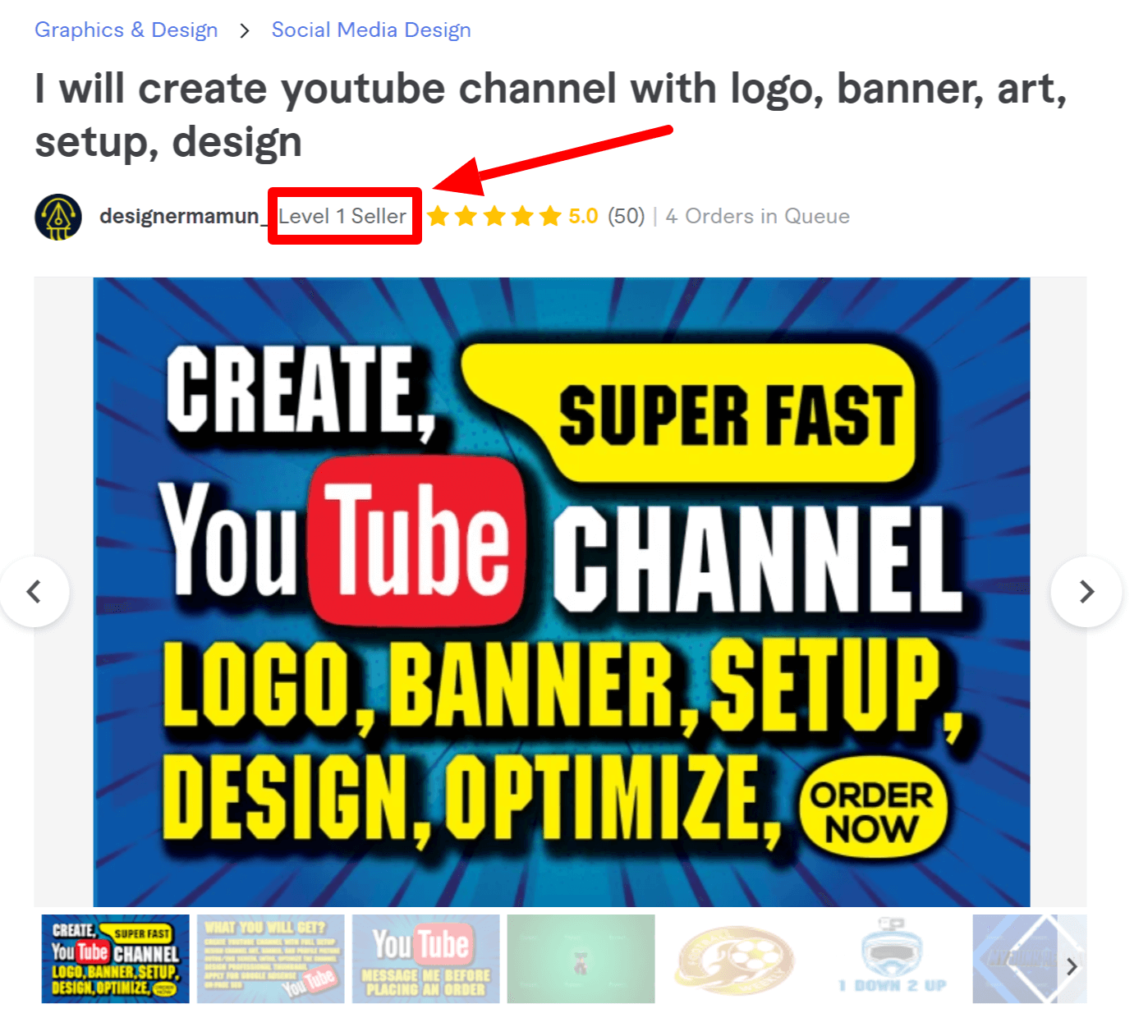 You can select the level of the seller as per your need, budget or special requirements.
TIP# 5: Send them a message and clear all your doubts
If you have additional requirements and if you have the doubt that the seller will fulfil your requirements or not then in this case, I'll recommend you to contact the seller before placing the order.
Fiverr provide this feature to its customers. So you can avail of this feature. I always try to contact the seller so that I can make him/her understand my requirements.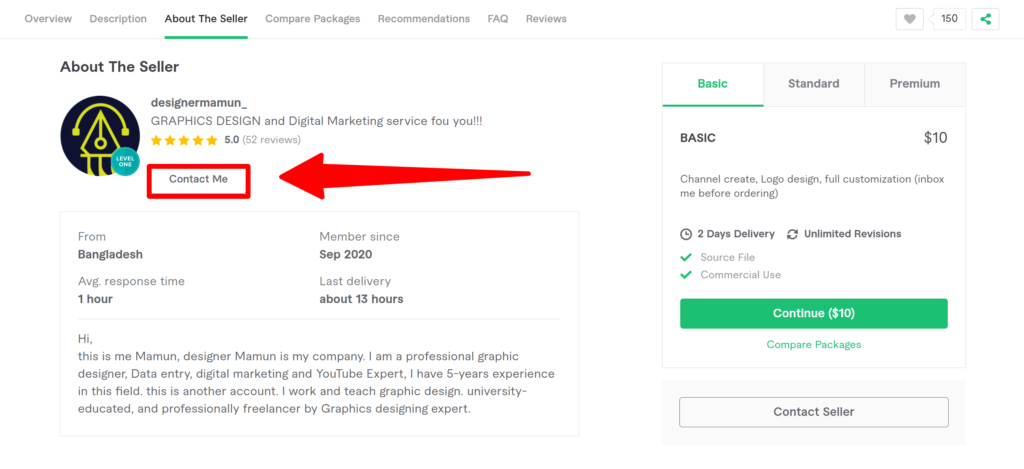 ---
Grow a YouTube channel with Fiverr in 2021
Here are some tips from an expert to grow a YouTube channel with Fiverr in 2021. Scroll below to know more.
1. YouTube Channel Banner Art and Icon
To establish a presence in the online industry, you have to work on your channel branding and make it unique enough so that any of your subscribers can identify your work.
This is where a professional artwork for your channel icon becomes helpful to broadcast a message for your audience.
You should use the Fiverr Gigs posted by UI & UX designers to create your channel icon & banner image while showing every little detail of your niche.
A designer will help you select ideal colours, images and text for your logo & banner to make your brand identify different from other people on the platform.
How to order for your Youtube Channel?
That's fine. You are interested to stand apart from the competition and looking forward to making a brandable channel available right there on youtube.
So let's get started.
Step 1: Click on this link to visit the official page of Fiverr. You will land directly on the YouTube Banner Art search page.
Or, you can use this search box widget to get the freelancers for your project.
Step 2: Out of 5,457 services available in this category. You can select any one among them depending upon your budget.
Don't forget to apply the tips before ordering as provided above at the beginning of this article.
Step 3: Make sure you contact the seller and clear all your doubts and place all your requirements in front of him/her so that in future there are no conflicts arise between you and the seller.
Step 4: After that, place your order with the seller and proceed to payment.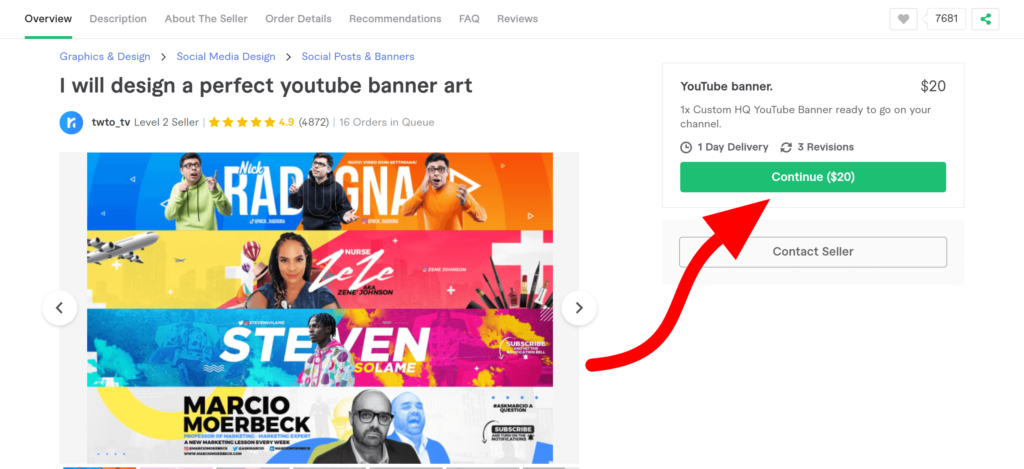 After getting the work done. You will get an option to download. if you are not satisfied then you can ask for revisions. It will be free as per the mentioned number of revisions, if you want then you have to pay additionally.
You can similarly order your channel logo or icon from Fiverr. This is the basic channel setup that you must do. I recommend you get your channel banner and logo done to make your channel appealing.
Also, don't forget to give your own honest review and ratings about the gig or seller. So that the right audience can choose the best designer and hence the seller will also get benefitted from it.
---
2. Edit Videos Professionally
One of the best ways to grow your YouTube channel is by creating high-quality content that will add value to the users' lives without wasting any of their time.
A quality YouTube channel needs to have a professional editor manage raw video files and show only the essential parts of the topic.
Professional video editing can be a difficult task for one person, which is why Fiverr has many freelancers to help you with the editing process.
They benefit you by choosing Wright colours, adding copyright-free sound, and featuring special effects to help your channel flourish and grow quickly.
Plus, you don't even have to spend a fortune finding a downhill video editor as it's an ordinary skill, and many people will do this in 2021 for a bit of price.
Let me share, how you can order a good video editing freelancer for your videos.
How to find Video editing Freelancers?
Step 1: Click on this link to visit directly on the video editing search result page on fiverr.

Under video editing categories, there are several subcategories too that you can look upon. But here you are interested in the youtube video editing service. So let's look for that only.
Here I have applied the filter to choose from top-rated sellers only. You can also apply the filter as per your need and budget.
Step 2: Choose from the wide variety of sellers after reading their reviews and ratings. Contact them before placing an order.
Step 3: At last, Place your order with the seller and proceed with payment.
If you are looking to work with the seller on a long term basis, then you can negotiate with price as well. You can get a custom price from a seller specially designed for you.
---
3. Use Fiverr for Thumbnails
The people who have mastered the technique of making compelling thumbnails have gained a lot of followers with ordinary videos in a lot less time.
Thumbnails work best to help you gain more clicks on a video as they influence the user to click on a title while giving them a brief insight into the story.
To display attractive thumbnails and grab the attention of your viewers right away, you need to have a professional graphic designer.
They can help you pick a custom thumbnail with the right image, text, and graphics to optimize your videos for more conversions.
So get your perfect thumbnail for your premium video before deciding to upload it on your channel by freelancing it on Fiverr.
How to make Thumbnails for your Youtube Videos?
You are done with channel setup, recording of the video and even editing of that video too. Now it's time to create a thumbnail for your video.
Youtube thumbnail is very much important in grabbing the audience attention. Any viewer first time sees the thumbnail only. You may have heard of "The first impression is the last impression".
So let's get a perfect thumbnail for your video.
Step 1: Click here to visit the official Fiverr search page of the Youtube thumbnail.
This is the best service you can get on Fiverr at a very low price. Attractive and eye-catching thumbnails are there in your hand for just $5.
Now repeat the same process as mentioned above. You can't get such an easier platform to get your work done than Fiverr honestly.
---
4. Create Attractive Intros and Outros

You may have noticed that some big channel running for a long time have perfected their intros and outros to farm more likes and subscriptions.
By making your own animations to play at the start and end of a video, you can add a professional look to your channel.
It also helps the YouTube algorithm to understand your content and allows you to get more views because the content becomes easy to recognize.
Luckily, Fiverr offers great animators and artists to help you fine-tune your intros that can become a custom highlight for your channel.
However, Animation can be a complex process, which is why the cost of making videos of high quality is more.
But you can use the same intro multiple times over the years on your channel, which is also true for your outros to maximize its usage.
How to make a YouTube intro animation?
There are various ways to make a youtube intro and outro animation. There are some apps and websites that provide you with a space to create an intro for your youtube videos.
But the problem that arises here is the learning and editing skills that you may get lagged. So if you want to get a hectic free and time-saving intro done for you, Fiverr is the platform to get. Let me share how you can get it with a little price.
Step 1: Click here to visit the Fiverr search page.
Step 2: From more than 5000+ services, look for highly rated and good reviews sellers.
Step 3: Now visit each seller gigs and play the animations. Basically, it's the part of their work. So you can get an idea of whether it's up to your expectation or not.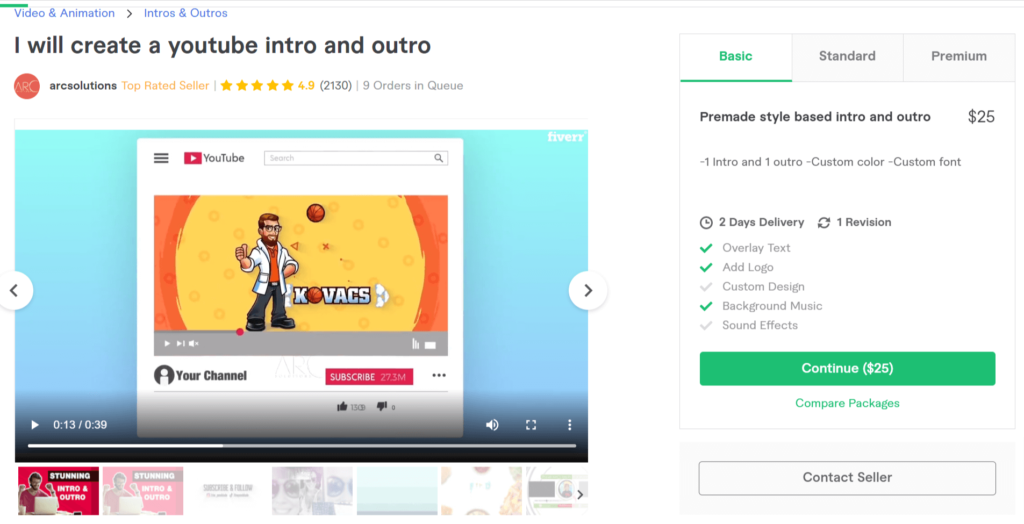 Step 4: Contact the seller, tell your requirements and clear your doubts and place the order. That's it. It's super-duper easy using Fiverr in 2021.
---
5. Use YouTube Promotion Services
The YouTube advertising service is in high demand as it helps develop your channel faster by organically promoting videos to the targeted audience.
This is an inexpensive strategy that anyone can use, but to never lose money, you need a professional PPC model that you can get on Fiverr.
With that will be able to select a gender, status, location, and many more things with a topic of interest to grab your users' attention for better conversions.
Also, professional promoters provide you with performance statistics for your videos to always stay updated with your campaign and make strategies based on the results.
How to use Youtube Promotion Service?
Here are some easy steps to follow:
Step 1: Click here to visit Fiverr directly on the Youtube promotion search page.
Step 2: Apply filters for sellers, ratings, max budget if you want. Otherwise, select among the search page. Read their ratings and reviews and select more than one for better promotion.
Step 3: Contact the seller, share your niche. If it goes well, then place the order with the seller.
Step 4: Make the payment using your preferred mode of payment.
That's it. You can ask for a reference from the seller about how the promotion is done and what is the update etc.
---
6. Make your own track
It goes without saying that music is the most common way to keep viewers engaged with your videos and provide them with a satisfying experience.
Music can help you stimulate your mind to hear and pay attention to the information you want to show your users to get more watch time.
Playing free music doesn't have the same effect as playing private music created just for your channel, which Fiverr can help you do.

Because of this, many top-tear YouTubers use personalized music in their intros and outros to make YouTube videos even better than watching a movie.
---
7. Focus On YouTube SEO

Previously, you could just post a video, and it would easily rank automatically on YouTube search engine without doing any SEO on the side.
However, today you need to train YouTube's algorithm to present your content in users search results by optimizing the video, description, and tags.
In today's competition, working with a good SEO person is essential that can make a big difference in the growth of your channel by showing your video to the incoming traffic.
Although there are a few free resources available on the internet, they don't work so often, which is why Fiverr has plenty of freelancers available to help you with your tasks.
Moreover, you can also sign up for these awesome tools:
These are among the best seo tools to do keyword research, optimize the title and description of videos. Analyze your competitor's videos what is working best for them so that you can advance yourself.
There are lots of features these tools are proving. You can signup for a free trial and see whether ts beneficial for you or not then only upgrade to premium.
---
8. Promote Merch To Get Extra Bucks
Custom-made products like t-shirts, mugs and accessories that content creators sell on YouTube channels are called merch.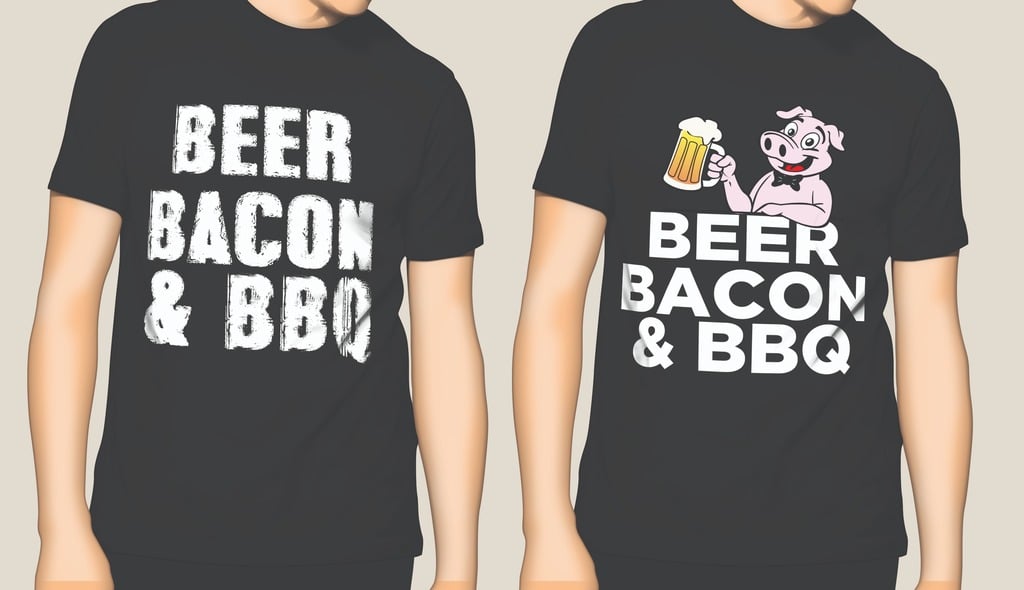 They are said to be items that can increase your profits if you have a decent following on your channel without doing any time taking job.
You can plug your merch through your social media platforms to get a second source of income while running a YouTube channel as the primary career.
Freelancers on Fiverr can help you create any product design, and all you need to do is find a good graphic designer and web developer to launch your website.
Depending on how aggressively you are promoting your product, it can become a great business that you can run on the side.
Also, it diversify your source of income while earning money from YouTube, so even if you take a break from social media, it will continue to make money for a while.
---
How to find and hire an experienced freelancer's on Fiverr?
With Fiverr becoming a popular platform used by 11 million people worldwide, it becomes challenging to find the right freelancer for your project.
Also, if you have a YouTube channel, you need someone who understands your brand image and can help you develop your channel faster.
You don't need to know the freelancer in person, but it's always a good idea to find someone who has a great profile and has done some well-rated work before.
Don't just buy a random freelance service because you need to talk to them beforehand to find out if there are experts in the field.
You also don't have to worry about payment issues because Fiverr supports PayPal and credit cards to make online payments easy, which you can pay from your Android, iOS or Windows device.
And until you approve your freelance work, payments won't be processed, which guarantees you to never lose money even after buying a Gig.
---
Baseline: Grow a YouTube channel with Fiverr
Fiverr has grown significantly over the years, and it's become much more helpful for YouTube creators and owners to outsource work on a different platform.
Instead of going the extra mile, Fiverr will give you experienced freelancers with lots of skills to increase your views and subscribers in much less time.
Freelancers can help you grow a YouTube channel with Fiverr by creating custom graphic designs, editing videos, promoting your content online, and much more.
Plus, they also allow you to upload videos faster while making more money from your channel, making that investment a better deal for any content creator.