Very fewer people are aware that siteground pay with PayPal can be done. You just have to follow this small step. Scroll to know more.
For starting a blog, you will be needing domain and hosting.
So, the domain is basically the name of your website like take my website example, bloggingsprout.com
Similarly, hosting is a place where files of our website will be stored and show images and others when someone visits our site.
You must be wondering now that, which is the best web hosting ?
There are various companies that provide this hosting service but not all are worthy.
So instead of confusing, let me answer you. The best web hosting provider is siteground.
I am not telling you by just market research. I am using it personally on my websites.
Key features of siteground Hosting
There are various features this hosting provides the customer which others are not providing.
I will not tell some technical terms which you might don't understand as a beginner.
Let jump to some straight forward key features of siteground hosting.
Speed increases by approx 80%.
Most importantly, free SSL.
Daily backup of your site's
You will get a free custom email like [email protected]
Free CDN (content delivery network)
Unlimited database and unmetered traffic
Most importantly you will get 30 days money 💰 back guarantee.
This hosting is recommended by also some WordPress experts like Syed Balkhi, founder of wpbeginner, and also Yoast SEO founder.
You can take the domain from GoDaddy or Namecheap also and then connect it with siteground hosting.
So before siteground pay with Paypal, make sure you have already purchased your domain name.
Purchase siteground hosting with card
Step #1 Click on this offer link to proceed for the purchase.
There are 3 plans. If you want to build your single site then select a startup plan and for unlimited sites, go with grow big plan.
If you are beginner then I would recommend you to go with startup plan only.
Step #2 Fill your domain name that you have already purchased.
Step #3 Fill out your account information, provide card details and proceed to checkout.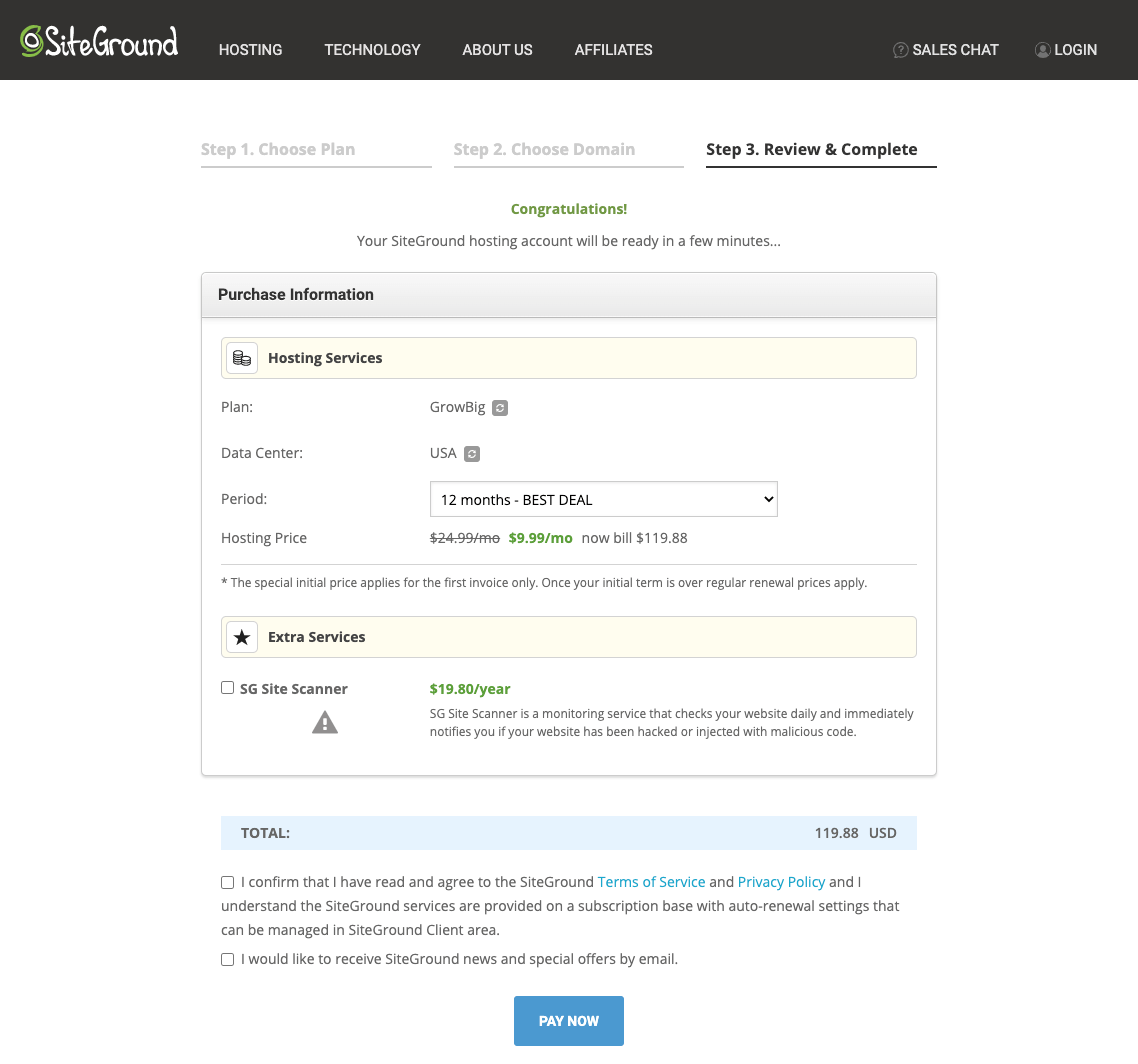 Important Note: You can pay through VISA or MasterCard and it should be international payment enabled.
If you want to buy Siteground hosting with PayPal then scroll below to know more.
After making successful purchase check out your email for confirmation.
Congratulations! You have purchased your hosting with siteground. You have made your first step towards online success.
As lots of people may get an error while doing the payment. So for them, Paypal is the best method.
Siteground pay with PayPal
Here I will show, how you can buy Siteground hosting with paypal?
So in this method, you have to repeat the first 2 steps as provided above. That means to select a plan, put your already registered domain name.
But during 3rd step. Fill out your account info, provide an e-mail address, and mailing address.
But don't provide card details and live it blank.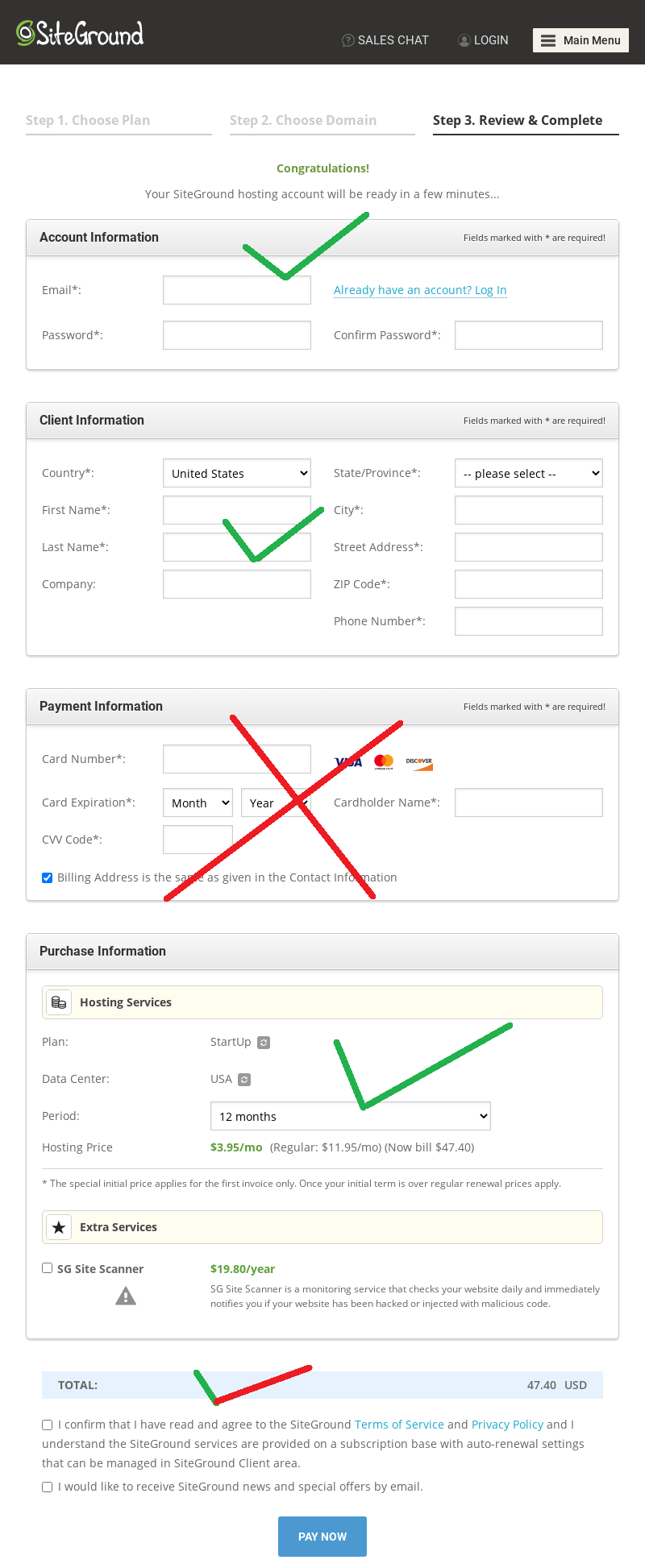 At last, tick the confirmation box And proceed with Pay Now button. You will get an ERROR message. So don't worry about it.
Now you can do two things wait for siteground billing support team to contact you through mail as-
Siteground team has got your information and wait for their support email.
OR, you can contact them through live chat support and they will provide PayPal link to make your purchase.
Customer support will ask your email, name, etc. Provide all details and say that you have already created an account and you want to pay through PayPal.
After verifying your all details, the customer executive will send you the Special Custom Link which you are supposed to click in order to make payment for your SiteGround web hosting order via PayPal.
When siteground pay with PayPal will be completed, you will get a Purchase Completion Notification Message on screen and also through email. Do save invoices for future reference.
Which is more safer : paypal or card payment?
So being myself using Paypal for international transactions from the last 3 years and found it one of the safest gateway to make purchases online especially for international payments.
PayPal is safest and encrypted and will not let your personal information shared with the merchant.
And most importantly, if you don't want to renew your hosting with siteground. Go ahead with the Paypal method only as the card will save in their sever though you can ask customer support to delete it.
Now you will ask, what's next?
So next step is to sign in with your username/email and password to the siteground dashboard that you have chosen at the time of filling the form.
Under website section in the left side, select your site and install WordPress.
Your online blog will be live in a minutes. Hurray!
---
FAQs on Buy Siteground hosting with PayPal
1. Does siteground accept paypal?
Yes, you can do siteground payment using PayPal. Follow the guide provided in this article.
2. Is paying with paypal on siteground is safe?
Yes, it's the safest method to make siteground PayPal payments online. PayPal is encrypted and doesn't share your personal info.
3. How to purchase siteground hosting with PayPal?
For siteground PayPal payment Make your account and contact the support team. They will provide you with a custom link to make payment.
4. What are the siteground payment methods available?
You can purchase siteground hosting with a debit card, credit card and PayPal on request. They accept all major cards.
Final Words about siteground pay with paypal
So I hope siteground pay with paypal can be done easily after follwing this guide.
If you have anything to add, just comment it below. For further queries, don't hesitate to contact the siteground team.