There are various ways to make money online in 2020.
Some of the methods I work and recommend you guys are blogging, affiliate marketing and freelancing.
I have been doing blogging and affiliate marketing from several years but not comfortable and make big with freelancing.
So if you also want to start a freelancing business or as an earning opportunity, then we have an interview with Nikola Roza on an interview to discuss freelancing and SEO.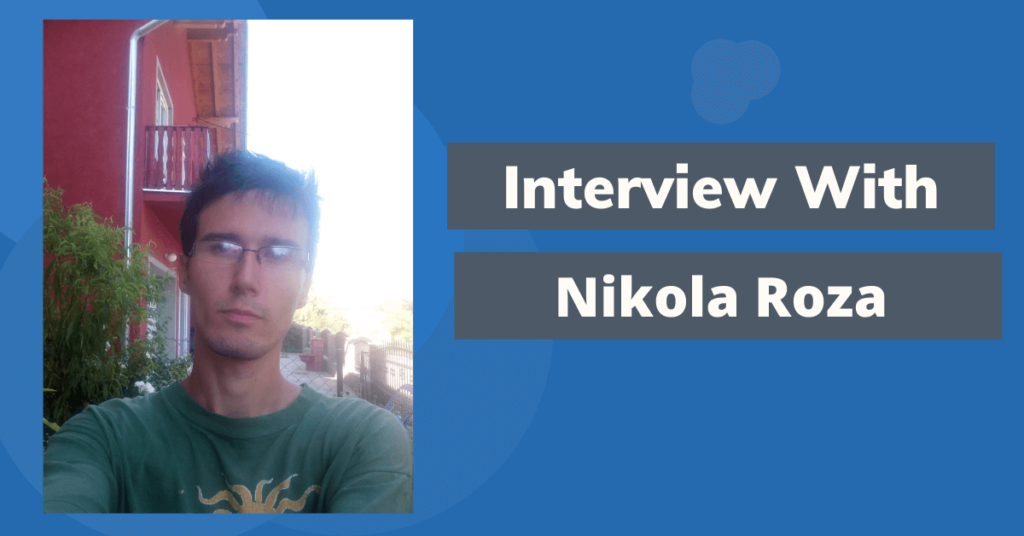 Nikola Roza is well known for his Freelance Content writing and has a good hand on SEO. So he shares his tips and guides through his blog and makes a good income from affiliate marketing too.
So lets get started with interview guys. Be with us and you will learn a lot from him.
---
1. Hi Nikola, How Are You Doing These Days?
Hi Masood. I'm doing great, thank you for asking. How are you doing buddy?
I hope both you and your audience are awesome:)
2. Please Tell Us Something About Yourself.
My name is Nikola Roza. I'm a 30-year-old internet marketer from Boljevac, Serbia. My site is nikolaroza.com and there I write about SEO and affiliate marketing, and how to marry the two to be successful online.
3 How You Stepped Into online marketing and freelancing?
I first got into internet marketing in 2015. My mother at the time was terminally ill and we were dirt poor and had no money to pay for her treatment.
So I was researching the ways to make money online and I found affiliate marketing. It looked legit and totally doable.
But the timeframe she had was too short, I had too much to learn and do and it was simply too late for my mother and she passed away.
Then at the start of 2016, I started my first website which was called Build Yourself a Brighter Future.
I built that site with Wealthy Affiliate and tried to make money with affiliate marketing. Of course 
I failed because I didn't really know what I was doing.
Think of it like this:
You never played tennis in your life. You've never even held a racquet in your hands. But now you have to win a pro match against a player who's in top 100 in ATP rankings.
Impossible!
However, it was a learning experience for me and I kept learning all through 2016 and 2017. My main job at the time though was fruit picking. I was working in orchards and fields, picking apples, mandarines, oranges, grapes, strawberries, raspberries…
It helped me save money to fund my online venture and finally, on the 4-th of December 2017, I officially started my current money site.
Pretty soon afterwards I got my first writing gig…
4. As far as I know, you are more into freelance writing. How you got your first freelance writing project?
The first project I got was more by luck than by anything else. I left an insightful comment on someone's blog, and the webmaster contacted me and asked if I was free to work for him..
And I accepted.
5. What was your first earning, how much and after how many days you received?
My first earning was $75 that I earned from my first client, Peter. My first affiliate earring was from ConvertKit, where I earned a cool $8.5 off one person I referred at the time:)
I remember that one payment was vivid because that's the one that got me hooked to affiliate marketing.
I was sleeping when it came in, and early in the morning I checked my email and saw an email from PayPal "you got a payment from ConvertKit".
The rest is history…
6. At the beginning of your freelance journey, how were you getting a freelance project?
Cold email pitching. I was cold pitching like crazy, left and right and must have sent 500+ emails in a span of two weeks.
I talked about it here on FindingBalance.mom
6. As you are a pro freelance writer, how do you get freelance projects now?
Right now, I don't actively hunt for clients. It's because they usually come to me. I have a hire me page on my site and it's highly visible in the menu and it does the job really well, as I regularly get several inquiries per month.
7. If someone starts freelancing today, how much they should charge per article and how can they get new clients in beginning?
If they're starting today and have no experience whatsoever, then they need to go cheap (but not too much).
Because if you're dirt-cheap it tells that you aren't confident in your writing and will gobble up any measly bone someone throws before your feet.
And you don't want to go too cheap so as to not be able to earn a living from your hard work.
For example, 1c per word is very cheap. While 3c per word is decent and that's what I usually charge my clients.
You can also have a per-article fixed fee, but that should come when you're more experienced.
8. between freelancing, and affiliate marketing. Which one you like, and why?
I like affiliate marketing much more. Because there's endless potential and because once I set it up it works on its own and generates sales while I sleep.
9. As you optimize articles very well with SEO. Can you share the awesome tips that can make you rank easily?
It's a 4-step process.
Pick a low competition keyword to target
Do excellent on-page SEO to make my article super relevant for the keyword
Build 1-2 links to that page. No more is needed because it's a low competition keyword
Build links to any other part of the site. This builds my domain strength and then my pages naturally bubble up to the top for relevant keywords.
10. Is on-page SEO is enough for the ranking of blogs in 2020? (please suggest on-page SEO checklist )
Yes and no. If you target competitive terms like for example" how to start a blog" then to rank for that keyword you'd need hundreds of links and a very powerful website.
But, you can rank for easy keywords with just on-page SEO.
For example, if you Google the term "TMD Hosting Black Friday Deals 2020" you will see that the number one ranking result has a DA6 authority, which is nothing.
So to recap, target low competition keywords and do solid on-page SEO and your chances of ranking will be really good.
Here's a simple on-page SEO checklist I follow. Feel free to borrow it.
Keyword in SEO Title;
Keyword in URL;
Keyword in meta description;
Keyword in H1 title;
Keyword in the first paragraph;
Keyword in subheadline;
Keyword in the image file name, alt attribute and caption;
Keyword somewhere in the middle of the post;
Keyword at the end of the blog post.
11. From your own experience, what is the best strategy to get quality backlinks?
The most newbie-friendly method is powered up guest posting.
What is it?
It's when you post on another site and use your guest post to link to your friends. And then they link to you from their guest posts or from their sites.
That way one guest post can bring you several high-quality links.
12. How do you create the layout of the article first before proceeding on it?
I do ample research to see what people who're already ranking are doing. I especially pay attention to the topics they cover because I know I'll have to cover those as well.
When researching competitors I know the truth is hiding in plain sight. Google is telling me what it wants to see and it's up to me to spot it and then incorporate it into my article
13. As we know that keyword research is a vital part of creating content. Which tool do you use to do keyword research?
I use a simple keyword tool called Jaaxy. It mines long-tail keywords for me and so far it has never let me down. Jaaxy is my "secret" weapon because it's actually a pretty obscure keyword research tool.
14. This question might our readers find it interesting. How much you are making per month from all sources? (if you like to answer)
Less than $1000. But I expect that to significantly grow in the coming months.
15. Few last tips to our audience.
Focus on content AND links.
Don't try to succeed with just content alone. And don't build links like crazy without building content assets on your property.
When it comes to content, target low competition keywords and go at it "en masse".
Meaning, try your best to publish one article per day. Keep it up for 1 year and you will already have 300+ articles and that's already a business on your hands.
Because it's nearly impossible to publish so much content and not make a decent living online.
As for links, focus on guest posts and blogger roundups. Both are ways for you to provide value for them and in return get a few good links flowing to your site.
The good news is that, if you're targeting low competition terms, you don't need that many links to rank high in Google.
16. What you think of bloggingsprout blog?
Your site is clean, well-designed with a strong focus on content. I like it. Your menu and footer are optimized for both SEO and conversions, which is great.
Finally, your content is well written and well structured and readable.
The only problem I see is lack of content. You only have 12 articles published so far and you lack content momentum.
My advice is to double down on content creation and coupled with smart keyword research.
If you're wondering what I mean by "smart" I'm talking about KGR keyword research developed by Doug Cunnington.
The model works and my regret is that I haven't found it sooner. I strongly recommend it to you buddy.
17. Where can people find you online, Nikola?
I'm fairly active on Twitter and Facebook. But the best way to get in touch with me is on my blog.
Thank you for featuring me on your awesome blog, Masood. I had a blast and hope your audience learned something today.
Cheers!
---
Final Words
Hope you have liked the interview with Nikola Roza on our platform and learned a lot from him. Do follow him and support him, guys.
If you have anything to say, the comment section is all yours. Hit it!