If you are looking to start a blog, then stick with this article. Here I have discussed a complete tutorial from scratch on how to start a Blog using GreenGeeks in 2021.
Learning Blogging and affiliate marketing is one of the best trends these days to make money online, with little investment.
If you are starting a blog, then the basic investment required in this business is purchasing hosting. So you required good web hosting to start with so that you can't suffer ahead in future.
You have to treat blogging as a business and work accordingly to achieve more success in it. So make sure you spend every single penny wisely.
That's why I recommend you, start your blog with GreenGeeks only. I will also be discussing its features very soon.
---
What is GreenGeeks?
Before moving ahead in this tutorial, let me explain briefly about the GreenGeeks.
GreenGeeks is one of the best, affordable and reliable web hosting company right now in the market.
As the name suggests, GreenGeeks is an eco-friendly green web hosting provider. They are using technology that consumes less power and its platform is built to be as energy-efficient as possible.
About Company
Foundation: Year 2008 in California
Founding Members: Trey Gardner and Kaumil Patel
Company Data Centres located: Chicago, Phoenix, Montreal (USA) and Amsterdam, NL
This company user base is increasing exponentially, with current active users 50K+ and more than 600K websites are hosted on their servers. This company is getting popular because of its vision towards an eco-friendly environment.
---
Services Offered By GreenGeeks
GreenGeeks is the one-stop solution for many services. There are multiple hosting options are available.
Apart from their most popular WordPress hosting, they are providing great service in WooCommerce Hosting, Reseller Web Hosting and Virtual Private Servers.
1. WordPress Hosting
This is perfect for starting a blog and all beginners need this service only. You can install WordPress after purchasing with a single click.
This service is starting from $2.49/mo.
2. WooCommerce Hosting
If you are looking to start your E-commerce business, then this service is best for you. You can easily set up your online store with WordPress powered by WooCommerce.
This service is also starting from $2.49/mo.
3. Reseller Web Hosting
If you are looking to manage multiple web hosting accounts on the GreenGeeks platform and interested in reselling business, then this is perfect for you.
This is starting from $29.95/mo.
4. Virtual Private Servers
If you have large audince base and gettig huge traffic on your sites, then this SSD-based VPS Hosting platform is for you.
This service is starting from $39.95/mo.
---
Key Features Of GreenGeeks
Here we will discuss WordPress hosting only, so this service is packed with various features.
1. Eco friendly Hosting
As mentioned above, your website will be on 300% green hosting platform as promosed by GreenGeeks copmany. Their hosting platform has been designed with a maximum use, no waste of resources.
Their hosting platform is built to be as energy-efficient as possible. Lots of energy get wasted due to overheating for keeping the data centres ON always.
But GreenGeeks uses technology that consumes less power and that's why it is awarded as #1 Green web hosting.
2. Fast Speed Hosting
For better performance of the website, the loading speed of the website should be good to have a better users experience. Otherwise, users may bounce back.
GreenGeeks is providing blazing high speeds to the websites hosted on their servers. They have SSD storage arrays for fast page loads and maximum redundancy.
And they are using technology like LiteSpeed, LSCache, MariaDB, HTTP/2, PHP7 and free CDN to provide the best speeds.
3. Expert 24/7 Support
Apart from best server speeds, i usialy consider this is an imprtantt role to chose any web hosting for my sites.
These are the only way to communitae with the experts to get your quesries resolved as soon as possible. So it should be frindly, conveniint and always availbel.
GreenGeeks provides 24/7/365 Technical Support via Live Chat, Email & Phone.
Their live chat support is really awesome. For testing it, I chat with them. And you won't believe, I got an expert answering my doubts within a minute.
4. Advanced Security
Security is also very much important. You might lose all your websites or blog database if someone hacks your website by putting any malicious or by any other methods.
They keep your websites secure with custom security rules & zero-day vulnerability fixes by regular scanning of the servers and proactive server monitoring.
Other Notable Features are:
Blog Powered by WordPress
1-Click Install & Update of WordPress Blogging Software
Unlimited Web Space & Bandwidth Transfer
SEO & Marketing Tools
Blogging Optimized Web & Database Servers
Because of its great features, GreenGeeks is #1 alternative of Siteground.
---
GreenGeeks Highlights (You shouldn't miss)
Here we have listed some highlighted features that GreenGeeks is providing to its customers that should be mention.
1. Free Domain Name
GreenGeeks is providing you with a free domain for a year worth $28 when you purchase any plan from them.
2. Free SSL
SSL certificate is very much important to put your site secure between your server and user.
You don't have to pay for this additionally as other hosting company charges for it.
3. Free Custom Email
Also, you don't have to pay extra for getting custom emails and for its hosting. You can get free [email protected] like this emails in your account.
4. Free CDN and Backups
You will get a free content delivery network (CDN) to increase your site performance and connect your site if any user try to acces it from any part of this world.
You will also be getting a free nightly backup so that your site remains available and secure with their servers.
5. Money-Back Guarantee
To increase the customer's trust in GreenGeeks hosting, they are providing 30 days money-back guarantee so that you will not lose any money if you don't like their services.
You can claim within 30 days of purchase and get money back hassle-free in your account.
Note: This is what makes GreenGeeks one of the best hosting company. I would recommend you start a Blog using GreenGeeks.
---
GreenGeeks Pricing
I know many of you might be looking for this heading. So yeah, let me tell you the pricing of a different plan for WordPress hosting.
WordPress hosting comes with 3 different plans. The plans are Lite, Pro and premium plan. Lite plan cost you around $2.49 per month and the Eco site pro plan will cost you around $4.95 per month.
I would recommend you go with the Pro plan as it is the most popular plan and you can host unlimited sites here. So you can grow your blogging business and it will save your money as well.
Start a Blog Using GreenGeeks
Signup Now for Just $2.49 Per Month
---
How to start a Blog using GreenGeeks in 2021
Starting a blog with GreenGeeks is super duper easy. Here are simple steps that you can follow to install WordPress within 10 minutes.
Step 1: Visit the GreenGeeks page
Click here to visit the official page of GreenGeeks with a 75% discount price on hosting plans.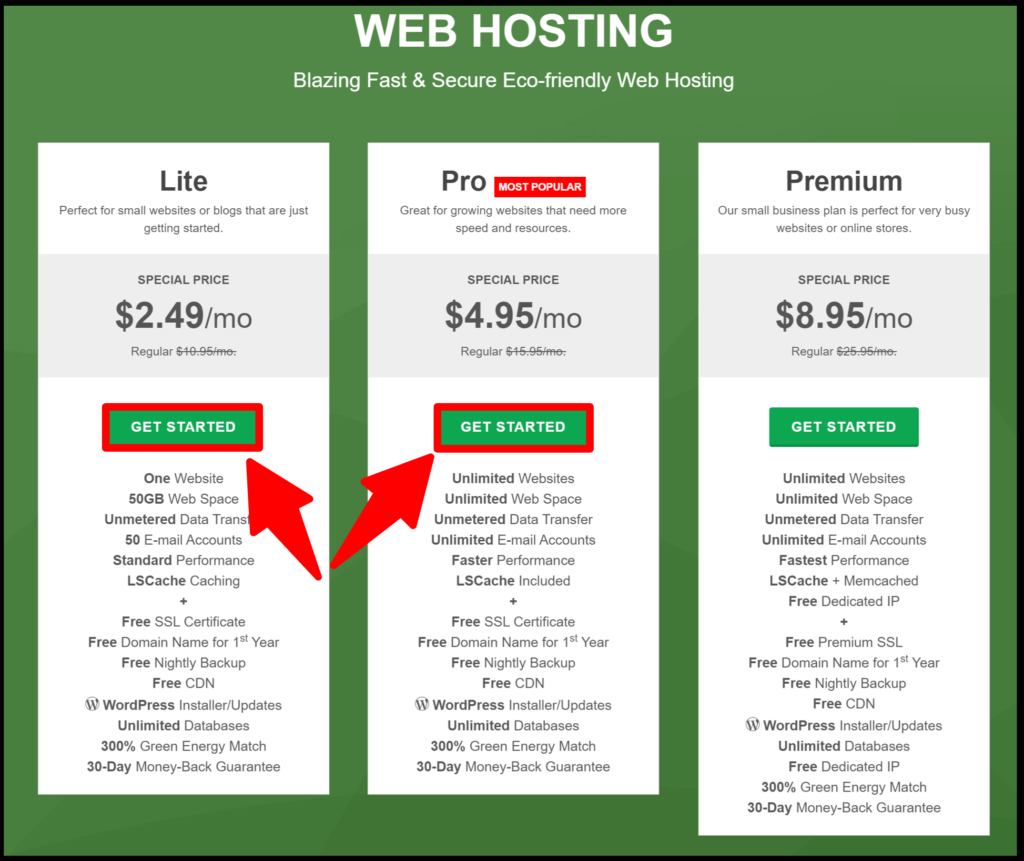 Click "Get Started" on the plan you would like to go with.
Step 2: Setup Your Domain Name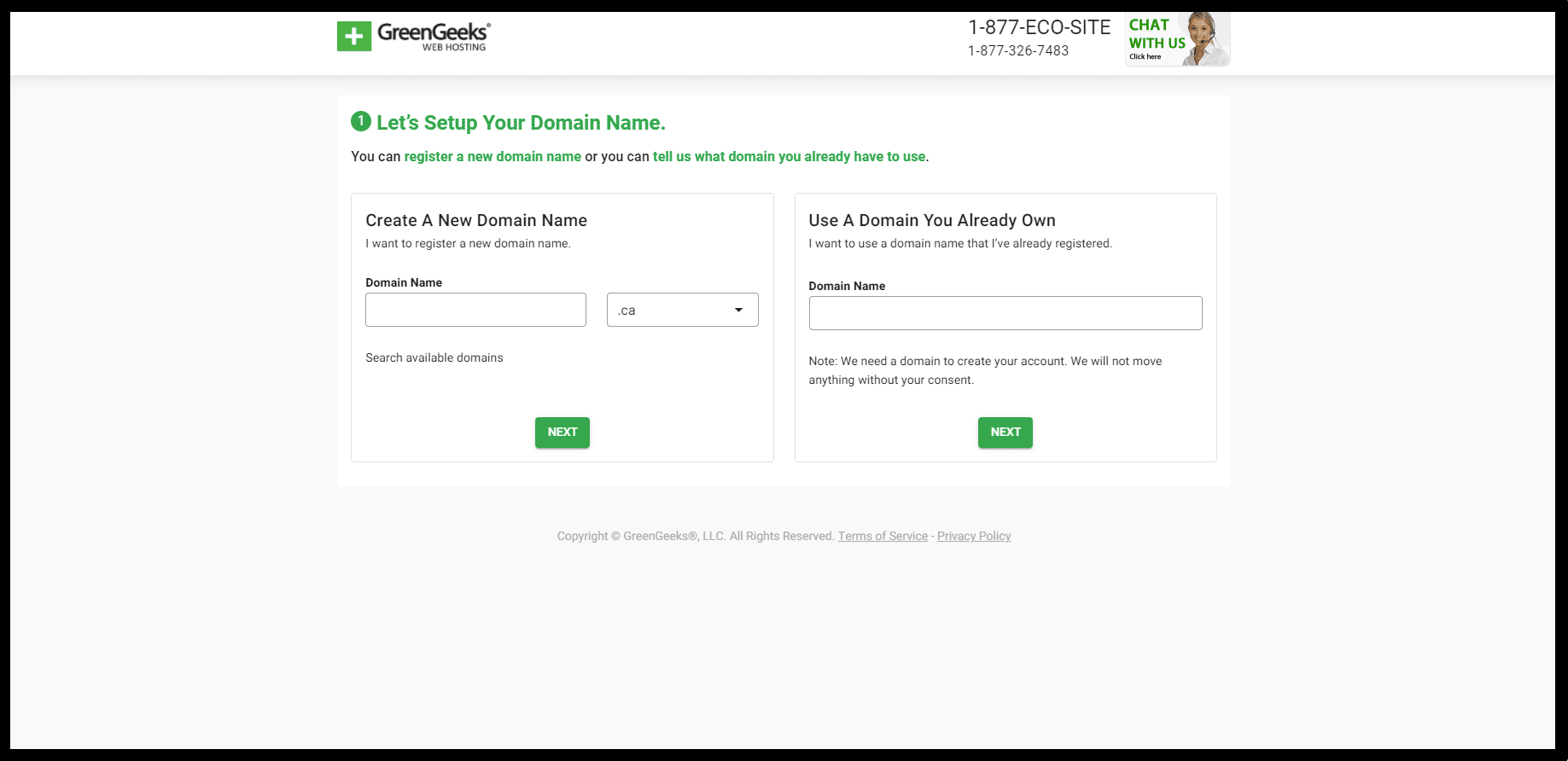 In this step, you have to set up your domain with GreenGeeks. If you have already a domain, then write it and proceed further.
Or, if you want to register a free domain then put your preferred domain and extension and click Next.
Step 3: Fill account details
Just fill the required boxes and provide correct information. After that, you will be asked to complete the payment.
Make the payment and click on "Create Your Account" and your account will be activated instantly.
Step 4: Launch Your Site
After activating the account, you can log in with your credentials to your account dashboard and there choose Quick Launch Wizard.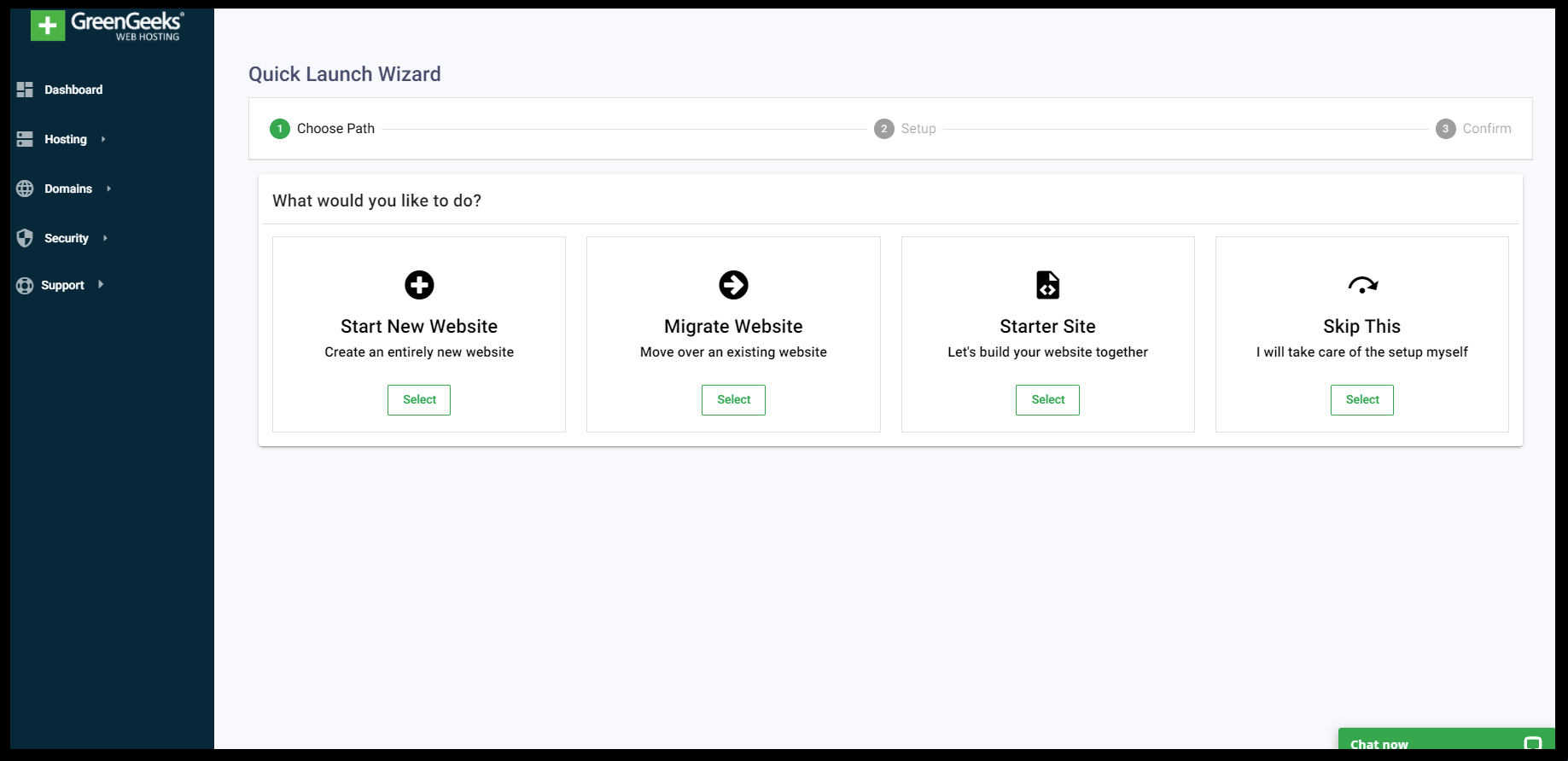 Now click on Start a new website and then select WordPress underneath it.
Step 5: Install WordPress Now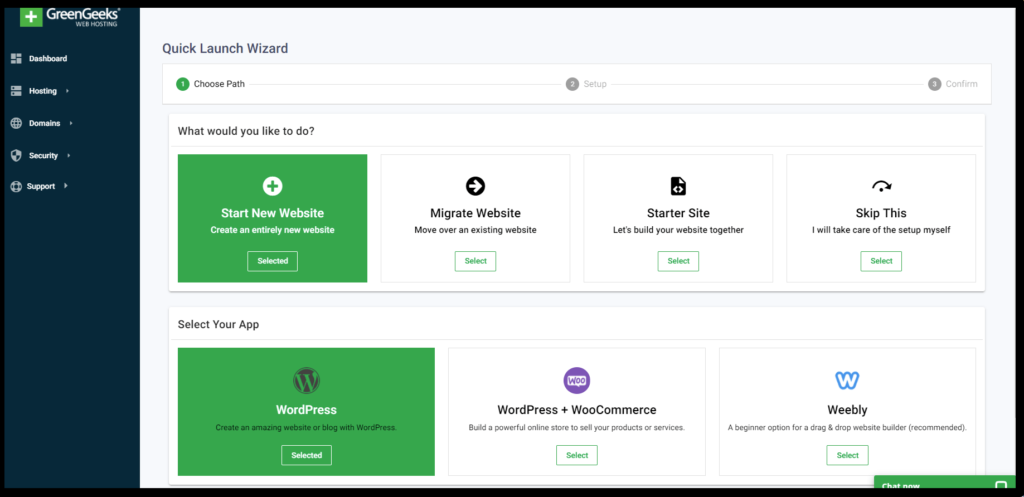 GreenGeeks will install WordPress on your blog with just a single click. You don't have to worry about it. You can provide your own WordPress credentials to move ahead.
Step 6: Install Theme on your blog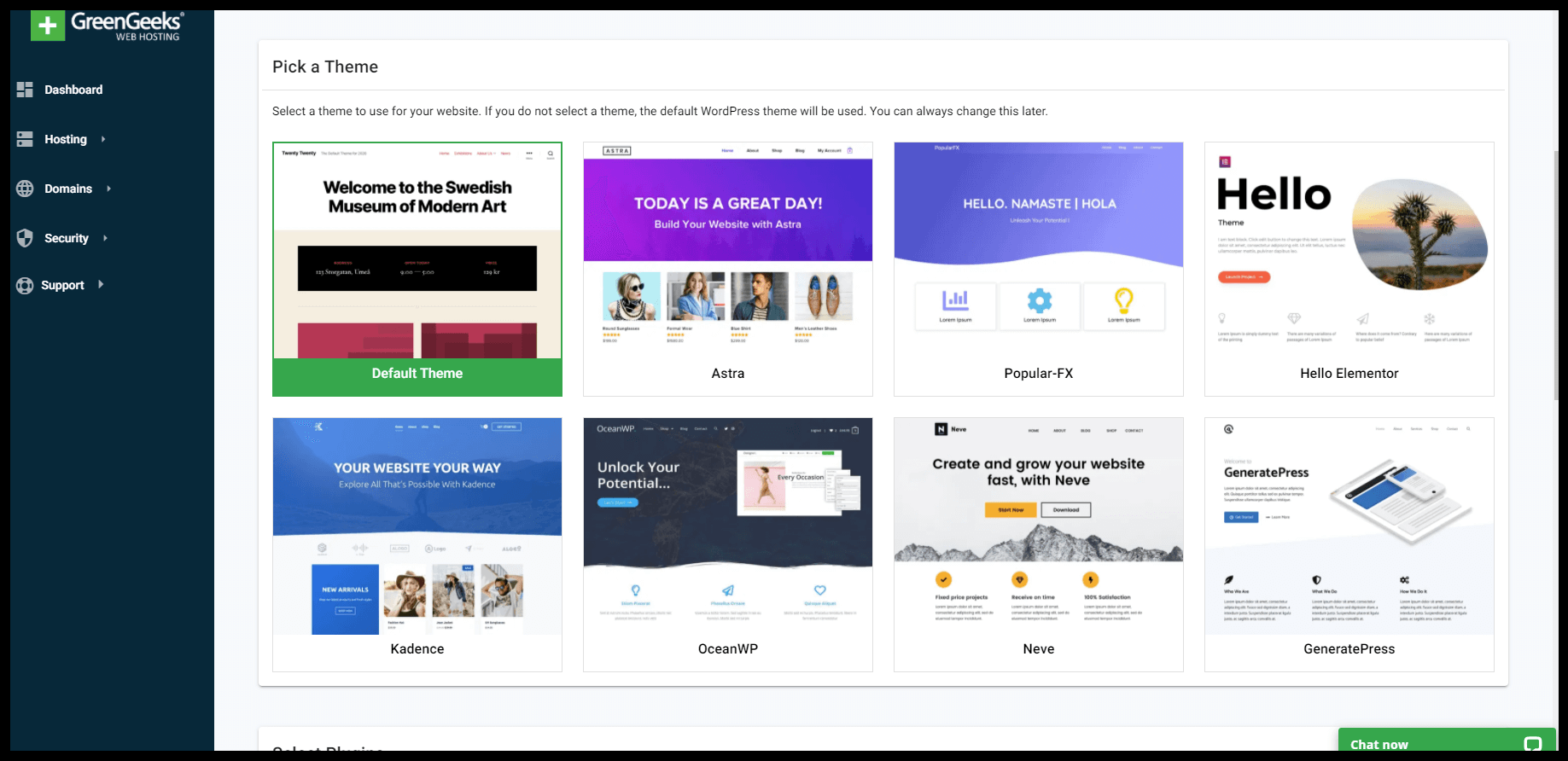 Though this process is not mandatory. You can change this theme later on also. But I would recommend you to install the GeneratePress theme.
You will get a free version of this theme installed on your website. But if you more features and functionality like my site, you can purchase the premium version of it.
GeneartePress Theme is packed with Features like:
Page Size less than 10Kb
fast and SEO-friendly WordPress theme
Schema Enabled
45+ demo sites library
Page builder friendly
Use in Unlimited Sites
Congratulations! You have successfully set up your website. And it will be live online within a few minutes.
For better SEO and the best User interface, I would like to recommend some tools and plugins that I personally use and they can give a premium look to your website as well.
Tools I Recommend:
1. Grammarly – This is proofread and grammar checker tool. It helps me to write efficiently without any grammatical errors. This tool is a chrome extension so you can install it.
2. Canva – This tool I use for creating custom images for my sites like my thumbnails. It is very simple to use with simple drag and drops.
3. SemRush – This tool is very much important if you want to scale your blogging business. Doing keyword research, competitive analysis and other technical SEO, this tool helps a lot. Though this is not mandatory, but you can take a look by free trial.
Here are my essential plugins:
1. Elementor – This is the page builder through which I designed my homepage and other pages. This page builder is used by almost all bloggers.
2. Rankmath SEO – This plugin is required to do on-page SEO completely so that you can rank higher in the search engine. This plugin will guide you, so even beginners can use it very easily.
3. WP Rocket – After uploading lots of images and fonts make usually sites a little bit slower. So to make your site load within 1 sec, this plugin will do its work.
There are other plugins you may require, but I would suggest you add them as per your requirements only.
Thats all guys.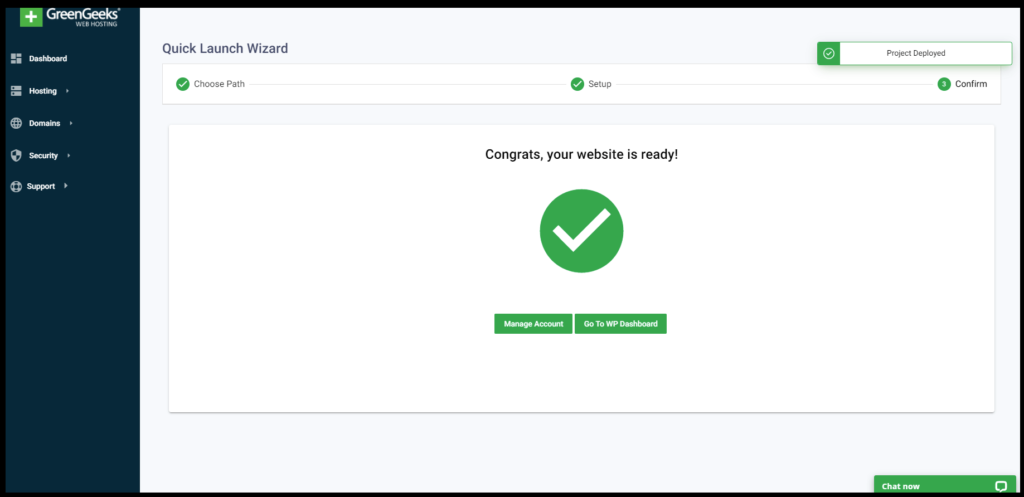 ---
Conclusion
Hope you have understood the process to start a blog with GreenGeeks in 2021. Indeed, GreenGeeks is the ideal choice to start a WordPress blog for yourself.
GreenGeeks provides affordably gree hosting with the best value of money. I suggest you start with it and it will definitely not going to disappoint you.
If you think, it's not worth what you spent then you can ask for a refund within 30 days of purchasing. You will get that in your account hassle-free.
For any queries or suggestions, do let me know by commenting below. I would love to hear from you.