FTC Disclosure: This post contains affiliate links, meaning that if you choose to click through and make a purchase, I will receive a small commission at no cost to you. I was also compensated to create this post, though all opinions are my own.- Read More
Do you need to spend more time writing convincing descriptions of your products for your online store? So, say goodbye to all those stress because the solution is here!
We are pleased to introduce Tailwind Ghostwriter AI. This most potent tool enables users to write unique descriptions of your products in minutes. Thanks to its unique technology, you can create distinctive and engaging content that catches your customers' attention and propels your sales to higher levels.
This post will discuss how to write product descriptions using Tailwind Ghostwriter AI with simple steps.
Let's jump into the depths and find out how this incredible tool will transform your online business!
Introduction of Tailwind
We'll start by gaining a grasp of the concept of Tailwind before we dive deep into the Ghostwriter option.
Tailwind is a user-friendly social media analytics and scheduling tool created for Pinterest, Facebook, and Instagram users. This unique platform allows you to schedule your posts in advance fin,e-tune your content to achieve the best results, and evaluate the effectiveness of your posts and pins.
With Tailwind, it is possible to streamline the strategy for your social media and increase your profile on these excellent platforms to new levels. Let's look at the fantastic features offered by Tailwind and how you can boost your social media strategy!
Discover the time-saving advantages of Tailwind, an all-inclusive SMM(Social Media Manager) tool with a wide range of simple-to-use tools like an intelligent calendar, boards, lists of emails, and hashtag searcher.
With Tailwind, users can quickly improve their online presence and increase their reach across platforms like Pinterest, Facebook, and Instagram.
Whether you are a tiny business owner, solopreneur, or social media lover, Tailwind is an invaluable tool to enhance the effectiveness of your marketing on social networks plan.
Introduction of Tailwind Ghostwriter AI
However, that's not all! Tailwind is now introducing a new feature called Tailwind Ghostwriter, driven by artificial intelligence-generated content.
Let's look at the world of Tailwind Ghostwriter and explore its remarkable benefits that will take your social media presence to new levels. Be ready to unleash the full power of online visibility using this game-changing software!
Tailwind Ghostwriter is your ultimate AI-powered writing assistant, designed to produce stunning content within a few seconds. Stop wasting time with writing problems since Tailwind Ghostwriter is here to help you write faster!
With its intuitive interface, Tailwind Ghostwriter allows you to create various content types efficiently. The possibilities are endless, from attractive product descriptions and Instagram captions to engaging posts on Facebook, Pinterest titles, Twitter updates, TikTok video descriptions, headlines that grab attention, stunning introductions, and emails.
To start, choose the kind of content or category you require, enter your essential keywords, and watch the program as Tailwind Ghostwriter swiftly generates ready-to-use text for you.
Let's begin our thrilling journey to discover how you can leverage the potential of Tailwind Ghostwriter AI to effortlessly write attractive descriptions of your products for your online store. Make sure you are ready to propel your online company to new heights by using this revolutionary tool!
How to Use Tailwind Ghostwriter AI?
Welcome to the user-friendly realm of Tailwind Ghostwriter! Follow these easy actions to harness the potential of AI-generated content in your online store:
Step 1: Go to this Tailwind website and sign up for the forever-free plan that doesn't require a cost. In the free program, you'll get 10 Ghostwriter credits per month. If you need more credits, think about switching to a paid plan.
2. After verifying details, your account will be created. Now login to your dashboard using credentials. On the left-hand side of the screen, you'll see "Ghostwriter AI" and the "Ghostwriter AI" section. Click on it to go ahead.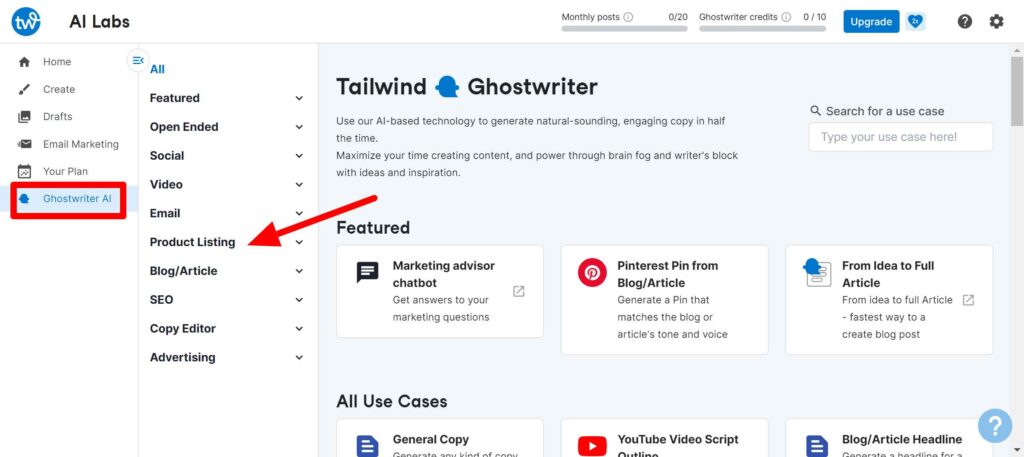 3. Inside the Ghostwriter AI section, locate the "Product Listing" option and choose it. Tailwind gives you options adapted to different online marketplaces, such as Amazon Listing, Etsy Listing, Shopify Listing, and Other Listings.
4. Select the listing generator compatible with your e-commerce platform. The Ghostwriter will create a natural-sounding and appealing copy tailored to the forum. For example, if you are looking for Amazon products, select "Amazon Product Listing" and click on it.
5. In the next step, provide some essential details about your product, like the name of your product, its target market, and the keywords you want to highlight. Be sure to highlight the distinctive significance that your item offers.
6. Once you've entered all the required information, click the "Generate Amazon Product Listing" button.
Tailwind Ghostwriter will review your provided information and present you with captivating title tags and descriptions specifically designed to reach your target viewers.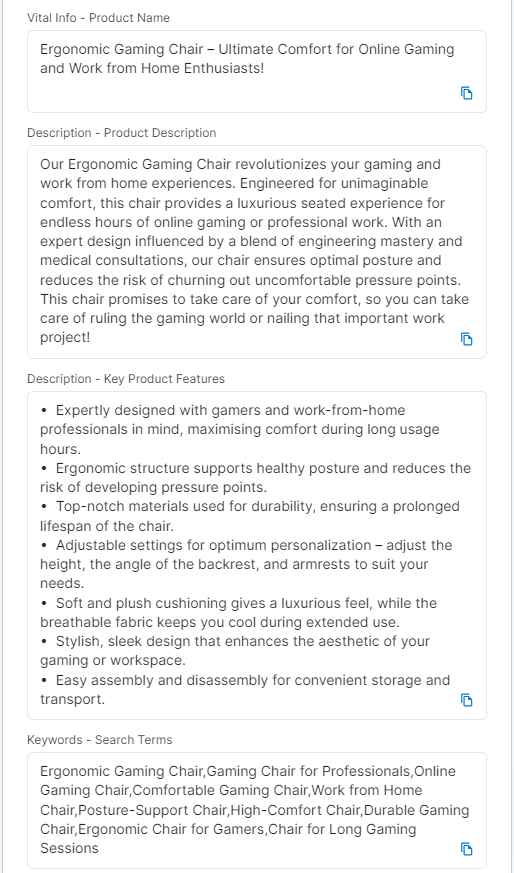 If you're not happy with your result, No problem! Just hit the "Generate Amazon Product Listing" button again.
Note: Remember that every time you write new descriptions or content, the content will consume one credit for Ghostwriter. You also have the option to alter the AI-generated content to meet your requirements.
After you have made any changes, you want to make after making any desired changes, copy the final description of the product and publish it on your store's website. Remember that product descriptions significantly influence purchases; therefore, engaging illustrations can make all the difference.
In today's fast-paced world of e-commerce, being in front of your competitors is essential. Adopting AI tools like Tailwind Ghostwriter gives you an edge over your competition. If you don't, it could result in you falling further behind in the constantly evolving market of eCommerce.
Therefore, take advantage of the opportunity to boost your online business and wow your clients with the power of Tailwind Ghostwriter AI!
Other Use Cases for Tailwind Ghostwriter AI
Tailwind Ghostwriter AI is not limited to just writing product descriptions. Still, it also offers various uses like social media posts, email, blog posts, SEO, advertising, copy editing, etc.
Here are some additional use cases for Talwind Ghostwriter AI:
1. Social Media
You often need to create engaging posts on social media like LinkedIn, Twitter, and Pinterest pins to engage with your audience. So, Ghostwriter AI is a handy tool to help you build an online presence.
With its ability to understand and adapt different tones and writing styles, AI can create content that aligns well with your brand's voice. AI can assist in composing impactful social media content that resonates with your audience.
2. Email Writing
Professionals or businesses need a compelling subject line and email body to engage with clients, partners, or customers. Ghostwriter AI can be an invaluable tool for crafting personalized and engaging emails.
AI can help you articulate your intention and message clearly and concisely. Thus, by leveraging AI, you can save your time and effort.
3. Blog Posts
Creating SEO-friendly and engaging blog posts can be challenging for many businesses and creators. Tailwind Ghostwriter AI can streamline the process by generating good blog outlines and informative content.
You can take the help of blog headlines, blog topic ideas, bog intros, blog conclusions, and complete articles from your view.
Is Tailwind Ghostwriter AI FREE of Cost?
It's great news! You can get started by using Tailwind Ghostwriter without spending a cent. Sign up for a no-cost Tailwind account, and you'll get access to all the fantastic Tailwind features, including Ghostwriter.
The greatest part? The account isn't a one-time trial but rather an ongoing plan, which allows users to utilize Tailwind's features for as long as they'd like.
When you've signed up for a Free account, you'll get 10 Ghostwriter credits every month. These credits allow you to write 10 product descriptions utterly free of cost. Don't fret; if you need more credits, you can select the option to upgrade to a paid plan.
The upgrade does not just give you an additional Ghostwriter credit but opens up special features and insightful insight to help you grow your business.
Upgrade Features of Tailwind Ghostwriter AI
If your business is growing, it is possible to easily upgrade your account by adding more Ghostwriter credits and take advantage of additional benefits that come with it. Tailwind will assist you in your progress, from the beginning stages to your successes on the web!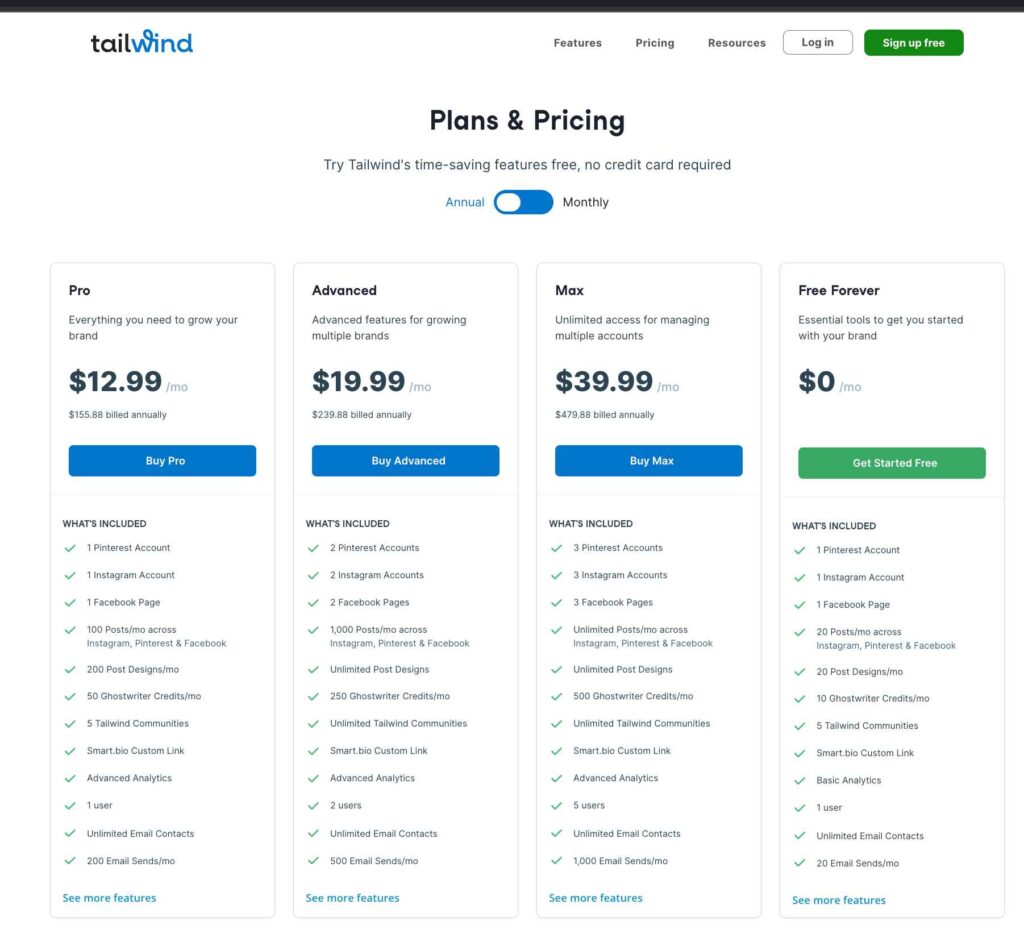 Explore Tailwind's affordable pricing plans, designed to the needs of various users. Let's look at the plans and the Ghostwriter credits available:
Free Forever is an excellent option for people who want to test the program. This plan is free of cost, and you will receive 10 Ghostwriter credits per month.
Pro: At $12.99 each month. This package provides the user with fifty Ghostwriter credits to help fuel your creation of content.
Advanced Advance $19.99 each month, you'll have access to up to 250 Ghostwriter credits, which allows you to increase the size of your writing abilities quickly.
Max: $39.99 each month. This plan gives you an impressive 500 Ghostwriter credits and much creative freedom.
Check out the Tailwind website for complete information about their pricing plans and an overview of the features available.
FAQs – Product Descriptions using Tailwind Ghostwriter AI
Q.1 Is Tailwind Ghostwriter free?
Yes, Tailwind Ghostwriter AI is free of cost but with limited credits. You get 20 monthly credits and a Ghostwriter credit of 10 each month.
Q.2 What's the price of Tailwind Ghostwriter AI?
Currently, Tailwind offers a freemium and its pro version for $12.99, and you will get 50 Ghostwriter credits. And it offers other pricing plans also, like Advanced and Max.
Q.3 Is it easy to use Tailwind Ghostwriter AI?
Yes, The dashboard and interface could not be more beginner-friendly, and it hardly takes 3 to 4 clicks to generate content or product descriptions.
Conclusion
This post can help you how to write Product Descriptions using Tailwind Ghostwriter AI. It is an incredible tool for curating product descriptions for different E-commerce platforms, such as Shopify, Etsy, Amazon, and many more.
Tailwind Ghostwriter AI offers a fast and efficient solution for crafting and completing product descriptions. Its ease of use and features have attracted many customers to Tailwind Ghostwriter AI.
Embrace the future of content creation with Tailwind Ghostwriter AI to enhance your product marketing and drive success in the competitive digital landscape. Keep Writing!