If you are confused to choose the perfect web hosting and looking for a comparison between Liquid Web Vs Nexcess. Then you are in the right place.
Here I will compare two popular web hosting companies i,e Liquid Web Vs Nexcess and will suggest to you the best web hosting solution as per your need.
Stick with this blog and scroll below to know more!
Liquid Web Vs Nexcess: Bottom Line Front Up
As you might be aware, Liquid Web has been an industry leader in Managed Hosting for more than 2 decades. It is among the best hosting provider for VPS and dedicated servers.
Nexcess, on the other hand, is a premier eCommerce hosting provider that joined the Liquid Web Brand Family in the year 2019.
So, Liquid Web Vs Nexcess: Which one is for you?
If you have medium or large traffic sites then Liquid Web hosting is perfect for you. You can choose VPS, Cloud, Dedicated etc hosting. On the other hand, if you have CMS based site like WordPress, WooCommerce then Nexcess is best for you.
Let's have a quick overlook of the Liquid Web family of brands and then we will discuss one by one more in detail.
Liquid Web Family of Brands
The Liquid Web Family consists of 3 brands, each offer different solutions to their customers. Here is a quick overview of all the brands:
Liquid Web: Liquid Web is designed for delivering high performance, traditional, cloud and clustered hosting environments.
Nexcess: Necxess is specialized in providing premier web hosting services for managed WordPress and eCommerce sites.
Now let's look at them individually in much more detail.
---
What is Liquid Web?
As mentioned earlier, Liquid Web has been helping its customers to grow their business and remain the leader in providing managed hosting for the last 23 years.
Liquid Web is best in delivering top-end performance traditionally, cloud and clustered hosting services.
Liquid Web offers fast, reliable, and highly secure cloud-based web hosting, dedicated hosting, reseller hosting, cloud WordPress hosting, VPS, and hybrid hosting.
Around 500,000 sites are managed under this hosting company and have 10 data centres located globally.
Liquid Web provides managed hosting services to their customers and provides solutions to Agencies, Business owners, Resellers and business owners.
Apart from the different solutions they provide to different individuals, they are also best at designing a custom and multi-server platform in case you need it.
Note: Liquid Web doesn't provide a shared hosting service to its customers.
Services offered by Liquid Web
Let's look at the different services that Liquid Web offers briefly.
Dedicated Servers
The dedicated server is basically a remote server that is exclusively dedicated to a single individual or any organization. This server will not be going to share with any other customer.
Liquid Web offers the best managed dedicated server solution for your businesses. The dedicated server is available with both Linux Or windows operating systems. The liquid Web also offers single processor and dual processor dedicated servers.
You can choose self-managed, core managed or fully managed hosting plans as per your needs.
Features:
Standard DDoS Protection: High-end protection of your sites and mitigate threats or attacks
Backup Drive: Regular backup of your essential data
Cloudflare CDN: Make your site accessible from all around the world with high speed
100% Network and Power Uptime SLAs: Uptime is guaranteed and will give you credit if it gets downtime.
Business-grade SSD Storage: High server performance met with SSD storage
Dedicated IP Address
Dedicated IP Address
ServerSecure Advanced Security
IPMI Access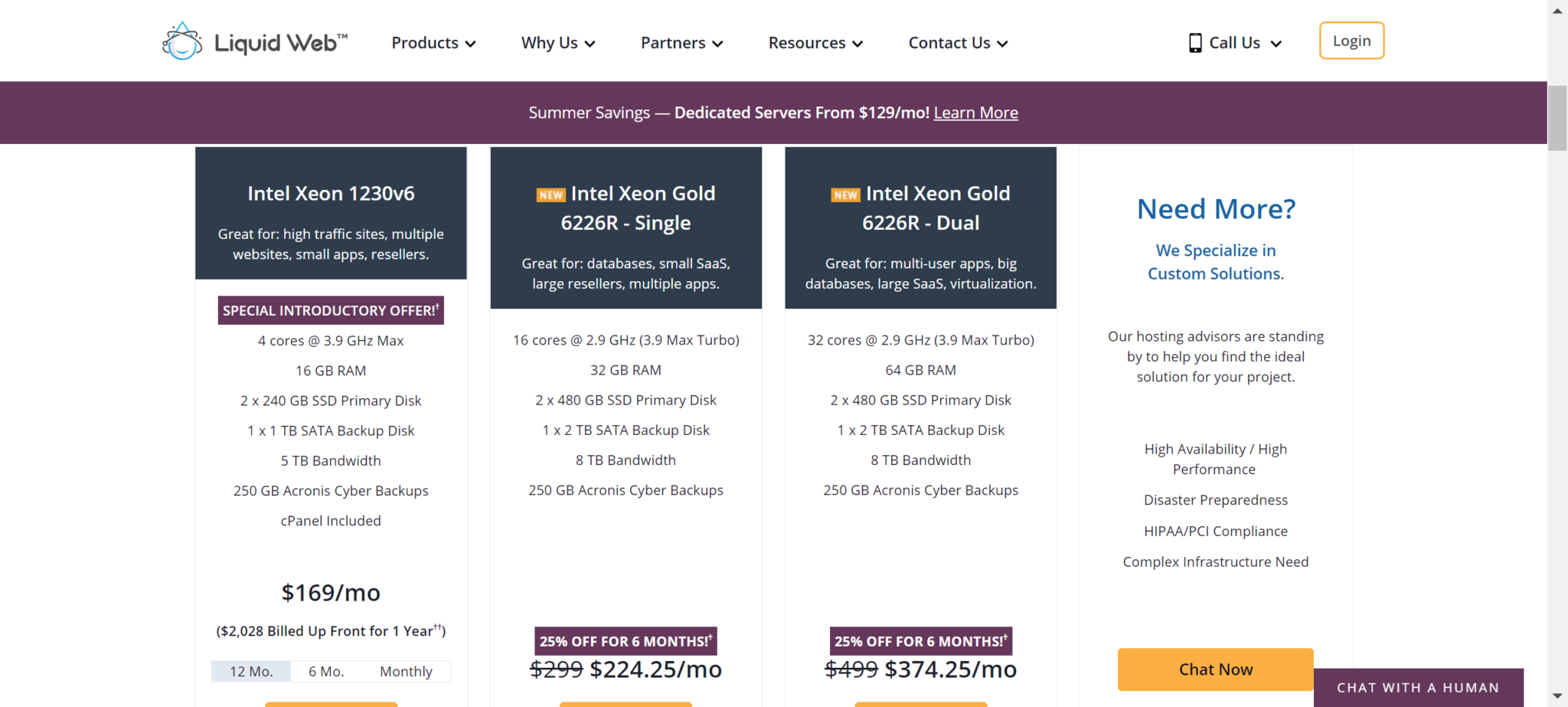 Their managed dedicated hosting plans start from $169 per month. In this plan, you will get:
4 cores @ 3.9 GHz Max
16 GB RAM
2 x 240 GB SSD Primary Disk
1 TB SATA Backup Disk
5 TB Bandwidth
cPanel Included
Cloud Servers
You will get scalable cPanel cloud hosting with the Liquid Web hosting company. You can easily launch cloud servers with Liquid Web predictable pricing and pre-configured solutions.
Liquid Web fully managed cloud servers are very easy to launch without any hassle. You don't have to learn the complexities of cloud servers for managing your sites.
The liquid Web team consists of the most helpful and experienced Humans who will take care of all these kinds of stuff for you.
If your business requires any custom or bigger solution then Liquid Web hosting advisors will help you in designing custom cloud servers as per your need.
Features:
Fast to Launch: You can launch your cloud server for yourself in minutes with the super-fast service of Liquid Web.
Built to Scale: You can add the resources and scale your business as you grow.
Works with cPanel: You can scale cPanel hosting with cloud servers easily.
Fully Managed
Easy to Use
High Speed
The Cloud Server standard plan starts at $265 per month, which includes:
cPanel Server
Load Balancer
960 GB SSD File Storage
10 TB Transfer per VM
Acronis Cyber Backup
CentOS 7 with cPanel
VPS Hosting
Liquid Web VPS hosting solution combines the power of dedicated servers with the flexibility of cloud hosting.
If you want to control a dedicated server for your need but at a lower cost, then Liquid Web managed VPS hosting solution is perfect for you.
You can easily monitor, mitigate risks and optimize performance with Liquid Web managed VPS solution.
Their contact support team are available 24/7/365 to help you in growing your business by assisting perfect hosting solutions for you.
Features:
Gigabit Bandwidth
Standard ServerSecure Advanced Security
Unlimited Sites with InterWorx
Plesk and cPanel Available
Cloudflare CDN
Standard DDoS Attack Protection
100% Network and Power Uptime SLAs
Dedicated IP Address
Easy Scalability
You can host unlimited websites on their VPS servers as there are not any limitations but you are limited by the number of resources available in your managed VPS.
You can upgrade or downgrade your virtual private server depending upon your need.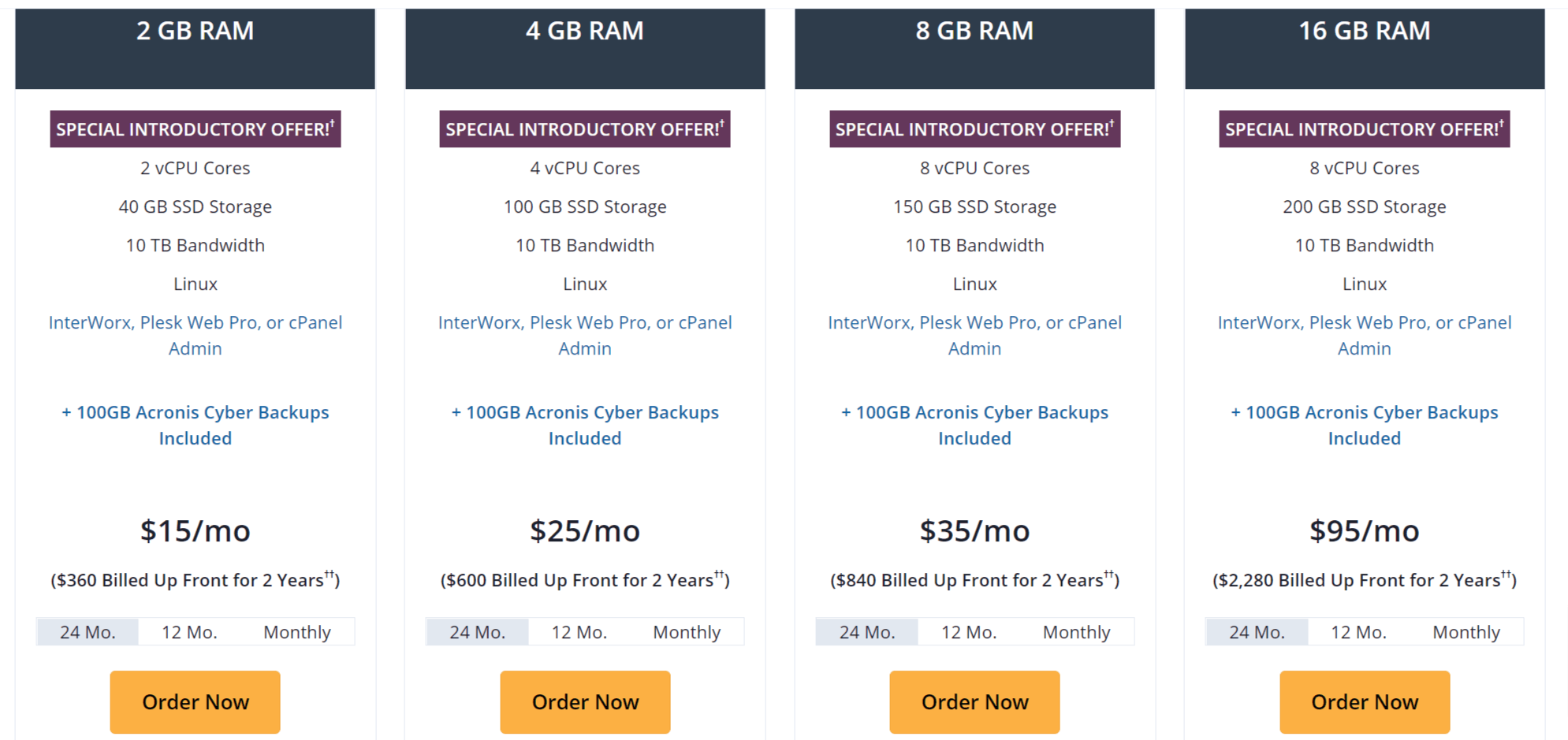 The basic plan of VPS hosting starts at $15 per month, which includes:
2 vCPU Cores
40 GB SSD Storage
10 TB Bandwidth
Linux
---
Highlights Of Liquid Web Products & Pricing
| | | |
| --- | --- | --- |
| Sevice | Type | Price – Starting From |
| Dedicated | Dedicated Server | $169/mo |
| " | Cloud Dedicated Server | $149/mo |
| " | VMware Private Cloud | $510/mo |
| " | Servers Cluster | $743/mo |
| " | HIPAA Compliant Hosting | $344/mo |
| Cloud | Cloud Server | $265/mo |
| " | VMware Private Cloud | $510/mo |
| " | Cloud Dedicated Servers | $149/mo |
| VPS | VPS Hosting | $15/mo |
| " | Private VPS Parent | $149/mo |
| Enterprise | VMware Private Cloud | $510/mo |
| " | Cloud Servers | $265/mo |
| " | High Availability | $1448/mo |
| " | Servers Clusters | $743/mo |
| " | Database Hosting | $1498/mo |
| " | High Performance | $1127/mo |
| " | HIPAA Compliant Hosting | $344/mo |
| CMS & eCommerce | Cloud Sites | $150/mo |
Note: All plans of Liquid Web comes with 30 days money-back guarantee.
Pros of Liquid Web
Here are some listed pros of Liquid Web hosting 2021.
1. 24×7 Great Support
Liquid Web offers great support by 3 different mediums:
Live chat
Telephonic Call
Helpdesk
The support system should be good and 24×7, it should be given top priorities while purchasing web hosting for your sites.
Because if you are stuck anywhere and need help from tp experts, then this medium always helps to a great extent.
Liquid web, being a top web hosting company provides an excellent support system to their customers and they should because the servers are highly loaded and difficult to manage.
2. 100% Uptime Guarantee
If you are receiving lots of visitors on daily basis then you can't compromise with the site down even for a minute.
Liquid Web guarantee to provide 100% uptime means all major routing devices within Liquid Web networks are accessible from the global internet 100% of the time.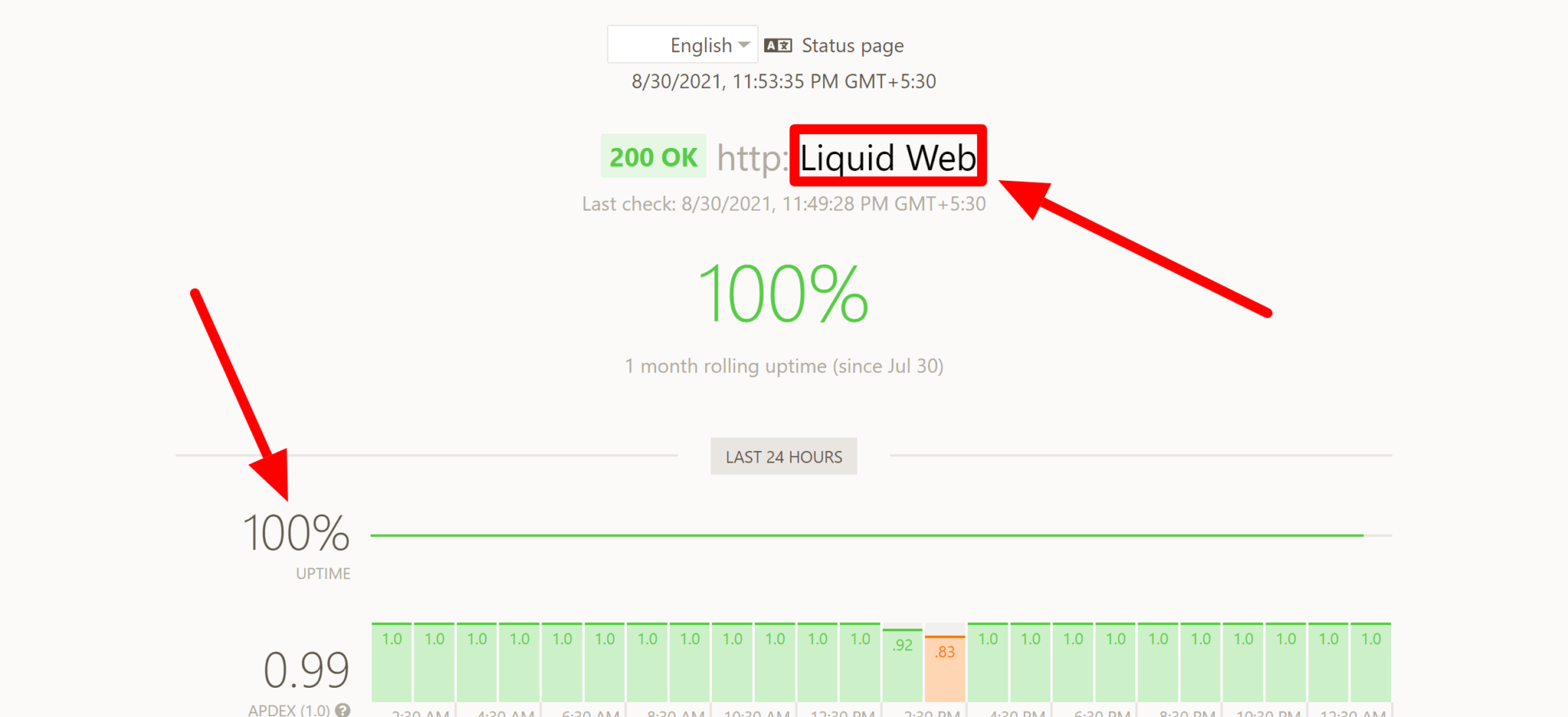 If not, then they will credit you 10x the amount of downtime your server got affected. Like if your site got downtime for 10 minutes then, you will be credited with 100 minutes of hosting in your account.
Your site may get down for reasons like software or hardware maintenance, DDoS attack or cPanel issues, but still, Liquid Web maintained the uptime for 99.997% uptime from the last 10 months.
3. Free Site Migrations
Site migration is quite hectic if you are not much good at that. For you, it's good news as Liquid Web provides a free site migration service.
Whether transferring a site from one to another host or internal server migration, the team of experts at Liquid Web will get this job hassle-free for you.
Many web hosting companies like Dreamhost charge $100-150 per site and many customers can't afford this much price. So, you can go with Liquid Web hosting services.
4. Free SSL, CDN and DDoS Protection
Free SSL certificate is offered to all their customers by Liquid Web company. Basically, an SSL certificate will encrypt the data transfer from your user browser to your host server such that data transfer is safe.
And this will put your site secure in the eye of Google and users.
Many site owners face the problem of DDoS attacks that result in downtime to the site thus loss of sales or leads.
Liquid Web provides free Cloudflare CDN service including DDoS protection to all their customers that start from $99/month.
5. High Speed
If you want to achieve a higher ranking in SERP and keep your visitors happy and converting then your website should load faster.
As per the study, a 1-sec delay in mobile pages can lead to impact conversion rates by up to 20%.
Liquid Web provides high speed with 169 ms response time and a total time of 925 ms. And claim to be faster than Digital Ocean, AWS, and Rackspace.
For whom is Liquid Web Suitable For?
If you are looking for more power, resources and dedicated servers for your medium or high scale websites, then Liquid Web is perfect for you.
---
Now let's discuss Nexcess web hosting.
What is Nexcess?
Nexcess is operating since the year 2000 and one of the best web hostings joined the Liquid Web brand family in the year 2019.
More than 500k sites are under the management of Nexcess web hosting company providing services from 10 global data centres across the globe. The company has data centres available right now in Australia, the United Kingdom, and the United States.
Nexcess high-performance cloud platforms run managed WordPress and managed Magento plans with blazing speed and exceptional security.
Nexcess is expertise in fully managed WordPress hosting, fully managed Woocommerce hosting and fully managed Magento hosting.
Apart from these services, Nexcess also offer services in flexible cloud hosting and enterprise hosting.
Services offered by Nexcess
Let's look at the different services that Nexcess offers briefly.
Managed WordPress Hosting
Their fully managed WordPress hosting starts at an affordable price and offers in-built tools that help you in building your website to the next level.
You will get free CDN, automatic backups, auto-scaling and pre-installed plugins.
There are various plans under this you can select from. The basic plans start at $19/mo with:
Up to 1 site
15GB Storage
2TB Bandwidth
Image Compression
Staging & Production Sync
Managed WooCommerce Hosting
Nexcess fully managed WooCommerce hosting starts at $19 a month. As we know that CMS-based eCommerce sites require lots of maintenance. So handling it might be tricky for you.
So fully managed WooCommerce hosting offred by Nexcess is perfect for you.
With premium plugins, auto-scaling and free CDN will never going to disappoints you.
Managed Magento Hosting
At just $49/mo, you will get fully managed Magento hosting offered by Nexcess company with exceptional speed and top-notch security.
Their servers are PWA Ready, server cluster, instance auto-scaling, PCI compliance + premium security.
WP Quick Start
This is the Nexcess exclusive service that helps you in efficiently building better sites and stores and faster with help of leading plugins and themes.
Store Builder: With the help of AI, curated themes and plugins you can launch our online store in no time without the knowledge of coding.
Membership Sites: The perfect set of plugins, themes, in-built payment gateway and multi-level subscriptions packages with automated emails can help you launch membership sites easily with Nexcess.
---
Pros Of Nexcess
Here are some of the Pros of Nexcess web hosting are listed. There are many more Pros but I have listed down some important ones.
1. Blazing speed and performance
Nexcess provides exceptional speed to all the websites that are hosted under them. Datacentre US Central region operates with 402 ms.
2. Free site migration
Nexcess migration team experts will transfer your website for FREE from one hosting to their own hosting servers hassle-free.
Many web hosting companies charges $80-100 per site to transfer and the Nexcess team will do this for you for FREE.
So sit and sip coffee and let experts do this for you.
3. Dedicated support team
After the speed of servers, you must look at the customer support system. Because when you will be stuck anywhere with your websites, the expert team will only going to help you out.
So it's good news for you that Nexcess provides dedicated support 24/7/365. You can do a live chat with them along with telephonic support to solve your queries.
4. Scalability
If you are expecting traffic or volume spikes on your websites, then it's very easy to auto-scaling with a single click with Nexcess web hosting company.
Nexcess promise to provide 99.99% uptime of the servers with PHP optimization.
5. Lots of freebies
When you purchase Nexcess web hosting, lots of freebies you will receive from this company like:
Free SSL certificate
Free CDN services
Email accounts
Automatic backups
30 days money-back guarantee
Highlights Of Nexcess Products & Pricing
| | |
| --- | --- |
| Sevice | Price – Starting From |
| Fully Managed Magento | $49/mo |
| Fully Managed WooCommerce | $19/mo |
| Fully Managed WordPress | $19/mo |
| Store Builder By Nexcess | FREE |
| BigCommerce for WordPress | $59/mo |
| Drupal Cloud Hosting | $29/mo |
| Expression Engine | $29/mo |
| Craft CMS | $29/mo |
| Membership Sites with WP QuickStart Nexcess | $49/mo |
For whom is Nexcess Suitable For?
If you are looking for web hosting for CMS-based sites like WordPress, Woocommerce, Magento etc, then I would recommend you to go with Nexcess.
---
Difference between Liquid Web and Nexcess (Highlights)
I hope that after reading the article from top to bottom, you don't have any confusion as I tried my best to cover all differences, features and services both web hosting offers.
But still, if you have any confusion, the below infographics will eliminate those confusions. Let's go through the differences between Liquid Web and Nexcess web hosting.
Read More: Web Hosts that accepts Paypal
---
Over to You
This was all about Liquid Web Vs Nexcess web hosting 2021. We discussed each of them briefly with the services they offer and their pros as well.
We also discussed the differences between Liquid Web and Nexcess.
I hope you are in the state to decide the best web hosting for yourself among both. If you have any questions or queries, feel free to comment below.