Are you looking for the best contact forms to use with Mailchimp?
Fortunately! You are in the right place. So in this article, we will share with you the 7 best contact forms to use with Mailchimp.
Let's have a quick look at everything we are going to cover in this article:
Forminator
Jetpack
Everest Forms
Ninja Forms
Kali Forms
Contact form 7
---
1. WPForms
So the number one spot is acquired in this listicle article is WPForms.
WPForms is a fantastic feature plugin that works with drag and drop features. If you use this WPForms plugin, you will get a clear or excellent user-friendly interface.
It will help you create quick or easy new forms; even in this plugin, you will get pre-built template forms to make your Contact form fastly.
However, there's an available free version if you want to see a demo or if you want some extra features, so you can go with the premium version, which is around $39 to $299.
Down below there are some incredible features of WPForms:
Using this WPForm plugin, you can create all forms mobile-friendly or responsive.
This plugin doesn't require any coding work; this is best for online payments via Stripe or PayPal, best for sales, donations( also recurring features included)
WPForms also help to create Email Subscriptions forms or easily integrate those with famous services of email marketing like MailChimp.
If you want to see entries that you received, You will get them right in your dashboard. So you don't have to go somewhere else to see the entries.
Automatically blocks spams.
Also, most importantly to get leads or signups from the visitors, you can easily embed the forms anywhere in your posts or pages by shortcodes.
How to Install and Use the Mailchimp Addon with WPForms?
For doung this, just follow the given steps.
Step 1: Install WPForms on your website
For doing this, just navigate to your WordPress dashboard and then visit the plugin section from the left sidebar.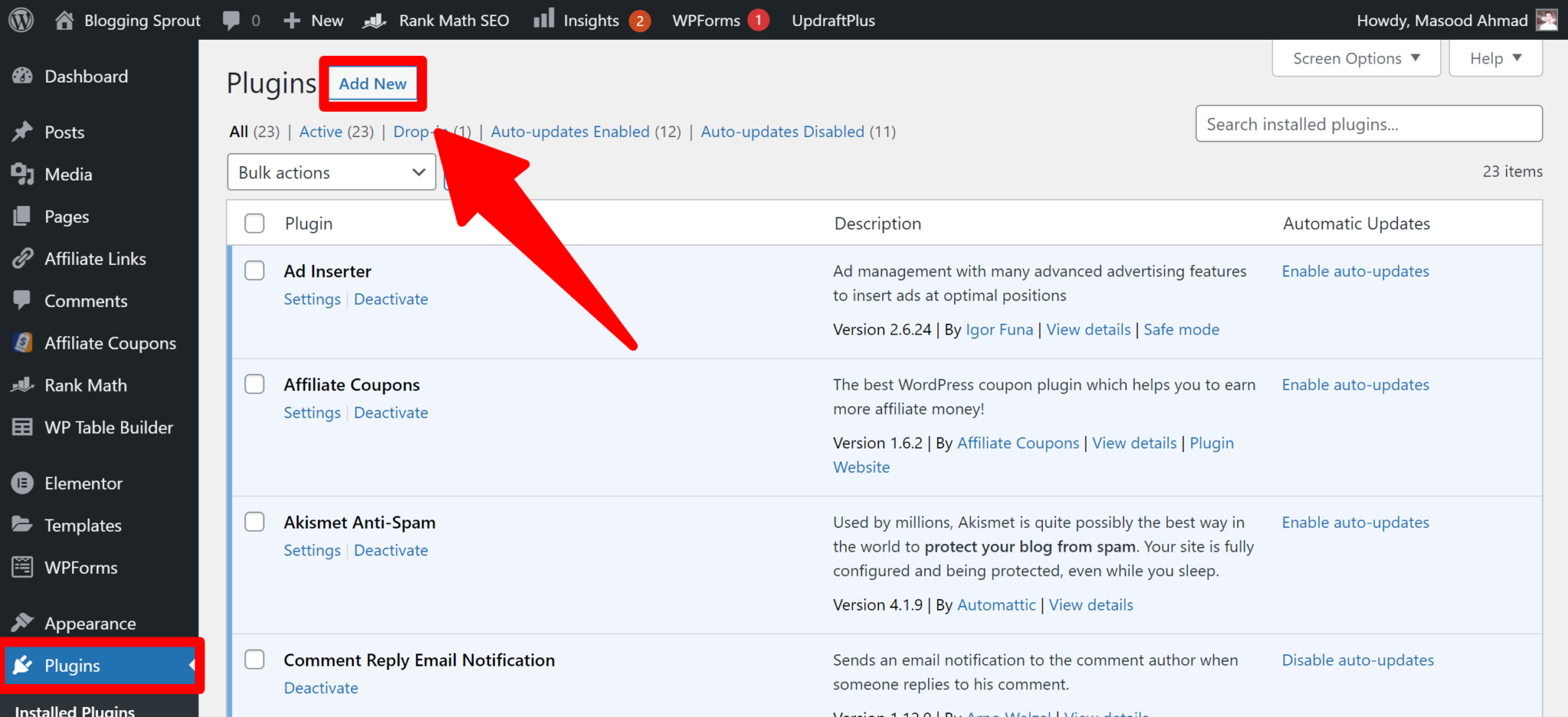 Then click on Add New. The next window will appear, in the search bar just type "wpforms" and you will get WPForms. Click on Install and then activate it.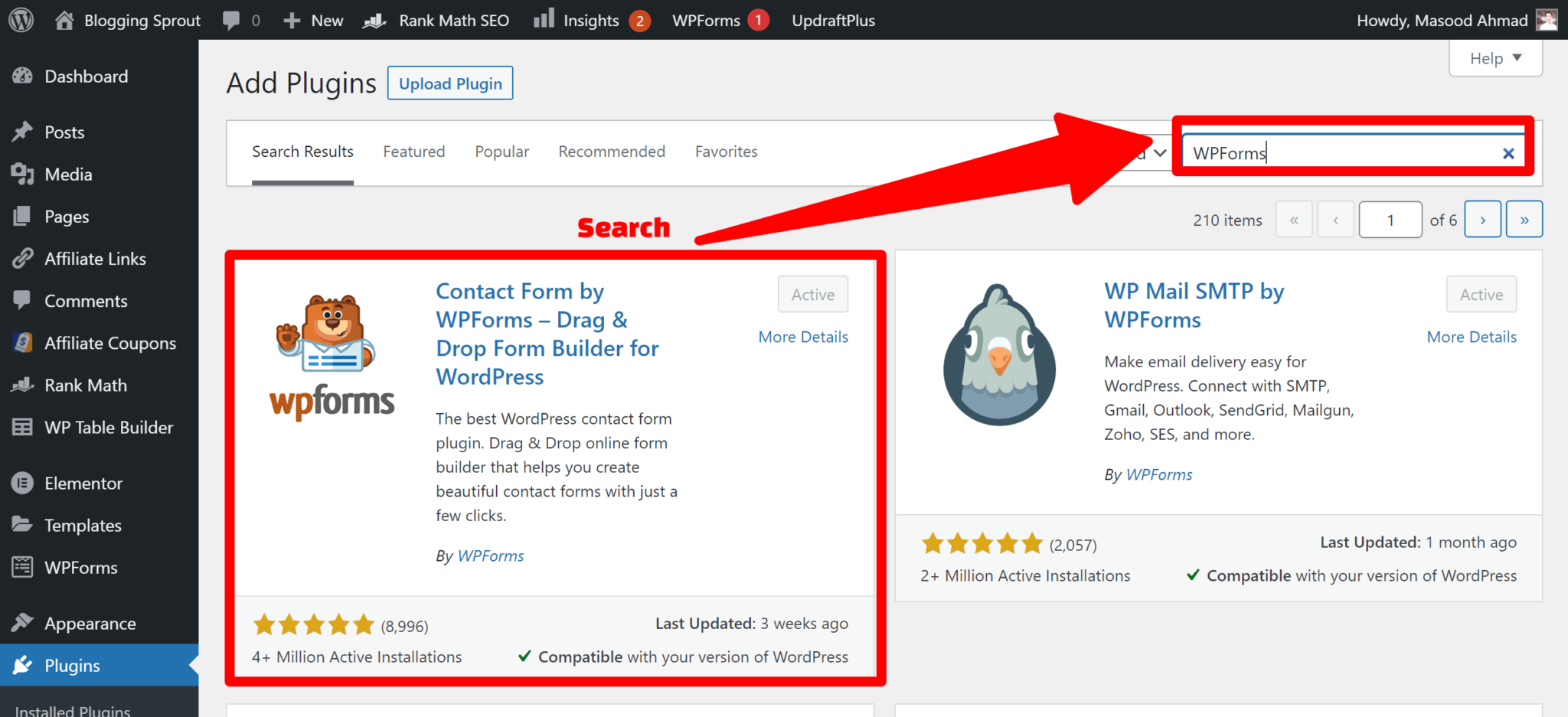 Once you've got WPForms installed and your license is verified, you'll be able to quickly install and activate the Mailchimp addon.
Note: If you want to use a premium version with more features, then you can purchase and upload the plugin.
Step 2: Install Mailchimp
To do this, navigate to WPForms » Settings and then click on the Integrations tab.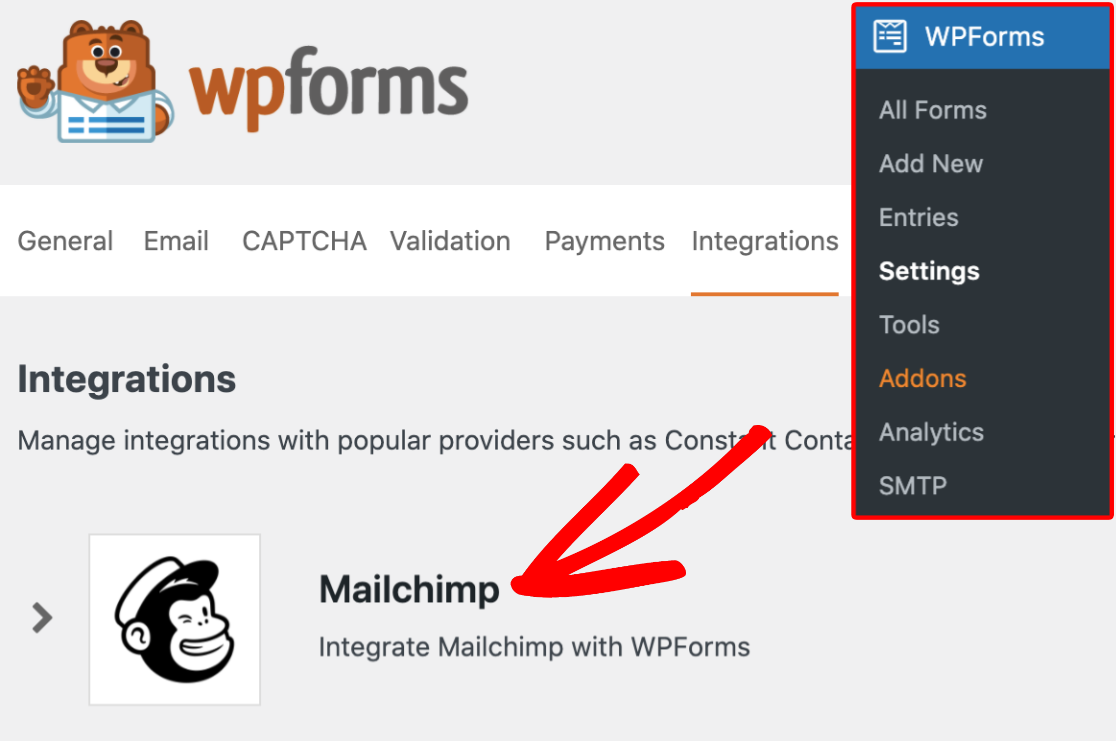 The next interface will open in fron tof you. Just click on ADD NEW ACCOUNT.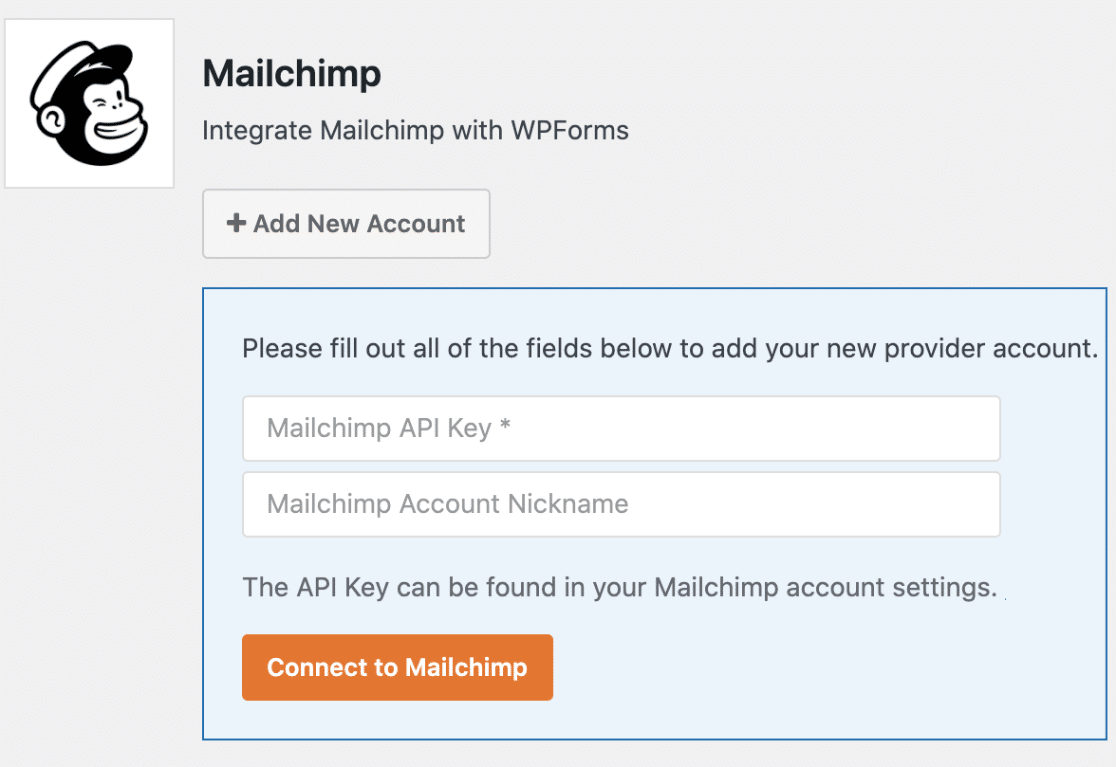 You have to provide API Key and Mailchimp account nickname to connect.
For getting the API and nickname from your MailChimp account, you can follow this guide from WPForms.
---
2. Forminator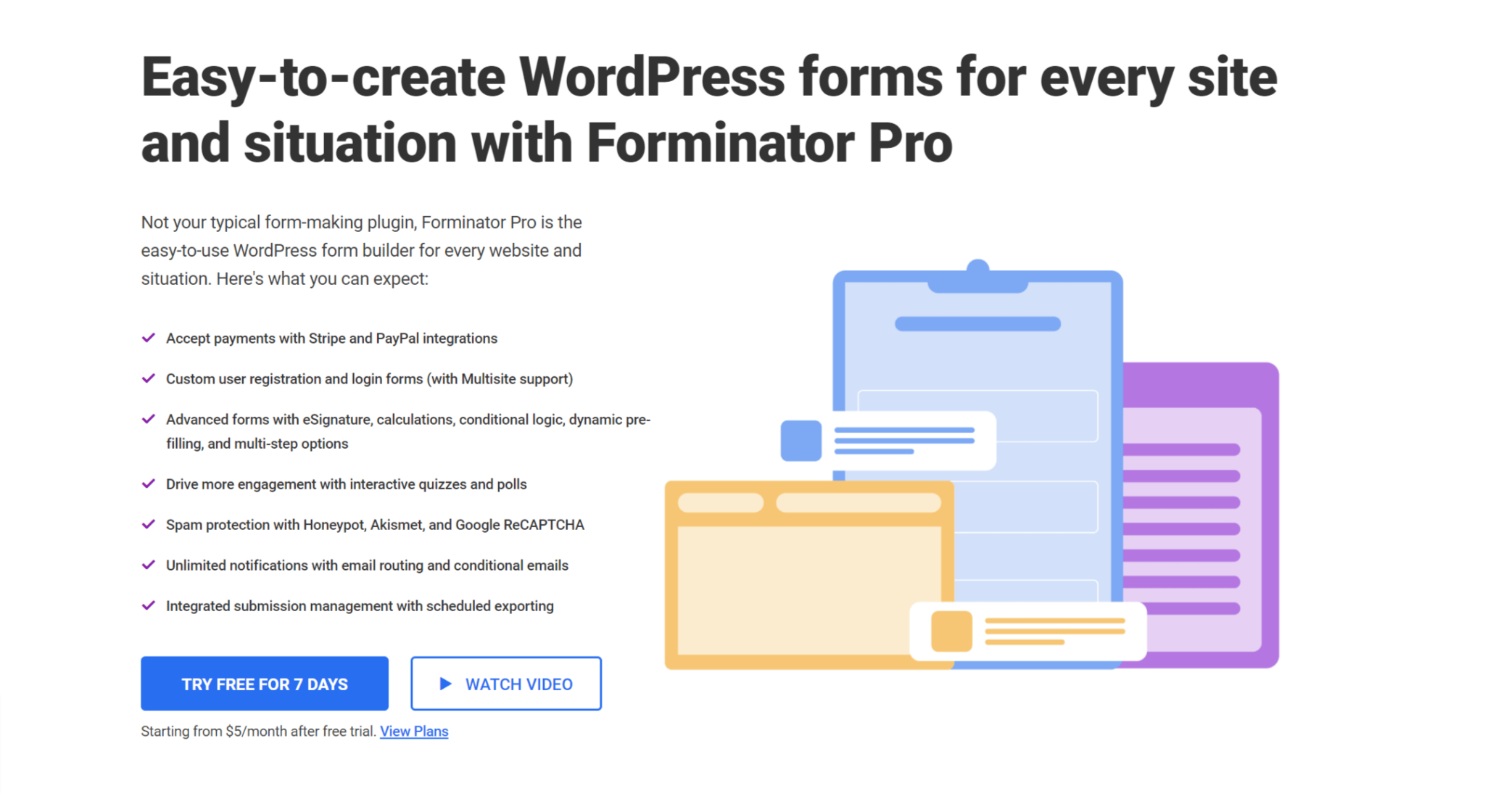 For integrations or field addition, the Forminator can easily beat other choices. You can fastly build a new form, all interface with simple drag n drop.
By using forminator, you can completely customize the design of the form using appearance sections with few clicks only.
This Forminator plugin is compatible with MailChimp, Slack, HubSpot, Aweber, and Trello with management and email marketing.
If you want to know how this plugin can beat other contact forms of plugins, check out the "Insert field" choice in the dashboard.
There are almost 24 unique field boxes for creating contact forms, feedback widgets, payment forms, calculations forms, real-time polls, or quizzes.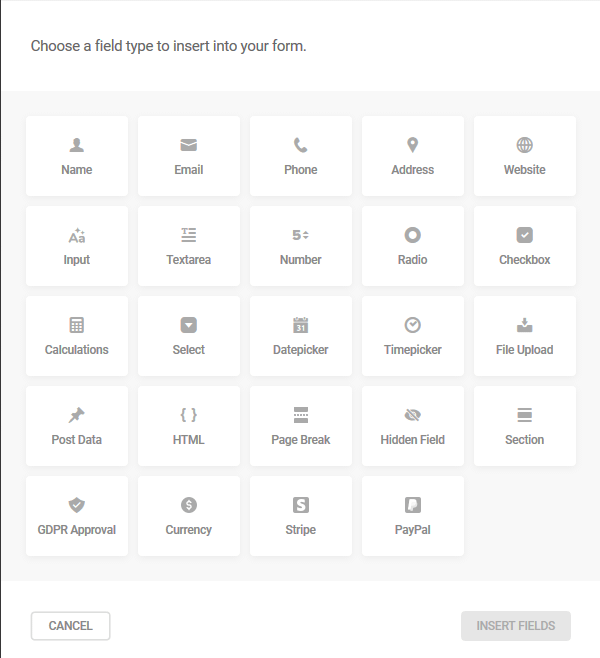 To use this, select which type of form you want or you would like to build and add the contact form fields.
You can customize the appearance and add the shortcode wherever you want to add it.
However, you can use third-party plugins after creating a contact form.
3. Jetpack
Maybe you heard before about this plugin, this is a primary plugin from Automattic company, the same behind WordPress.com -it has a module of contact forms.
Only you have the need to activate it in jetpack/settings.
If you create a contact form with this jetpack plugin, it isn't similar rather than other plugins.
You can also create many kinds of posts/pages or contact forms with the help of this plugin.
For adjusting the fields while creating the contact form, this can be the best option ( remove the existing ones, add new ones), or add form into your posts.
4. Everest Forms
This plugin is one of the best plugins for contact forms to use with Mailchimp because you can customize it easily.
If you want to use this plugin, here is good news for you, this Everest form is free; you can easily create forms by using drag and drop features.
With this plugin, you can create unlimited forms with a different or wide range, or multiple columns, reCAPTCHA, and many more.
If you want to create a new contact form, so only press the Add New button, and you are ready to go with it. After choosing the template, give a name.
Also, you can choose a blank form or an pre-built contact forms.
This will lead you to core creation interface to edit the form by dragging the fields from the left to the correct section.
For adding a new row, click on the Add Row button. Further, you can modify it according to your desired details or parameter.
Besides, you can also place these forms through a shortcode id. It is separate from each form builder section and will show on the All Form page.
5. Ninja Forms
Ninja Forms are one of the feature-rich plugins in the world, plus they provide more functionality.
It can help you to create subscription forms, surveys or something that can be done through web forms.
This plugin also manages submissions form for you in the dashboard.
Creating a contact form is a straightforward process, here are drag and drop features available for users to build fastly. Even beginners will enjoy doing it.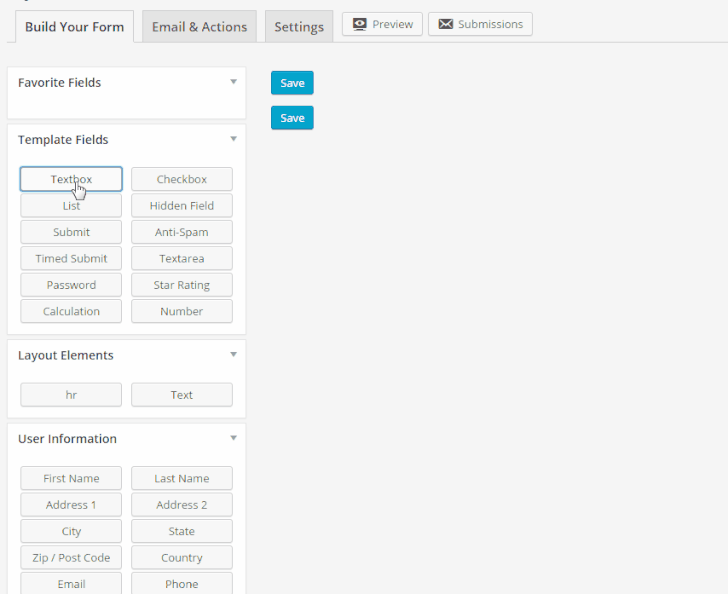 With this contact form plugin, you can set special email notifications, whenever someone successfully submitted the form. Even you can alert users or yourself at the same time.
However, you can do actions particularly after submission like showing a successful submission message or asking them to subscribe through MailChimp.
6. Kali Forms
This plugin is a beginner-oriented plugin for creating contact forms for blogs and websites. It is quite a decent plugin.
With a few clicks, you can easily create an instantly wide range of complex contact forms within seconds.
If you don't want to spend money or require a heavy contact form, you can use the accessible version of this plugin.
To create the Contact form. Press the Add new. Then you will be able to see the pre-built template, which is included in the free version.
Once you decide which template you will choose, you can go to the edit section, where simple or easy drag and drop process builder is available.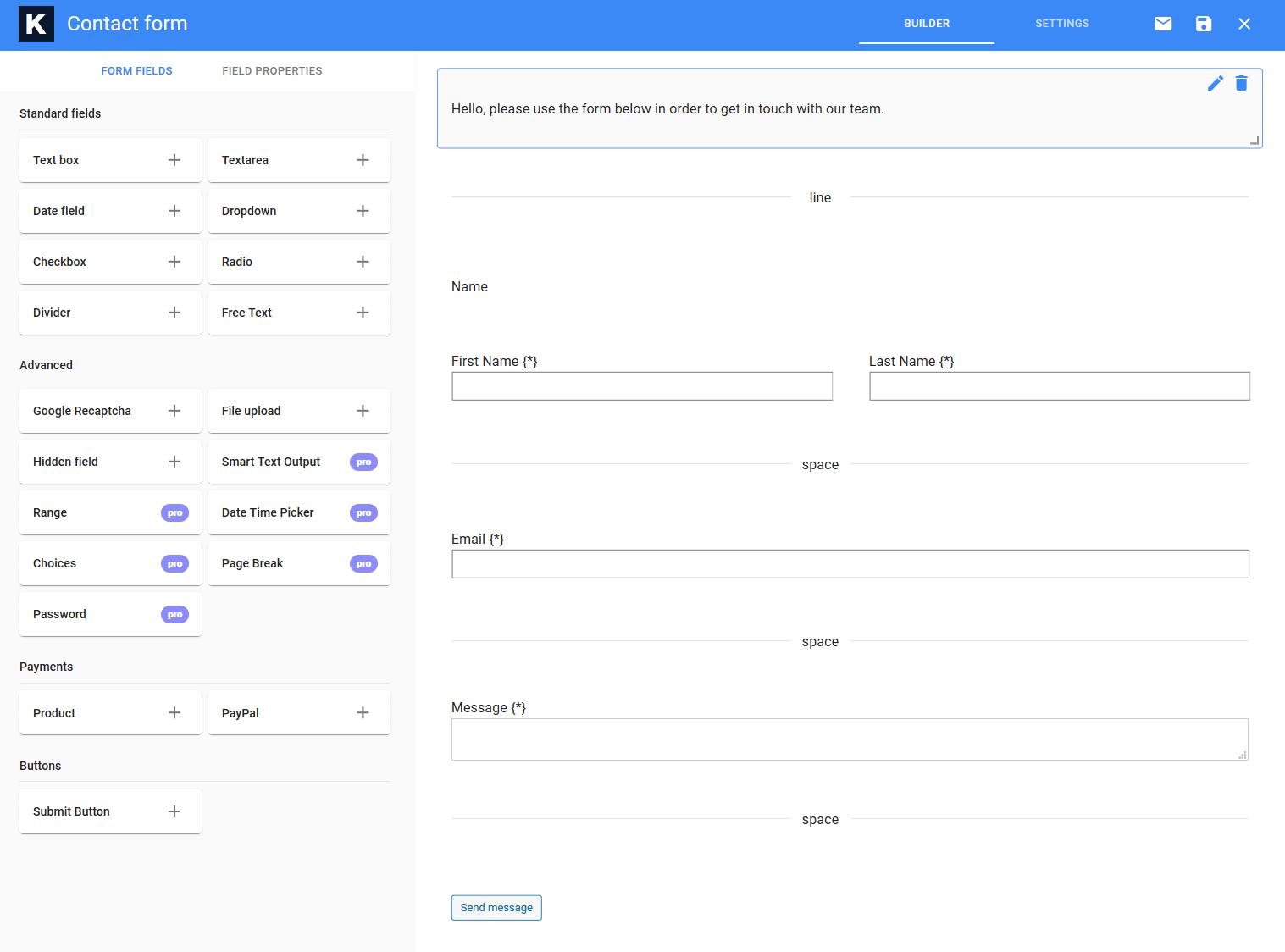 When your template is ready, just hit the publish button. You have to go for the premium version for more extra features like Custom CSS or Conditional Logic.
7. Contact Form 7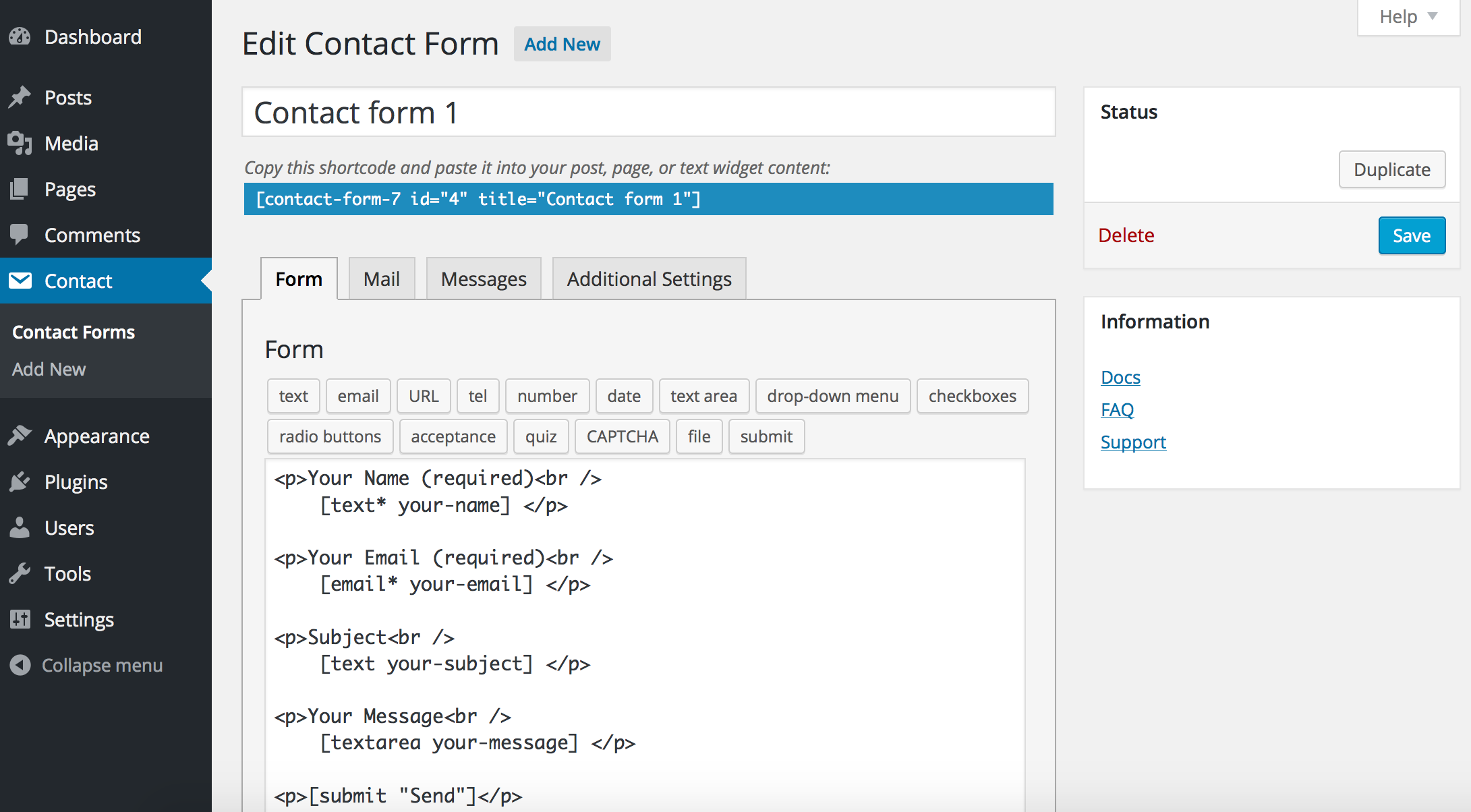 This Contact Form 7 is one of the best solutions out there if you are looking for a decent and friendly plugin.
This Contact Form 7 provides you with an additional section entry in the contact. Where you can easily adjust and create the forms which are already available.
If you want to work with this plugin, let me inform you this is such an easy, user-friendly plugin for creating the new contact form.
You will get the HTML tags interface. So, in creating the new forms, you should take care of the structure. This isn't that simple like others, which we discuss above in the lists.
With this plugin, you get to work with HTML structure, wither, you can add between custom fields Texts or images, which can be so easy in few cases.
When your Contact form is ready, you have to take a shortcode and then include it in your wordpress page or post.
How to link contact form 7 to Mailchimp?
For connecting MailChimp with contact form 7, you just have to login into your MailChimp account and at the same time make sure the contact form 7 plugin is already installed in your WordPress.
Now you can just follow this guide to connect MailChimp with contact form 7.
Conclusion
Above, we discussed the 7 Best Contact Forms To Use With Mailchimp, which are very easy to use with just drag and drop features.
If you are confused to choose between the above lists, then I myself use WPForms and I recommend you to go with it only because of user freindly and lots of features at a nominal price.
If you have any queries about these 7 Best Contact Forms To Use With Mailchimp article, don't forget to share with us in the comment section.