In this Hostgator review 2021, we will discuss all about this web host, its pros and cons, pricing, uptime, performance etc.
So stick with this blog and scroll below to know more!
Affiliate Disclaimer: This post may contain affiliate links. If you purchase anything from these links, I may earn some commissions without any extra cost to you. Furthermore, this post has been included as an entry into a giveaway/sweepstakes.
HostGator Review: About Hostgator
Roughly HostGator have already hosted more than 2 million websites, which is a great achievement.
Year Of Foundation: 2002
Location: Houston, Texas, United States
But in 2012, HostGator was acquired by Endurance International Group, an IT company that offers Web host-related services. The same company have acquired Bluehost as well.
HostGator have collected prestigious awards in the competitive field of web hosting services and reviews.
Just check some of the reviews by top experts:
HostGator provides a one-stop solution for:
Domain Registration
Website Builder
Shared Hosting
Cloud Hosting
VPS and Dedicated Hosting
WordPress Hosting
Windows Hosting
All these services are provided by HostGator with excellence and at a very affordable price.
What is special about HostGator?
As you can see, Hostgator offers various services particularly in web hosting that just starts from $2.75 per month.
Apart from shared hosting, you will get a dedicated hosting service, VPS and cloud hosting as well.
VPS hosting starts at $19.95/mo and dedicated hosting starts from $89.98 per month and this is the most expensive service.
Free Domain: Yes
Uptime: 99.9%
Average load time: 1.03 s
Average response time: 143.4 ms
Support: Live Chat / Knowledge base
These are only the overview. In the coming paragraphs, I am going to discuss all in detail and will share important details as well about HostGator.
HostGator Features:
Here we will discuss the best features that HostGator is providing to its customers and will briefly describe each one:
1. Real-Time Monitoring
Means Hostgator is monitoring all their servers 24×7. Thus all sites will be live without any issues and it will prevent attacks on the servers.
They perform regular tests and malware tests so that they can identify whether any malware is embedded in their servers. So that they can remove it asap and let all your sites free from it all the time.
2. Hostgator Speed
Speed is one of the important factors for a better UI and all web hosting companies focus more on keeping all your sites online and provide blazing speed.
So for better understanding let's go through some reviews.
He has been using Hostgator for more than 11 years and he himself recommends all his clients to go with Hostgator because of its uptime and great customer support.
Before we move ahead in analyzing the Hostgator shared hosting website speed of one of the website already hosted on Hostgator from past few years.
Good website speed can lead to:
Low bounce rate
Great User Interface
Better Conversions
Higher ranking in SERP
Hostgator hosted website speed on GTmetrix:

This is one of the best tools to analyze the website performance ad its speed. This tool is used by thousands of people all around the globe to analyze their website speed.
You can see from the above picture, its loading time is under 1 sec. It's 866 milliseconds and this is the best ever load time any website can have.
Hostgator speed test result on Google Page Insights:
Here is the page speed of the website on the official Google website speed testing tool i,e Google page sped insights.
The above speed is on desktop mode and below you can find mobile pages.
Hostgator Speed Test Result: Pingdom
It's also a great website to test the website or blog speed and run diagnostics to eliminate the problems associated with your website and improve the performance.
So, from the above pictures, you can assure yourself that in terms of speed you will not going to regret it after purchasing HostGator web hosting.
3. Hostgator Uptime
Talking about Uptime, Hostgator claims to have a 99.99% uptime which is close to 100%. So to cross-check this claim, we went on HRANK and analyze its data.
HRANK has more than 300 shared hosting providers and ranks them according to uptime, response time and other features.
Let's go through the data from HRANK about Hostgator.
The remarkable thing to be noticed that it's always above 99.950%. And talking about the tracked data, it's always around 99.99%.
Talking about Response Time, we have another data same from HRANK. Do check and verify from your side.
As we know the content of the website affects badly the page loading time. Let's suppose your website has more images, so its loading time will be higher.
And thus it affects the server response time as well. To test it, I run a test on BItcacha the same website that we used for speed time on GTmetrix.
And here is the result we got. It's really awesome. Check it now guys.
Thus overall we can say that HostGator offer best services in term of Speed, uptime and great server response.
4. HostGator Support
Customer support also plays a vital role in selecting a good web service for your blog or website.
Because apart from good performance, if any issue arises with your website, as a beginner it will be difficult for you to solve that.
So good support is needed to solve that particular problem efficiently in lesser time.
Now talking about Hostgator, then they deserve a round of applause for the kind of supports they provide to their customers. Here we are talking about the support for both pre-sales and post-sales.
Hostgator provide various ways through which customers can connect to their support system:
Phone– To get any kind of help directly from the support team, you can call on this number (866) 964-2867
Live chat- If you are not comfortable enough to talk on the phone, you can go with a live chat option. And believe me, this is the best ever option for you all. This solves all your queries in lesser time. Even I use to go with live chat for any queries.
I tried contacting them through live chat, and you won't believe me within 10 seconds they joined my request and started answering my queries.
They are very friendly and you would love taking help from them for your queries. See the live chat that I did with them.
Hostgator live chat support is tremendous. Nothing can be better than this.
This is another method of solving the queries that customers may face.
This is based on the most repetitive kind of questions or any help that customers are seeking. So Hostgator created massive knowledge-based answers to lots of questions that you can take help from.
When you enter knowledgebase, there will be various options to select from or you can directly search from the search bar for any particular queries.
Once you click any of these, it will start showing varieties of questions related to that. It is just shown below.
You can start reading of your interest. So this is how Hostgayor knowledgebase support works.
Hostgator blog– You can take help from the dedicated official blogs from the company.
Twitter- You can also take help from the customer team by tweeting and tagging @HGSupport and they will for sure.
Hostgator Pricing & Plans (Affordable)
As mentioned earlier, Hostgator provides you with various web host services at an affordable plan. Here are listed services:
Shared Hosting
Cloud Web Hosting
WordPress Hosting
VPS Server Hosting
Dedicated Server Hosting
Now, let's discuss the shared hosting plan in detail. You can read about others in detail by visiting HostGator official account.
Hostgator shared hosting have 3 plan. They are as follows:
1. Hatchling Plan
If you are a beginner and you are looking to start a blog then you can go with this plan. This offers you to host a single website with unlimited storage and unmetered bandwidth.
This will cost you $2.75 per month if you purchase hosting for 36 months.
Features:
Single website 
One-click WordPress installs 
Free WordPress/cPanel website transfer 
Unmetered bandwidth
Free SSL certificate
Free domain included
2. Baby Plan
This is the recommended plan by the HostGator company. Here you can host unlimited sites with unlimited storage and unmetered bandwidth.
The introductory offer is $3.50 per month if you purchase 36 months plan.
Features:
Now 65% off!
Unlimited websites 
One-click WordPress installs 
Free WordPress/cPanel website transfer 
Unmetered bandwidth
Free SSL certificate
Free domain included
3. Business Plan
If you have a budget for expensive shared hosting, then a business plan for you. You can get a lot more features included in this plan.
It is available for an introductory price of $5.25 per month when you opt for a 36 months plan.
Features:
Unlimited websites 
One-click WordPress installs 
Free WordPress/cPanel website transfer 
Unmetered bandwidth
Free SSL certificate
Free upgrade to Positive SSL
Free dedicated IP 
Free SEO tools
Free domain included
Guaranteed:
If you're not happy, you'll get a refund of your hosting fees in the first 45 days.
HostGator Highlights (You shouldn't miss)
Here we have listed some highlighted features that Hostgator is providing to its customers that should be mention.
1. Free Domain Name
If you are a new customer to HostGator then you will be getting a free domain if you purchase hosting for at least a 12-month plan.
You will be getting a domain of extensions .com, .org and .net for the first year absolutely free with any hosting plan.
By getting a free domain with hosting will help you reduce your time and efforts in dong DNS settings.
2. Free site transfers
If you have already hosted websites on another hosting copmanies and you are looking to chnage or migrate to another web shoting copmaies, then Hostgaor is perftt hostimg to get migrated.
As most beginners find it tough to transfer their sites from one host to another host, so HostGator will do this job for you for FREE.
Yes, you heard it right.
Hostgator will transfer your sites to their own servers hassle-free and safely. All you have to do is to purchase any plan and ask them to do this migration for you.
3. Free SSL certificate
This is very much important and required for each site. Without this, your site will be shown in google as not a secured connection and thus losing credibility in front of google and visitors.
Google love those sites which have secured connection and show that sites in SERP. You may have observed the "lock" button appear on the left-hand corner of the search bar.
This enables only when your site has an active installed SSL certificate. This certificate changes HTTP:// to HTTPS:// to enable a secure connection between the server and your site visitors.
4. One-click installs
If you are looking for integration with apps like WordPress, woo-commerce etc, then installing those apps on the Hostgator server can't be easier than this.
You can install WordPress with a single click on your website or blog to get started with it. It is as simple and easy.
5. 99.9% uptime guarantee
The best ability is availability — so Hostgator make sure your site stays up always.
6. Unmetered bandwidth
With all hosting plans, you will get unlimited storage and unmetered bandwidth, so you are not required to pay for any extra usage of disk space or bandwidth.
7. 24/7/365 support
Get help for all your queries easily and faster available always for you. I prefer to go with live chat to sort out all my queries.
8. $150 Google Ads
If you are starting out and looking to spend on ads, then Hostgator provides you credit of $150that you can spend freely on Google Adwords.
This is best for beginners and I recommend everyone to do that, as by doing this you can learn a lot about running paid ads without spending your single penny.
9. cPanel access
You will get access to Cpanel, so it's great to manage all your stuff from the backend of your site hassle-free.
10. FREE Email
You will get free email aliases, autoresponders and email forwarders with all shared hosting plans. So you don't have to pay extra for custom email.
How To signUp for Hostgator plan?
Here are simple steps that you can follow to sign up for a HostGator plan and purchase hosting.
Click here to visit the discounted page of the Hostgator plan.
It will look like this;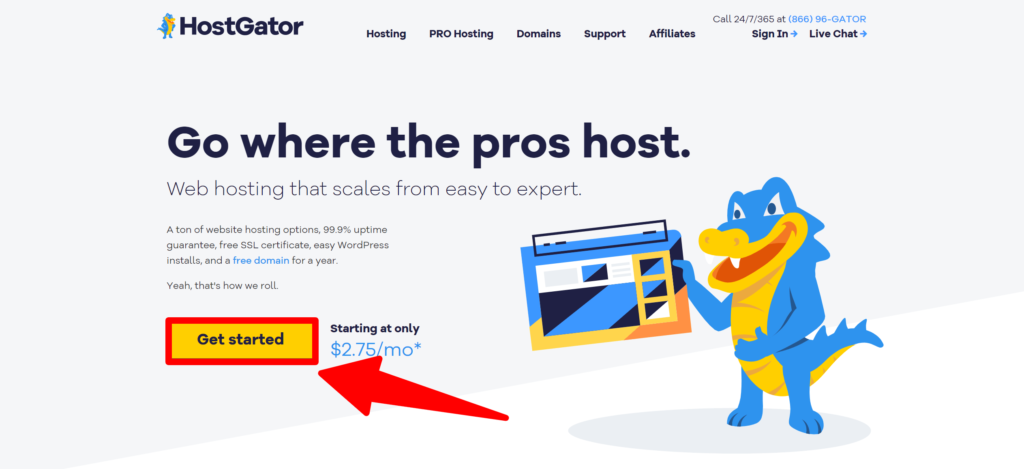 From there hit the "Get Started" button and choose any plan (let's say hatchling plan) and click on Buy Now button afterwards.
Now follow these simple steps.
Step 1: Choose a Domain Name
Firstly you have to choose a domain name. You are getting a free domain with hosting, so just put your desired domain name to look for whether it's available or not. If it will be available then you can proceed to the next step.
Note: If you have already a domain and you don't want to register a new domain, then you can click " I Already Own This Domain", put your domain name and proceed further.
After putting the desired domain name in my case bloggingsprout.com, you can see that .com is not available but you can get other extensions of this domain free.
Step 2: Choose a Hosting Plan
Next, you have to select the hosting plan and the billing cycle period i,e 1 Month, 3 Months, 6 Months, 12 Months, 24 Months, or 36 Months.

I would recommend you to choose 36 months plan for the best pricing.
Step 3: Create your Hostgator Account
Fill in all these data carefully create your account with Hostgator.
Step 4: Enter your Billing Info
For the purchase, you have 2 options available for payment. You can use any one of the methods for the payment i, e through credit card or PayPal.
Step 5: Add Additional Services
There will be various additional services will be there that you can opt-out of for better performance and features of your websites.
As a newbie, I would recommend you uncheck all these addons and proceed further.
Note: Make sure you uncheck "Domain Privacy Protection" below the domain in step 1.
Step 6: Enter a Coupon Code
In the coupon section, just put BSPROUT60 to avail of 60% OFF on your all hosting plan. This is an exclusive coupon code for Bloggingsproout.com readers.
Step 7: Review Order Details
Cross-check your order details from here and lastly, tick on the agreement button and click on "Checkout Now".
Congratulations! You have successfully purchased your hosting and now you can install WordPress and start going.
---
Cons of HostGator
Nothing can be 100% perfect. So in the field of web hosting services as well, there is not complete perfection. We tend to choose which is best among all. I
n the case of HostGator, one thing that missing out is the automatic backup.
Even you go with the business plan, you will not get an automatic backup for your blog or websites.
You have two options left, either to purchase their Codeguard (addon feature) which cost you $19.99 per year or to manage backups from Cpanel which is a hectic job to do.
To avoid this limitation you can go with UpdraftPlus, a plugin that will do automatic backups for your site.
Hostgator Alternatives
Though Hostgator provides you with a hassle-free money-back guarantee within 45 days if you claim. But still, if you want to explore more hosting services, so here we have the 3 best alternatives of HostGator.
1. A2 Hosting
This is the best alternative of Hostgator that claims to be Up To 20X Faster Hosting. The best thing is that you will get free automated backups of your site on regular basis.
So if you are looking for blazing fast speed, then you can explore A2 hosting for sure.
2. Bluehost
Bluehost is also part of the endurance international group that provides similar features as HostGator.
So Bluehost can be the best ever alternative to HostGator and I recommend you to go with this.
3. Hostinger
If you are looking for the cheapest alternative to HostGator then hostinger shared hosting is for you.
This hosting you can get with just $0.99 per month. This is super affordable web hosting for beginners.
---
FAQs On Hostgator Review
1. How much does HostGator cost?
Hostgator shared hosting plan starts from $2.75 per month if you purchase it for 36 months.
2. Does HostGator have a website builder?
Yes, you will get a free gator builder with your shared hosting plans.
3. What are the best HostGator alternatives?
The best HostGator alternatives are A2 hosting, Bluehost and hostinger.
4. Does HostGator bill monthly?
Yes, you can pay on the monthly basis with Hostgator. It will cost you much more compared to a 36-month plan. So I would recommend going with at least a 12-month plan, not on monthly basis.
5. Does HostGator provide a money-back guarantee?
Yes, you can get your money back hassle-free if you claim within 45 days from the date of purchase.
---
Final Words On HostGator Review 2021
So this is the end of the HostGator review 2021. I have gathered and compiled the best of my knowledge in front of you guys. I hope you all loved it.
If you are looking to start your WordPress blog then you can go with the Hostgator shared hosting plan without any second thought.
If you have any questions or suggestions, you can put them down in the comment section or contact me.